Thanks to Facebook ads, you can promote your online store and quickly boost its growth. Facebook ads are affordable - even for merchants who are just starting out. This article will teach you how to create Facebook Ads with ease.
So, you can start selling more today!
How Facebook advertising offers work
Facebook's ad offers are diverse, but they're all based on the same premise: you either boost an existing post or create your own ad and pay to have Facebook put it in your target audience's news feed and other places on the site.
Users with interests, geographic location, age, gender, or other factors that match your criteria will see your ads.
You set your own investment budget (you can start from as little as a few dollars) and the duration of the promotion. Payments are made by credit card directly on Facebook and you can download invoices which makes it easy to integrate the costs into your normal business accounting processes. If you don't have a lot of experience with Facebook ads, check out our blog post on the 6 most valuable Facebook Ads tips for beginners.
What are the most suitable types of ads for your online store?
For online stores working with Facebook ad campaigns the Conversion or Catalog Sales options will more than likely be the best choices for increasing your number of sales.
Facebook ads for conversions
When you choose the goal of conversions, you will need to start by setting up Facebook Pixel in your online store. This will allow Facebook to track the visits made to your online store, add-to-carts, and those highly sought after purchases. When your pixel is set up correctly, Facebook will be able to analyze visits to your online store and consequently optimize your ads to increase your conversion rates and sales. Once you find the right balance, you can create ads on a regular basis to promote categories or products from your online store.
Facebook Catalog Sales Campaigns
With the catalog sales option, you can upload your online store's entire product catalog to the Facebook platform to advertise everything at once. Facebook will be in charge of analyzing the traffic and managing the entire catalog. Facebook's algorithm determines which products to display to the people they think are most likely to buy.
To use this option, you also need to have Facebook Pixel correctly installed and set up in your online store.
The product catalog sales option also allows you to connect with people who have seen an item, added it to their cart, but did not make the purchase (remarketing/retargeting) or promote similar products to the customers who have made purchases from your store.
Create a Facebook ad with the Ads Manager
You will create your campaigns in the Ads Manager, a tool provided by Facebook for the creation of ads. You can find this tool on your Page, by clicking on the dots under your cover photo and selecting Ads Manager.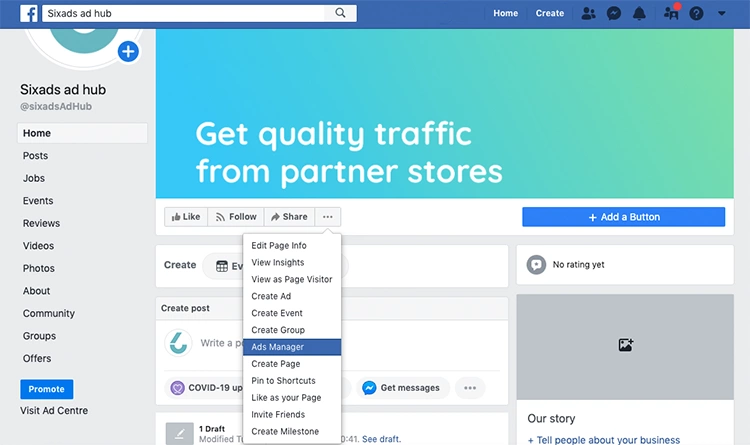 The Ads Manager will guide you through the steps of creating a campaign in the language of your choice.
Creating your Facebook campaigns
Facebook's Ad Manager will help you build better advertising campaigns by walking you through a guide where you need to choose the options that best fit your needs.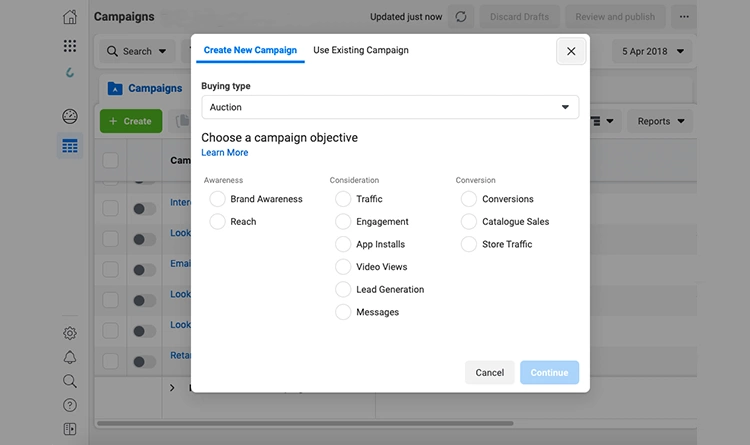 Here are the 5 main steps Facebook will guide you through:
Choose your objective
Select your audience
Define the placement of your ad
Define your budget
Choose the format of your ad
Step 1: Choose your goal
The first step in creating your campaign is choosing the right objective for your business. Ask yourself what result you want to achieve with this promotion.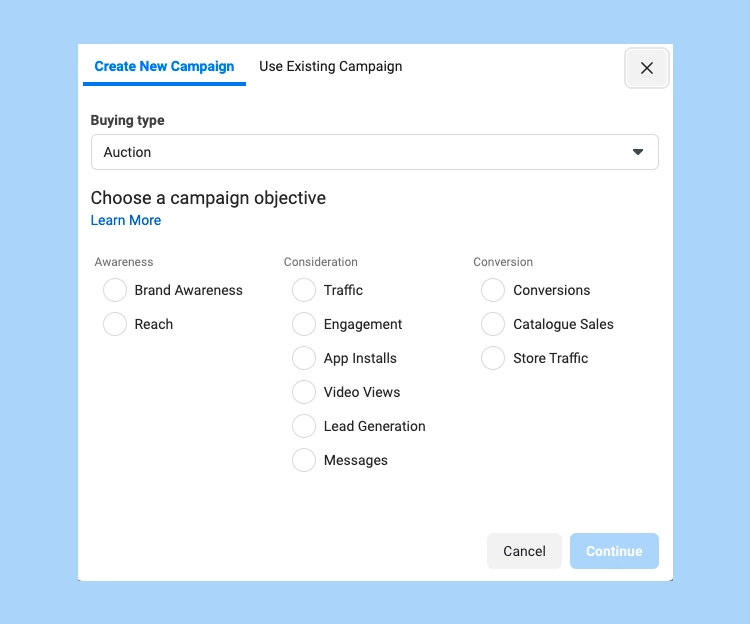 You will need to choose campaign objectives for your ads. Depending on the objective chosen, you will need to specify the Facebook Page connected to the advertisement, the URL of your website, events you are promoting on your page, etc.
Here is a closer look at each of these objectives:
Brand awareness: Reach the people most likely to be interested in your business and your product or service. Create targeted campaigns for these people to avoid casting your net too wide.
Reach: Aim to reach as many people as possible with your ads. When people like your Page, your posts may appear in their News Feed along with posts from their friends and family. Promoting your Page like this can be a good option if you are looking to engage with your audience or reach new customers.
Traffic: Direct your target audience to a specific webpage. You can direct people to your website homepage, online store, contact page, or any other page you want people to see. By default, your ad is automatically optimized to reach the people who are mostly likely to click on your ad and visit your store.
Engagement: Get more interactions on your Page and your posts (likes, comments, shares). If your goal is to increase engagement with your post and get people to view, like, comment on, and share your Page's content, this might be the right objective for you.
Application installation: This objective can help increase the number of app downloads by creating an advertisement with a link to the app store where it can be found. This option is for apps only and should never be used if you are only running an online store.
Video views: This will allow you to both create an advertisement that utilizes video and increase its views. Video ads can help you explain your products or services, while also building brand awareness on Facebook.
Lead generation: This objective will help you get the email addresses of people interested in your business and thus increase your list of potential customers. You can then use those email addresses for retargeting or email marketing campaigns.
Messages: Get people to message you on Messenger, Whatsapp, or Instagram. Engage with them and convince them that your products are the right fit. Encourage them to make the purchase.
Conversions: Get people to interact with your website or app in a meaningful way, also known as "buy from me now." When choosing the goal of conversions, make sure you have your pixel set up correctly so Facebook can track and optimize for conversions (sales). This is the goal you should be choosing for your online store if you want to see an increase in sales. All the other goals will bring you traffic or engagement but not necessarily users who are ready to make a purchase.
Catalog Sales: Create targeted advertisements that directly include the products or services you want to sell. This option requires more technical knowledge and probably a developer who can help you with the setup. However, it's worth it if you want your online store to really succeed. If you can get the technical setup right, this is the way to go. But you will need to have the know-how (or know someone who does) to set up campaigns that convert. And of course, you will need to have the budget to move your visitors along the marketing funnel.
Store traffic: Aim to increase the number of visits to physical stores or to your various points of sale. Make promotions available only: in-store, at events, or available exclusively.
Step 2: Select your audience
In order for Facebook to show your ad to the people that are most likely to buy from you, you need to create an audience, which is essentially the target audience for your ad.
You can target users based on factors such as demographics (age, gender, place of work, dating status), location (the region where the person lives or create a perimeter around your store), and interests (find people based on their interests, hobbies, etc.)
You can even target users based on their buying behaviors or connections. Targeting based on connections will allow your targeted audience to see friends who like your page or are attending an event in the ad.
PRO Tips:
Refine your targeting by indicating the target city and modifying the geographic radius (Ex: Chicago and cities located 40 km away).
Add multiple points of interest that fit the topic of your ad, don't just list one.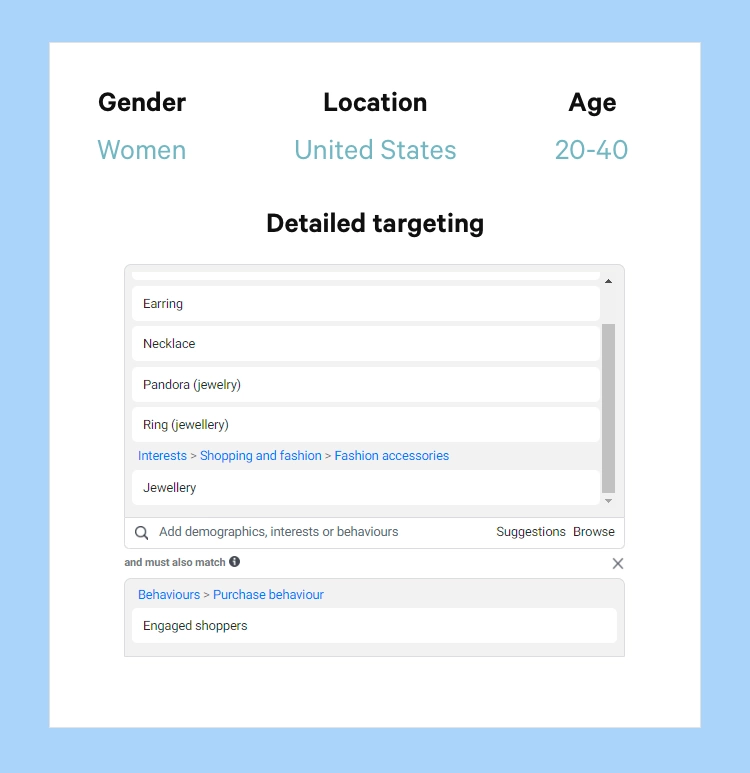 You can also choose to communicate specifically with people who are already your customers and who already follow you on Facebook. This will help forge stronger bonds, retain them, give them greater importance, and ultimately boost your sales.
To build this personalized audience, you can use your existing and potential customers, your website visitors, and the people who use your mobile app.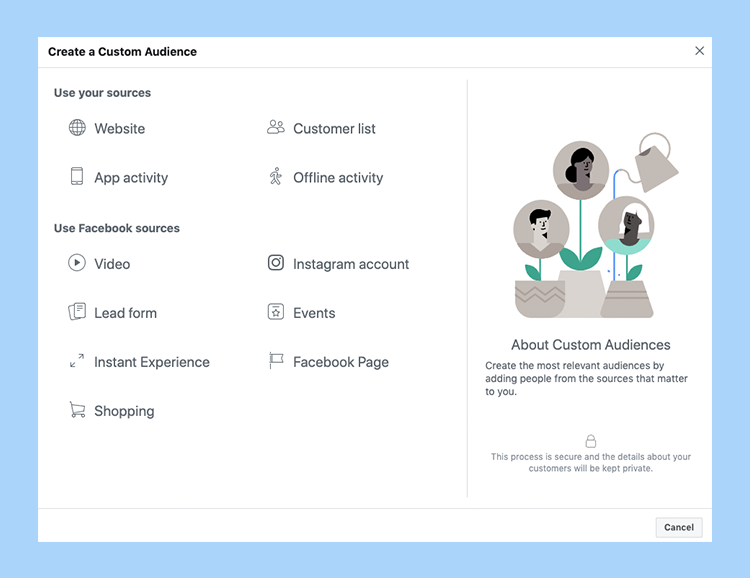 Be aware that there are also many people who look like your current customers, but who do not know you yet or who are not yet your customer. Facebook's Similar Audiences allows you to target the characteristics of your current customers and build your advertising based on those characteristics to reach new potential customers. This can be a very powerful way to scale your business.
Step 3: Advertising placement
You can also choose your ad placements (i.e. specifically selecting where exactly you want your ad to appear).
By default, Facebook will preselect the Automatic Placements option, but by selecting Manual Placements you can modify where your ads will appear.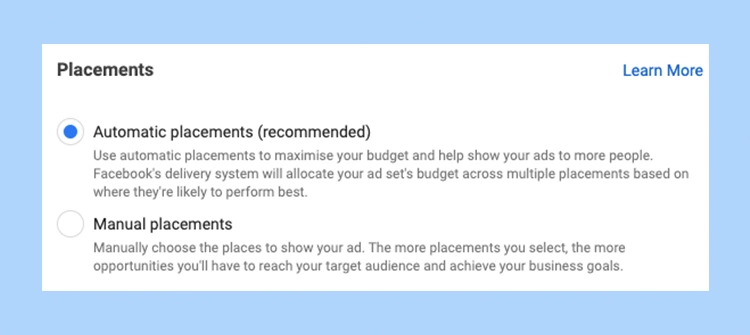 If you're just starting out, more than likely, the best option is to select Automatic Placements then allow your campaigns to run for a while. After you have collected enough data, you can start using ad placement optimization (i.e. switching off the placements that don't generate sales or are too expensive for you.)
You can also choose what devices (computers, mobile, etc.) your ads are shown on.
Step 4: Define your Facebook ads budget
In the Budget and Schedule section, indicate the budget you are allocating to your advertising campaign as well as the dates when it will run. By default, the tool may already display an amount, but you can change it to whatever is right for your business.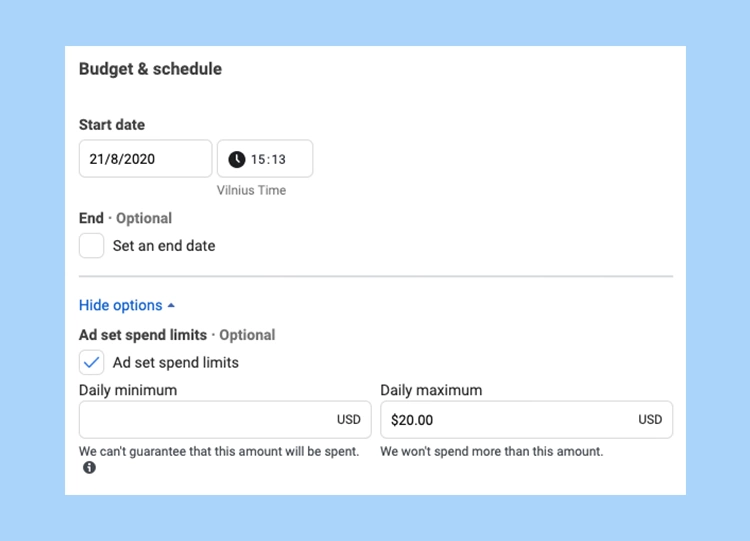 Daily budget
A daily budget allows you to set how much to spend each day on a specific set of ads. An overall budget can be compared to a daily budget, the only difference being that instead of setting an amount to spend per day, you set an amount to spend between the start date and end date of your ad set.
Step 5: Choose your Facebook ad format
In the Format section, you can select the type of visual you want for your campaign: carousel, image, video, slideshow, or canvas.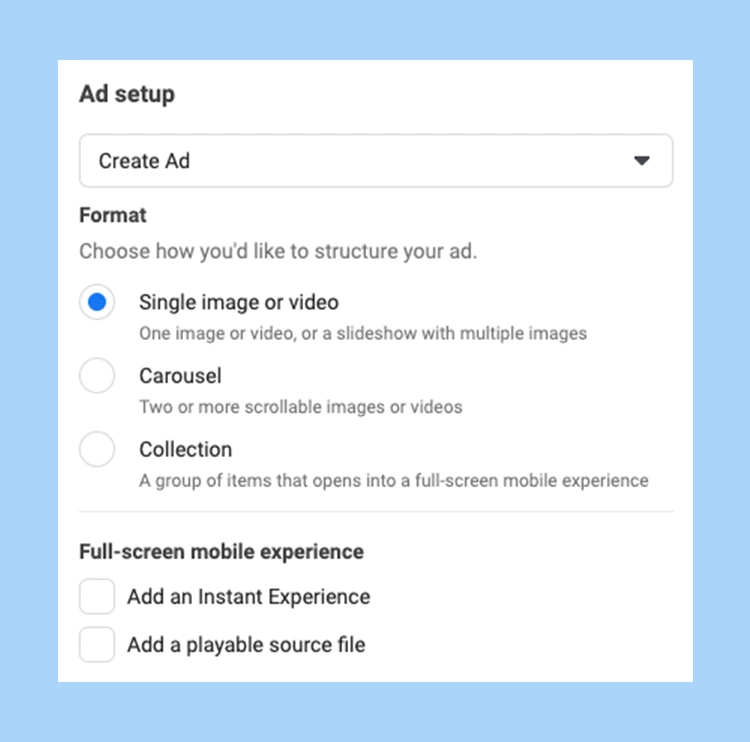 You can upload images from your computer or use the ones Facebook extracts directly from your webpage. A preview of your advertisement will be displayed on the right of the screen. Make sure your visuals look good because this simple step can lead to cheaper costs per conversion (source).
After choosing your images, you will need to add text and links to your ad. When you write your text, there will be a character limit displayed.
Monitoring of your Facebook advertising campaign
To see the results of your advertising campaign or follow its progress, Facebook provides reports within the Ads Manager.
You can access it from your Page, by clicking on the arrow at the top right and selecting Manage Ads.
When you click on the title of an advertisement:
The Performance tab will show you detailed data such as the number of people reached, the total reach of the publication, or the cost per targeted action.
The Audience tab will show data about the people (such as their demographics) reached by your ad.
The Placement tab shows places where the advertisement was displayed.
How to use Facebook ads to your advantage
Quality Content
To catch the eye of the consumer, it is important to use original high-quality content.
Would you be drawn to a low-resolution image? Probably not, and neither will your targeted audience.
This is why the use of quality images is crucial. Consumers are more likely to interact with higher-quality images in advertisements.
Avoid images with sober colors. Your ad should jump in the user's face. Your image should be joyful and inviting.
Facebook allows you to add text to your ad. However, your text cannot occupy more than 20% of the ad image so it is very important to use short catchy lines.
To find out what works best for your target audience and what generates the most conversions at the lowest cost, you will need to do a lot of testing as sometimes little tweaks on the images can mean huge savings in costs.
Know your audience
Suppose you are selling golf clubs on the Internet. You know that the people who will be attracted to your ads are golf enthusiasts. Once you have this information, it becomes much easier to target your potential consumers.
When you are in the process of creating an advertising campaign, one of the options offered by Facebook is to target the interests of your potential customers. If you know what the said golf enthusiasts are interested in, then it becomes easy to reach them: just enter those interests and voila, you're ready to start making sales. Wouldn't it be great if it was always that easy?
Most of the time when a business owner is just starting out, you only have hunches of what interest targeting might work. In order to find out for sure, a lot of testing and trial and error is done. A lot of the time, you end up doing what a lot of people consider as wasting money on audiences that don't convert.
However, it's not really a waste. In the process you learn what your target audience likes and what you need to convert them into paying repeat customers. Don't be afraid to experiment, make bold choices and you'll succeed.
Also keep in mind that interest targeting is just one of your options, there are many other ways you can find profitable customers with Facebook Ads.
Promote abandoned cart items
69.57% of shopping carts are abandoned. There is a reason why good conversion rates are hard to achieve. Many consumers insert items in their shopping cart, but very few proceed to purchase and that's a fact you need to remember and keep reminding yourself.
You should always assume that consumers who put an item in their shopping cart have an interest in that product. They intended to buy it but something or someone got in the way. Maybe they thought that the price was too high or maybe their partner came back home and they just got distracted.
So, now you can easily see why it can be effective to re-engage with those users again - there's a good chance they will make that purchase.
This concept is called remarketing.
Remarketing is very effective on Facebook and it can significantly increase your sales and revenue.
Referrals
As the description suggests, Facebook is a social network that facilitates relationships. Why not use that premise to generate sales?
You can establish a referral system in exchange for certain discounts. For example, you can offer consumers who purchase a product a discount for sharing the product on their Page.
This method can make consumers feel more confident buying from you than they would with a simple advertisement. This can, without you having to put an effort, also lead to a sequence of sharing!
It's so easy to share on Facebook, why not take advantage of it!
Final words
Facebook is an amazing platform to promote your e-commerce store. There are a multitude of options to convert your audience into paying customers. Here's a quick rundown of what you should do to achieve your business success with the help of the mighty Facebook
Facebook ads can be even more profitable when your product meets a need that is firmly anchored in the mind of your target customer (ex: nutrition, ready-to-wear, interior decoration, shoes, etc.).
For each campaign, you should have different and tailored messages.
If possible, reuse ads that have accumulated social proof (reactions, comments, and shares) in your customer acquisition campaigns.
Showing an ad with an attractive visual WITH social proof can increase click-through rates on your ads.
It's important to always include a call to action in your ads. You have to convince consumers to click on your ads. Don't give them a choice!