Anyone can start a dropshipping business – it's really that easy. You don't need to take care of the inventory or shipping. As long as you have a decent-looking store and a trusted supplier, you're good to go.
Marketing is where many merchants fall short, though. Getting in front of your potential customers in a highly saturated niche can be a real challenge, especially when you've no idea where to start.
The good news is that after reading our guide, you'll know the essentials of a great dropshipping marketing strategy.
Let's get into it!
1. Know who you want to sell to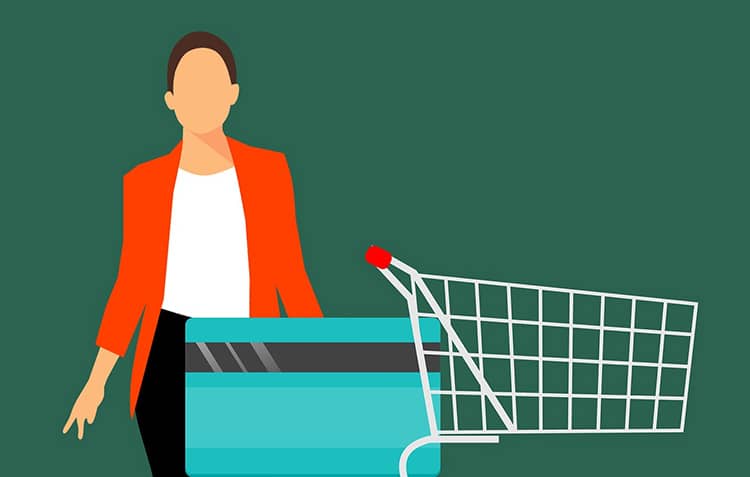 Every good marketing strategy starts with defining your target audience.
Even if you're selling commonly used products like soap, you won't grow a successful dropshipping business by marketing to "everyone." For one thing, you just won't be able to come up with content that will equally appeal to different groups of people. For another, you'll waste your advertising budget on ineffective ads.
So, instead of casting a wide net, sit down and really think about who your ideal customers are.
For example, let's imagine you're selling peel-off face masks (they're one of the best products to sell online in 2021, by the way).
Like with all skincare products, there are multiple niches you can pick. For example, you can target:
teenagers who need a solution for oily skin.
millennials looking for a dewy skin effect.
or an average office worker who needs a quick moisturizing solution before an important Zoom meeting.
You can actually sell the same moisturizing mask to all the three groups listed above. The trick is to create personalized content for different types of customers to get their attention.
Develop buyer personas
Once you've figured out who your potential customers are, you can take your targeting one step further and create buyer personas.
A buyer persona is a fictional representation of your ideal customer. Here's what it can look like: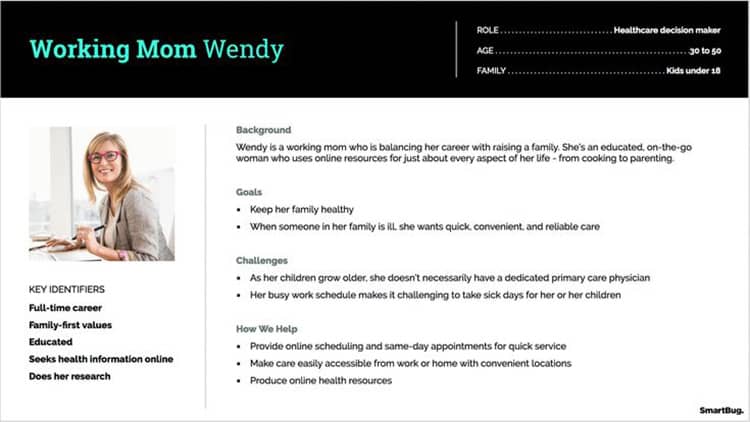 If you don't have any customer data yet, you can first base your buyer personas on your assumptions and a little bit of googling.
However, if you have made some sales already, go straight to your Google Analytics (or any other tracking system that you use) and get this data:
Demographic data: age, gender, location, education, income, work industry, relationship status, etc.
Behavior: which channels bring you the most revenue? Which devices do your customers use to make a purchase?
Psychographic data: What motivates your customers to buy your products? What keywords lead them to your dropshipping store?
Once you have more customers, you can also include quick surveys in your email marketing campaigns or ask quick questions on your Instagram stories – it's probably the easiest way to get to know your customers.
2. Figure out the right traffic channels for your store
The next step is to find out how to get traffic to your dropshipping site. One way to do it is to check our research on the best Shopify traffic channels generating sales.
We collected the data from more than 60,000 Shopify stores to see the most effective traffic channels that bring in visitors for different product niches. What works for Apparel & Accessories may not necessarily be the best choice for Electronics and vice versa.
We found that organic, direct, and Facebook ads are the channels that drive the most traffic across all industries analyzed: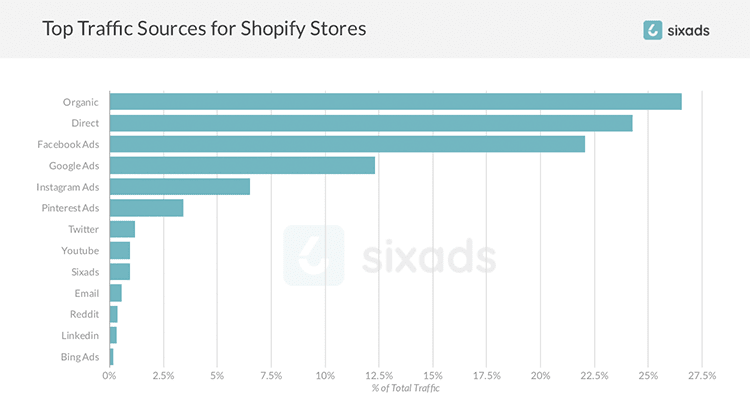 The top 5 traffic channels according to the % of total traffic:
Organic (Google + Yahoo + Bing + others) = 26.56%
Direct = 24.30%
Facebook Ads = 22.08%
Google Ads = 12.32%
Instagram Ads = 6.56%
Organic traffic is the visits to your website that come from a search engine's organic results.
Direct traffic refers to the traffic when potential customers come right away to your website by typing its URL into their browsers or through browser bookmarks.
Our research also showed that direct traffic also brings a whopping 75% of the total sales. What this means is that shoppers are more likely to buy from brands they already know.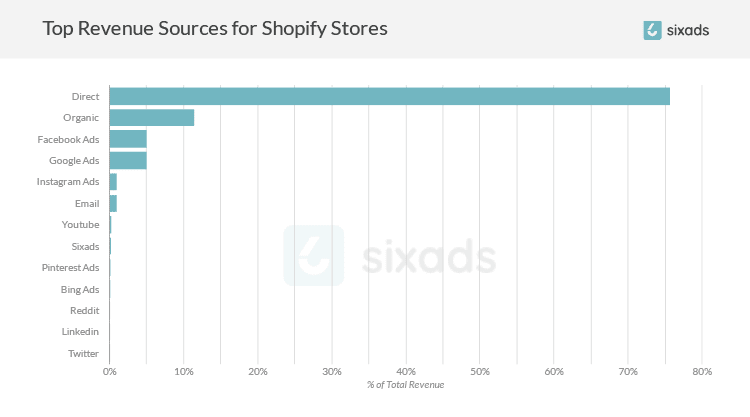 If you want to grow a customer base, your marketing strategy needs to be focused on getting direct traffic, which leads us to the next step.
3. Dropshipping Marketing 101: Build your brand awareness
Naturally, if no one knows that your dropshipping store exists, you'll have 0 direct traffic. You need to work on getting the word out about your products.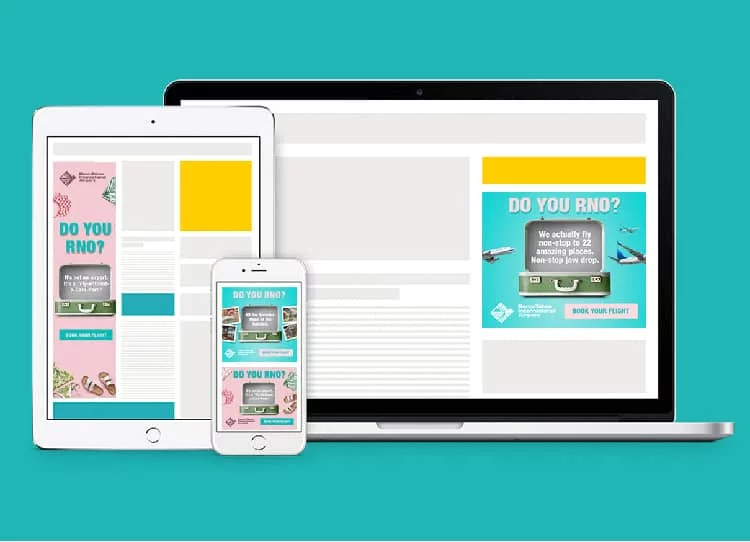 Google display ads (banner ads) offer an effective way to generate initial interest in your dropshipping business. They contain static or animated images and are shown across the Google Display Network.
Unlike search ads, display ads are not related to search queries. Instead, they are shown based on your preferred targeting. This means you need to go back to your buyer personas and think about their pain points and aspirations you can address in your dropshipping ads.
PRO TIP: Use your remarketing audiences
Once you start to drive traffic to your store, build remarketing audiences from your previous visitors, and use them to show your display ads to similar people. Use a targeting option called "Similar Audiences" to do it. You'll find potential customers with a similar web behavior as your previous visitors.
Run dropshipping marketing ads on social media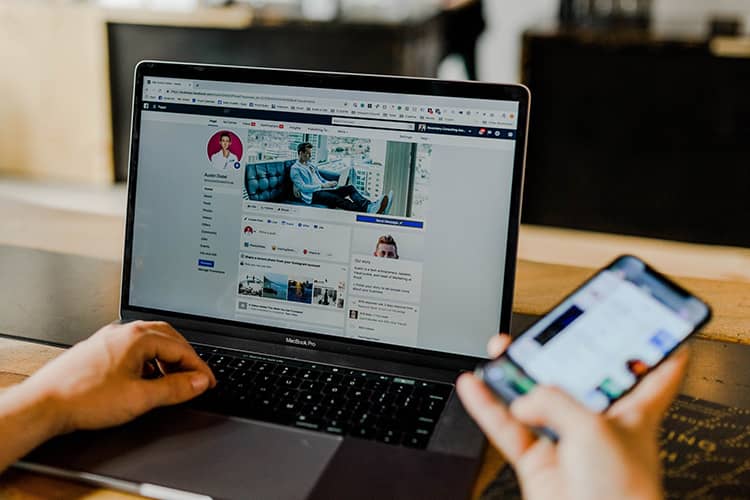 Our research revealed that Facebook and Instagram ads are in the top five traffic sources for Shopify stores, bringing about 28% of the total visitors.
How to advertise dropshipping on Facebook
First, take care of the technical things – set up your Business Manager and Ad Accounts. Once you're done with that, install the Facebook pixel.
If you've never launched a Facebook ad campaign before, read our article on Facebook advertising for beginners. Also, bookmark our Facebook Ad glossary for beginners for quick access whenever you feel a little lost in your Ads Manager.
Here are a few Facebook marketing tips for dropshipping to get you started:
Launch ongoing reach campaigns to build brand awareness
Start with ad campaigns focused on letting your target audience know that your store exists. When launching a new ad campaign, choose the reach objective to maximize the number of people who see your ads.
Keep your ad frequency low
You can choose frequency controls to regulate how many times a person sees your ads. While it's true that the more often people see your dropshipping ads, the better they'll remember your brand, it's also true that you can start being annoying, too. That's why it's recommended to keep your ad frequency below 3.
With Automatic Placements, Facebook runs your dropshipping ads on all places available on Facebook, Instagram, Audience Network, and Messenger. This allows the ad delivery system to get the best results available from multiple placements and make the most of your ad budget. Later, once the learning phase is done, you can turn off the most expensive placements.
If you've already tried running Facebook dropshipping ads and are looking for ways to improve them, check our 9 best tips on scaling Facebook ads to get more sales.
Google ads vs. Facebook ads for dropshipping
Should you invest more in Google or Facebook ads to market your online store?
Our research of Shopify stores showed that Facebook advertising brings almost twice as much traffic as Google ads (22.08% vs. 12.32%), however, both of the channels account for almost identical revenue (5.12% vs. 5.04%).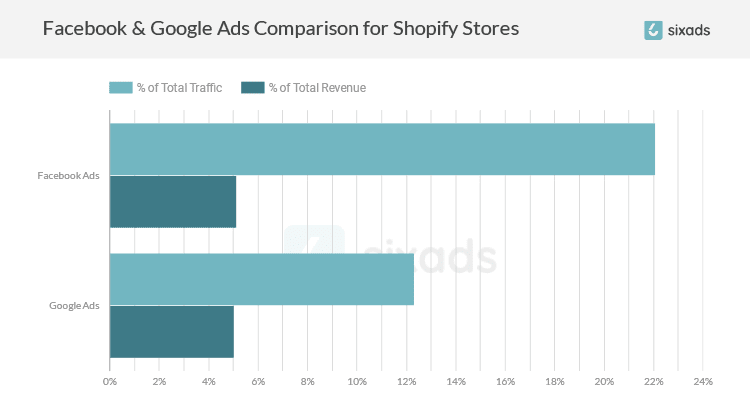 Does this mean that you shouldn't run Facebook ads for dropshipping? Not really.
Many merchants set up their Facebook ad campaigns for reach, traffic, or even post likes instead of conversions. This is why they are getting a lot of traffic instead of sales.
Both Facebook and Google are great choices to advertise your dropshipping business and increase sales. Google ads target people who are actively looking to buy something or get information about it, while Facebook ads target people based on their interests.
Use both channels to cover your marketing funnel – from generating the initial interest in your brand to closing the deal.
Instagram ads for dropshipping
Do I need Instagram ads for dropshipping if I'm already running ads on Facebook? Yes, and here's why.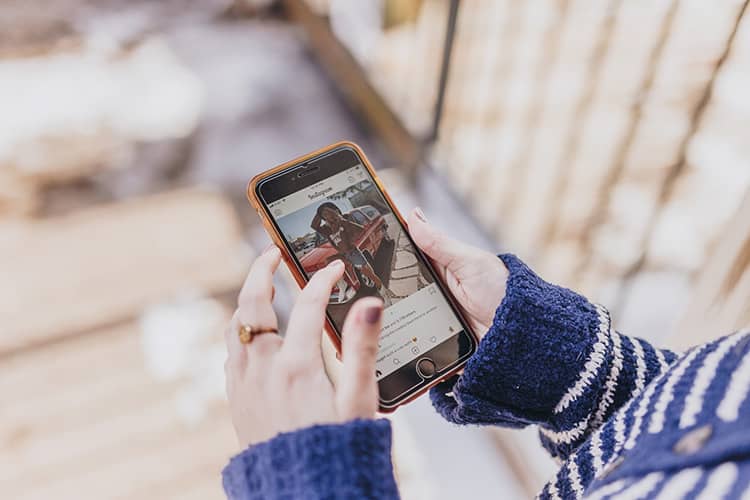 Instagram has nearly 500 million active daily users, and its audience is ready to buy. In fact, 90% of people on Instagram follow a business, and 84% of people want to discover new products on this social media channel.
Here's how to get started:
Create a business profile on Instagram.
Link it to your Facebook business page. You'll be able to use Facebook's Ad Manager to run highly-targeted Instagram ads.
Start posting content on your profile.
The third step is crucial. Before you start running ads, it's important to have some content on your profile to build trust since people will be checking you to see if you're a legit store. Not sure where to start? Check our 20 creative things to post on Instagram.
Here are a few marketing tips for your Instagram ads:
Show the human side of your business. For example, create story ads that show people unpacking your products or tell how your products can solve a particular problem for your target audience.
Other dropshipping businesses in your niche have already passed the learning phase. Save your precious time and analyze your competitors' ads. Figure out what works for other online stores and try to implement similar ideas into your advertising strategy.
Run your Instagram ads from Ads Manager
While boosting your existing Instagram posts looks easy, it won't give you the same targeting possibilities as Facebook's Ad Manager can offer. Don't fall for easy, aim to get as many sales as possible!
Create micro-influencer marketing strategies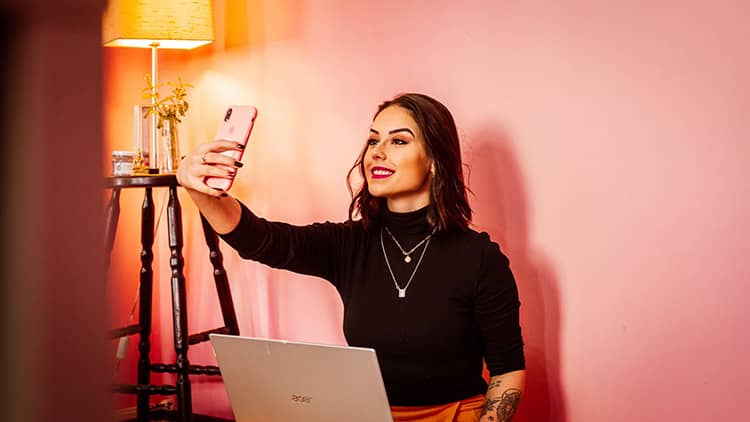 Brands are getting more out of micro- or nano-influencers because they usually focus on a specific niche, helping to reach your target audience better. Also, they tend to create more authentic content, making their followers more engaged and trusting.
A micro-influencer has between 10,000 to 100,000 followers, whereas a nano-influencer usually has between 100 to 10,000 followers.
Here's an example of a micro-influencer campaign for a clothing brand:
Don't forget to monitor your influencer campaigns' results so you'd know which marketing strategies work the best for you. Make your links trackable by adding Google's UTM parameters.
You'll see how much traffic and sales each campaign generated, if your new visitors explored your store, and what pages they were most interested in.
Work on your search engine optimization (SEO)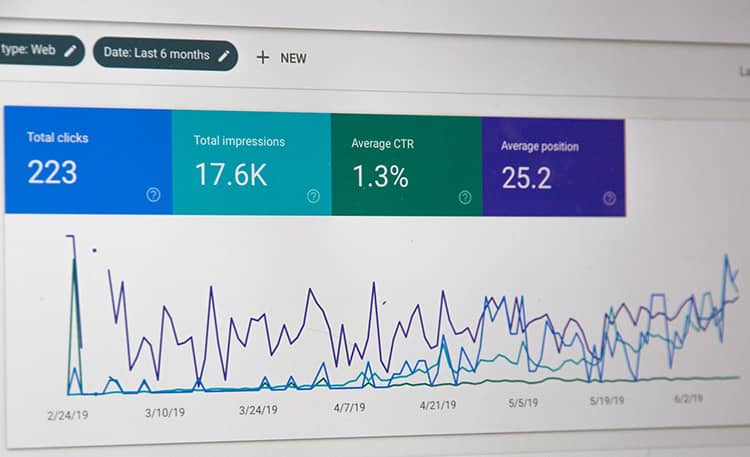 As we saw before, our research revealed that organic traffic brings the most visitors to the Shopify stores analyzed.
To get organic traffic to your dropshipping store, you need to work on your search engine optimization (SEO).
There are two types of SEO to take care of:
On-page SEO: optimizing your website for search engines and users (polishing title tags, product page content, internal links, URLs, etc.).

Off-page SEO: actions that happen outside of your website that impact your rankings (getting backlinks, brand mentions, etc.).
SEO is great because it can bring everlasting results. Once you start ranking for your business keywords, you're likely to be on the radar for a long time. The main disadvantage is that SEO doesn't bring success overnight. It's one of the long-term marketing strategies.
Luckily, there are at least 15 best SEO apps for Shopify stores that can help you optimize your online store and start ranking in search engines like Google. 
4. Move prospects down the marketing funnel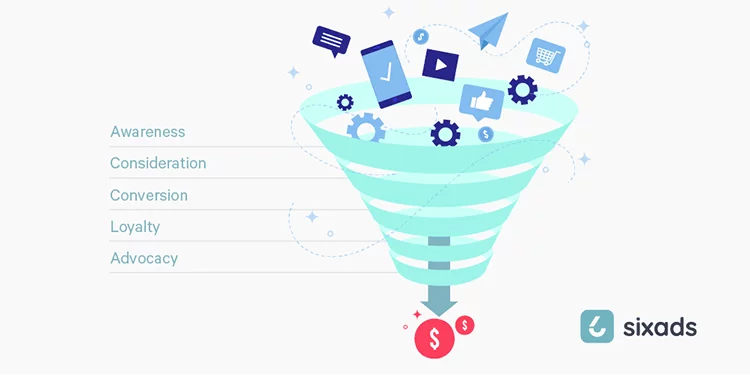 Once you have enough traffic coming from your reach campaigns, start running ads optimized for getting sales.
Remarketing lets you target your potential customers who already have an interest in your store. For example, they visited a specific product page but didn't buy anything.
Set your retargeting windows up to 30 days. This way, you can be more sure that your past visitors will still remember your store and be interested in your products.
Also, double your ad budget before the holidays – it's a great time to remind people of the products they were interested in!
Use ad automation to start selling faster
If you've never run remarketing campaigns before or any paid ad campaigns whatsoever, you can always install sixads and make use of our winning strategies. It only takes 2 minutes to set up automated paid ads with our app. You simply need to approve personalized ad visuals, targeting, and texts, and you can start selling!
5. Write down your marketing strategies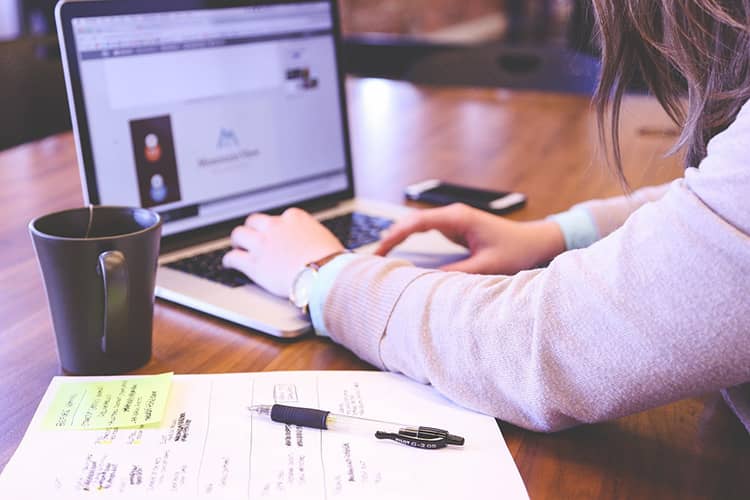 Last but not least – make sure all your marketing strategies are written down. It may look like it's fine to have everything in your head, especially since you're probably doing everything yourself, but trust us on this.
You'll have a much easier time taking care of your marketing if you have a spreadsheet to plan your social media calendar and other content. You'll be able to see how your organic Facebook and Instagram posts align with your ads and influencer marketing campaigns.
Also, don't forget to describe your buyer personas and their pain points, as well as your overall business goals. This way, you'll always have a point of reference to see if your new ideas are relevant to your marketing goals.
FAQ
How to grow a dropshipping business?
Find a supplier who can take on a lot of shipping orders without making many mistakes – someone who doesn't mix orders and offers fast delivery. If your store takes off and your suppliers can't scale with you, your business model will fail. Also, focus on marketing your dropshipping business for your ideal customers. In other words, pick a niche instead of trying to sell to everyone. This way, your marketing game will be strong.
Is dropshipping oversaturated?
With the low entry threshold to get into the dropshipping business, the market is pretty saturated. However, many merchants are still making lots of money doing dropshipping business. In fact, dropshipping is projected to be a $591.77 billion industry by 2027. The key to success is to find a profitable niche and work on your marketing strategy to stand out from other dropshipping businesses.
What is the best way to advertise a dropshipping store?
The best way to market your online store is to base your decisions on data rather than your assumptions. Gather information about your ideal customers, target them with ads based on their interests. Once you start driving traffic to your website, run retargeting ads with an incentive (a discount or free shipping) to buy your products. Use Facebook's Ad Manager to create lookalike audiences based on your best customers and repeat the process.
How to use Facebook for dropshipping?
Use Facebook ads to get in front of your potential customers and make sales. If you're selling goods that are bought regularly, e.g., skincare products or food supplements, it's also advised to work on your organic Facebook presence and create a community around your brand. Set up Facebook shops so people could buy your products right from your Facebook page. Finally, Facebook works great for providing customer service.