Dropshipping jewelry can seem daunting at first. After all, it's not something people REALLY need, neither does it solve a problem (unless you're selling engagement rings, then it's a whole different story).
In any case, jewelry is rather an emotional purchase. But here comes the good part: consumers are not as logical as they'd like to be.
The best marketing strategies are based on emotions.
According to Gerald Zaltman, a Harvard Business School professor, 95 percent of our purchase decision-making occurs in the subconscious mind. It's our emotions that drive the purchasing behaviors. So, if you're selling jewelry, you've got a lucky ticket! You just need to cash it out.
In this jewelry marketing guide, you'll learn how to market your jewelry business and start getting sale after sale.
Let's dig in!
1. Define your target market for jewelry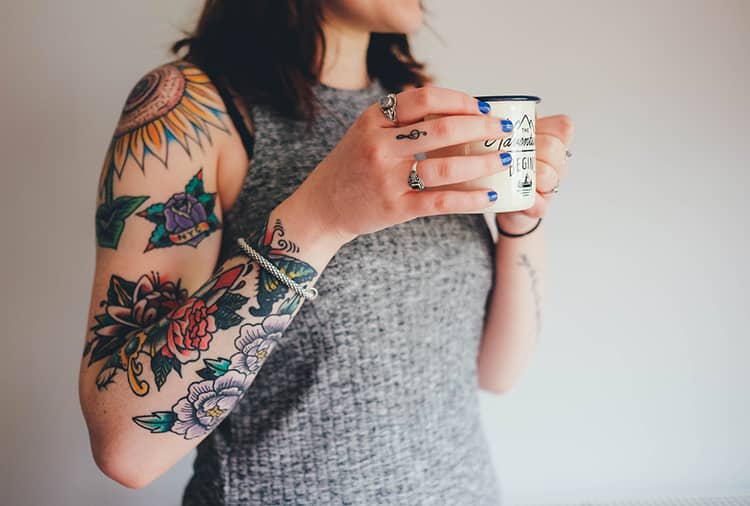 Different kinds of jewelry demand different types of marketing strategies. You wouldn't market diamond rings the same way as quirky earrings, right?
Before you start working on your jewelry marketing strategy, you need to decide who you want to sell to. Speaking in slightly fancier words, you need to define your target audience for jewelry.
What is market segmentation?
Market segmentation is the process of dividing your target audience into smaller categories with common characteristics. Segmentation's goal is to create sets of audiences that are likely to respond to your marketing efforts.
For example, your customer base may be single mothers under 30 who live in big cities. Some of them are artistic, some are not. Different interests would be the basis for segmentation.
Market segmentation helps you understand your potential customers better. Better understanding leads to more personalized jewelry marketing ideas and more sales.
There are four types of market segmentation:
Demographic
Behavioral
Psychographic
Geographic
Psychographic jewelry target market segmentation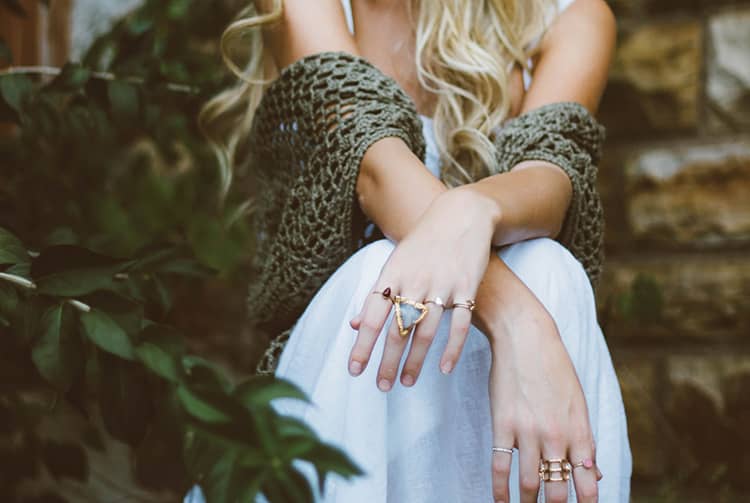 Market segmentation for designer jewelry goes beyond the usual age and gender demographics. Remember, it's an emotional purchase! That's why we suggest segmenting your potential jewelry customers based on the psychographic criteria listed below.
People like to buy from brands with a personality that they can relate to. Take advantage of it and try to find the personality traits of your potential customers. Refine your jewelry store with those characteristics in mind, and you will gather a tribe of loyal jewelry customers.
Interests, opinions, hobbies
Views on the environment, recreational activities, interest in arts and cultural issues can help you segment your jewelry target market. For example, a person with a slight interest in what's happening worldwide will likely double-check if your engagement ring is not made from conflict diamonds.
People trust brands that communicate their values loud and clear – especially when those values align with people's beliefs. Make sure your online presence encourages relatable and rewarding experiences for your customers, and you'll win big!
Our lifestyle highly affects our buying habits. Think about your potential customers' current desires and show how your jewelry fits into the whole picture. For instance, a digital nomad in Bali will likely be more interested in a hippie pendant than a flashy bracelet.
Social status is a powerful way of segmenting your target audience. People want to belong somewhere and be valued. You need to take advantage of their subconscious emotional associations.
For some, being a part of the rich and famous social group is the ultimate goal. Fine jewelry helps to maintain the status perfectly. Others seek an artistic person's social status and will be more interested in jewelry that reflects their creative aspirations. Think all things vintage!
2. Social media marketing ideas for the jewelry business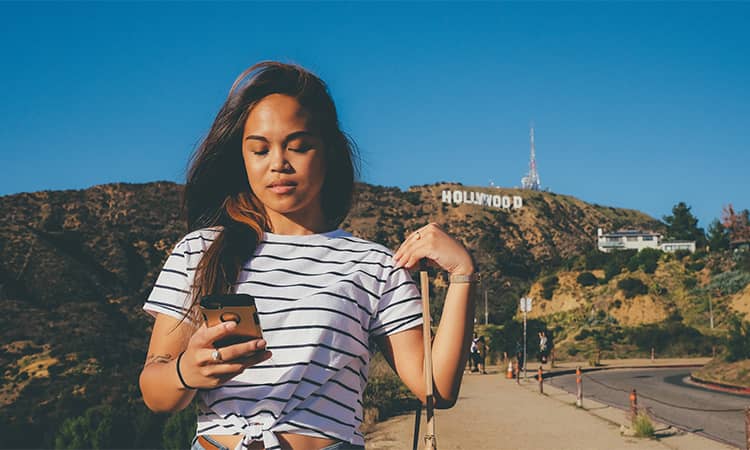 Selling jewelry online is barely possible without having a proper social media marketing strategy. After all, social media is the number one place for you to connect with your customers. It's where the conversation happens!
Let's see how your jewelry business can thrive in the world of likes and loves!
A. Share customer photos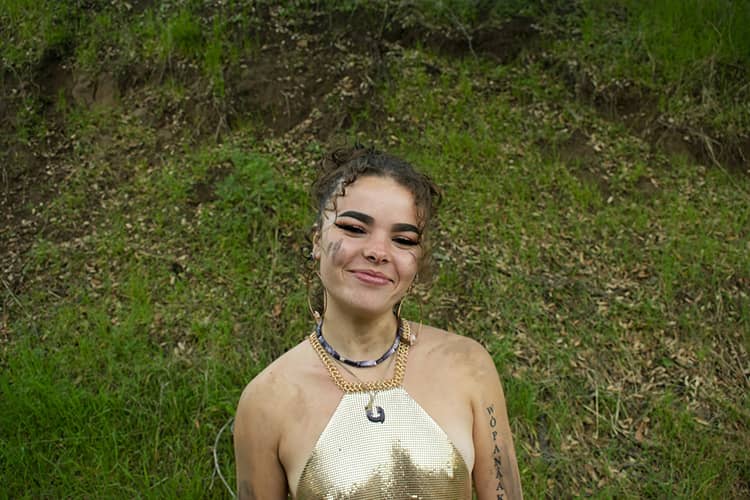 Don't be afraid to get a bit more real with your jewelry marketing. Sure, your customer photos probably won't look as great as the ones from your photoshoot. However, as long as people submit good-enough quality photos, they're good to go!
Create a unique hashtag for your brand so you could easily see who uploaded a picture with your piece of jewelry.
Create a branded frame that you could use to share your customer photos on social media. You'll always have a unifying theme, and your customer photos won't look off.
Why do you need customer photos?
For one thing, it's an easy way to increase the numbers of likes and comments on your social media platforms. And algorithms love interaction! Also, customer photos prove that your jewelry store is a legit business and gets people to trust you.
B. Organize contests and giveaways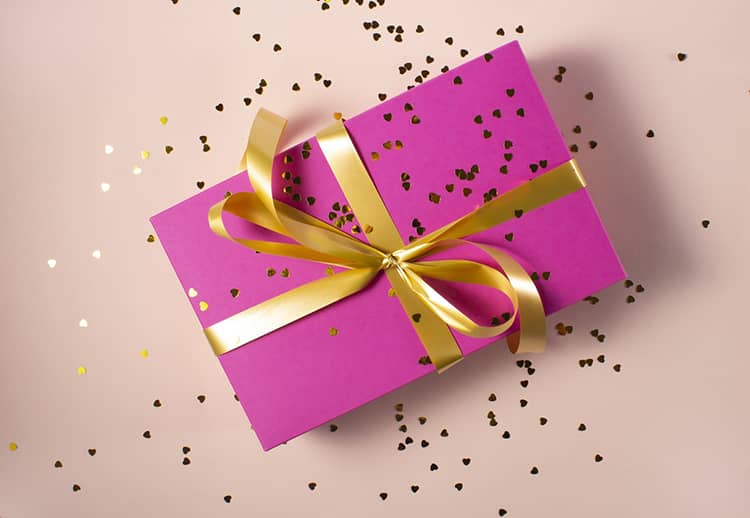 Who doesn't like winning stuff?
Giveaways and contests always attract attention. The prize can be a gift certificate or a piece of jewelry from your store. Either way, the product needs to be significant enough, so people would be excited to participate.
How to run a giveaway for a jewelry store?
We suggest a comment-based approach on one of your social media platforms.
For example, you can get the conversation started by posting an image where you announce the giveaway. Ask your followers to let you know in the comments what piece of jewelry they like the most from your online store.
You'll not only boost engagement, but you'll also learn more about your customers.
Also, it's always a great idea to find an angle for your giveaway. For example, you can run one for Valentine's day. It's an ideal occasion for generating engagement and raising brand awareness if you're in the jewelry business.
And the holiday doesn't need to be a major one like Valentine's day. You can find plenty of relevant social media days to celebrate, such as National Bracelet Day!
How to run a contest for a jewelry store?
Organize a photo contest!
Pick a theme and ask your followers to share their photos with your brand's hashtag.
For example, you could embrace the topic of self-love – a great choice to shine the light on buying jewelry for yourself — because you're worth it.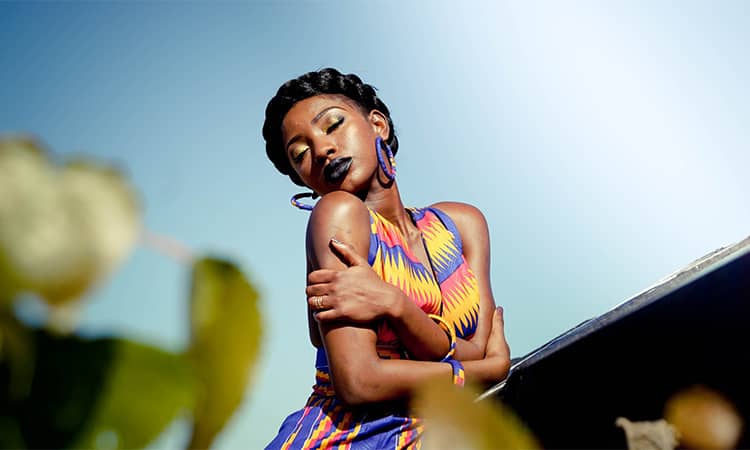 Ask your followers to upload photos where they show how they practice self-love.
Then, once you have enough photos, you can create a photo album on Facebook and let people pick the winner by liking their favorite pictures. This is a great way to get new followers since you can invite all the people who liked your content to like your page, too.
Or, you can upload the photos to your Instagram feed and work on the engagement there.
Either way, we recommend awarding a prize based on people's votes. The participants tend to spam their friends with requests to vote for their photos, so you're likely to see a lot of traction.
An added bonus: User-generated content will make your online jewelry business look more real. Seeing comments on your feed is like seeing customers in a brick-and-mortar store – engagement gets people to trust you!
C. Work with micro-influencers
Micro-influencers are people who have between 10,000 to 100,000 followers. We recommend working with them to advertise your jewelry store on social media because they tend to focus on a specific niche. For this reason, their followers are usually more engaged compared to bigger influencers.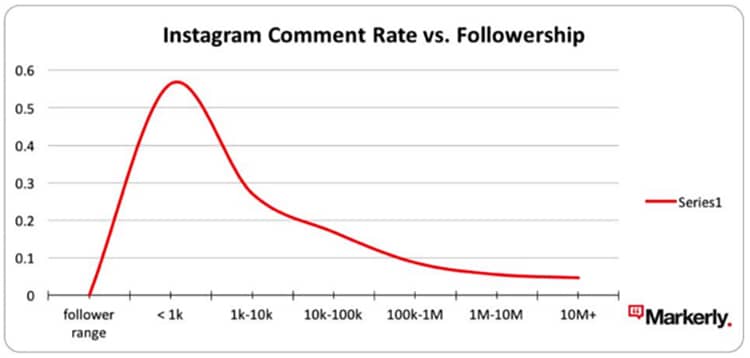 Start with one marketing campaign. Some micro-influencers will be happy to promote your jewelry business for a free item from your store. Others may want a fee. Explore your options!
Most importantly, make sure you pick an influencer who fits your brand's image.
D. Pay special attention to your DMs
"Contact us" forms tend to be a disappointment when you want to get more information about products online. In the mobile world, people expect answers now, not in the next 24 hours.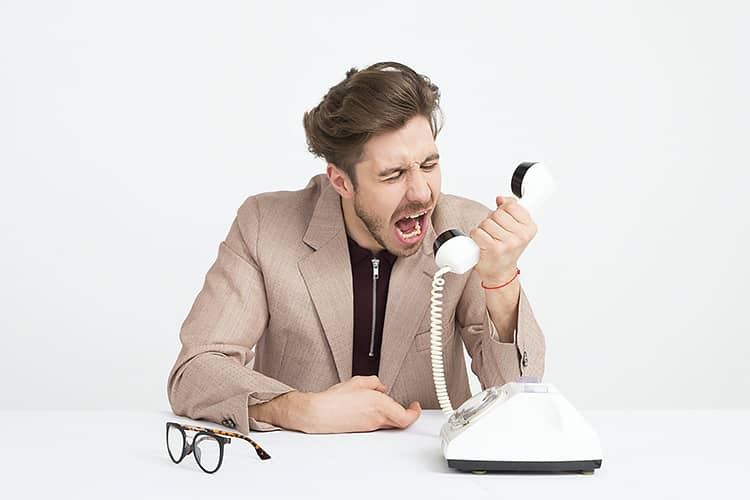 Be there for your customers on Facebook and Instagram, keep an eye on your messages and comments every few hours.
If you can, hire a community manager to take care of your store's communication. However, if your jewelry store is still pretty new, and you don't have the budget to hire people, get into the habit of checking your social media notifications first thing in the morning.
If you answer your DMs quickly, you will earn the Very Responsive Badge for your Facebook Messenger. You want that badge, trust us! It sends a signal to your potential customers that you care about them.
Plus, once you have the badge, you can use it as a selling point when marketing jewelry in your social media ads. People appreciate great customer service!
3. How to boost sales with jewelry advertisements on Facebook
One of the best ways to boost your online sales is to run Facebook jewelry ads. Facebook lets you target your potential customers very precisely! Let's take a look at some of the best jewelry ad campaigns.
My Jewellery: Attracted over 1M store visitors in one month with Facebook ads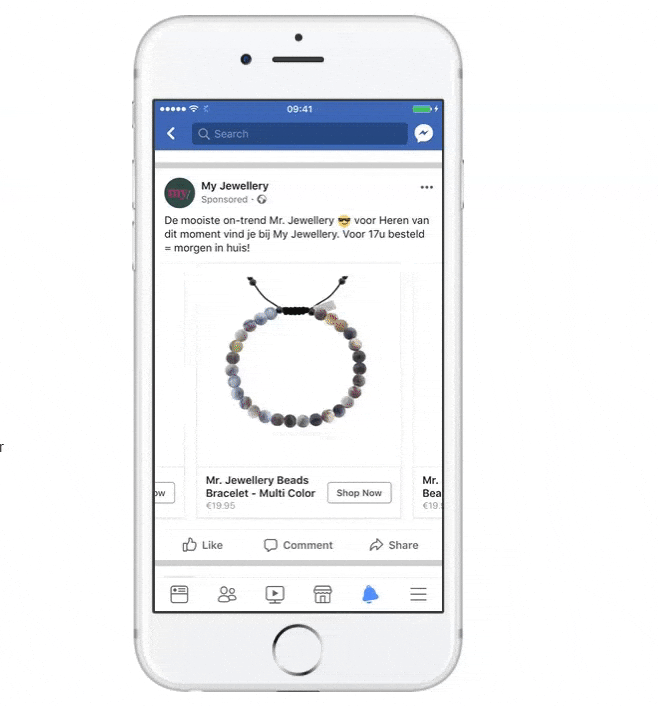 My Jewellery is Netherlands-based jewelry and fashion brand. They're not a Shopify business and have a brick-and-mortar store in Amsterdam. However, their online presence is pretty strong!
This is what My Jewellery did:
Added the Facebook pixel to their several websites to get information about the actions of their visitors.
Separated their audience groups according to the level of interest in their jewelry.
Ran targeted dynamic ads for those groups, featuring the products that their visitors checked before.
Used eye-catching photos and strong call-to-actions in their ad creatives.
Led users back to their jewelry store.
The results were brilliant:
27.5X increase in ROAS (return on ad spend)
1.1M website visitors per month
13,800 website clicks per month
If you're feeling a bit lost reading all the steps My Jewellery did, don't. They teamed up with a media agency to make this happen. You can get help, too!
We, at sixads, can help you sell faster on Facebook by running automated ads for you!
We choose the best targeting for your ad, create the Facebook pixel for you, and set up ads so you don't have to. You don't need to worry about your ad's creative either.
It's like hiring your media agency, but much cheaper. Add our app from the Shopify App Store here and run your Facebook jewelry ads like a pro!
Blue Steel Jewellery: use social proof in your jewelry ads
At the moment of writing this guide, people from a jewelry store Blue Steel are running ads below, and they're using a powerful currency in their ad copy – social proof.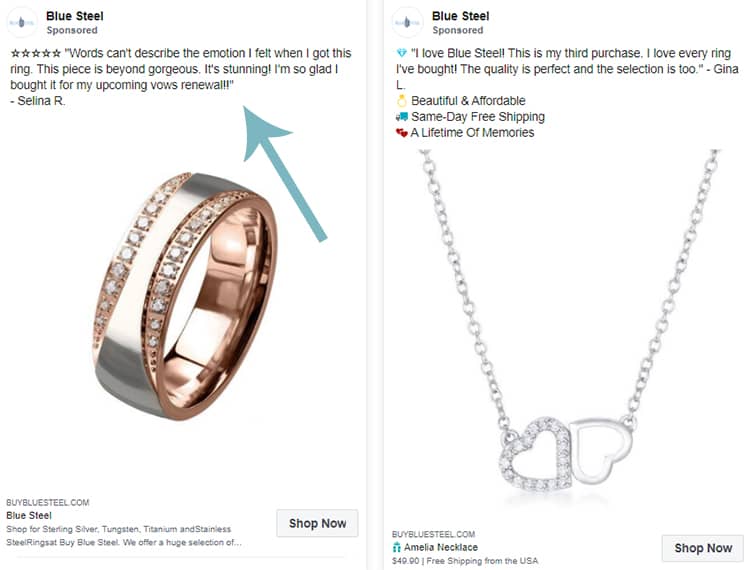 "Words can't describe the emotion I felt when I got this ring. This piece is beyond gorgeous. It's stunning! I'm so glad I bought it for my upcoming vows renewal!!" - Selina R.
The review is brilliant, even if Selina R. doesn't exist.
The first-person narrative is usually pretty convincing, and it does the trick in this ad, too. It's always better when other people say great things about your brand than when you say it yourself.
Next time you're about to launch a new ad, try including a positive review from a happy customer and see what happens. You might be up for a nice surprise!
If you want to go the extra mile with your jewelry ad campaigns, run tests.
Create one ad with a customer review in the ad text and one with a different copy (for example, use your unique selling propositions). Upload the same picture for both ads. You need to have one variable per test to understand which of your decisions brought you success.
Keep on running similar tests to see if there's a pattern and go with the winning ad. However, don't fixate on them too much. Keep on mixing things up so you don't miss out on good opportunities.
Pura Vida Bracelets: get creative with your special offers
Of course, a generous discount makes all diamonds shine brighter, especially if they're on an engagement ring, which your S.O. expects from you. But there's more to jewelry marketing than placing a 20% discount on your products. Just look at the reactions under the ad below!
Pura Vida Bracelets is a company that sells hand-crafted bracelets and jewelry online and in boutique stores. A sense of community and the joy of life are at the core of the brand. These values are also reflected in their marketing ideas.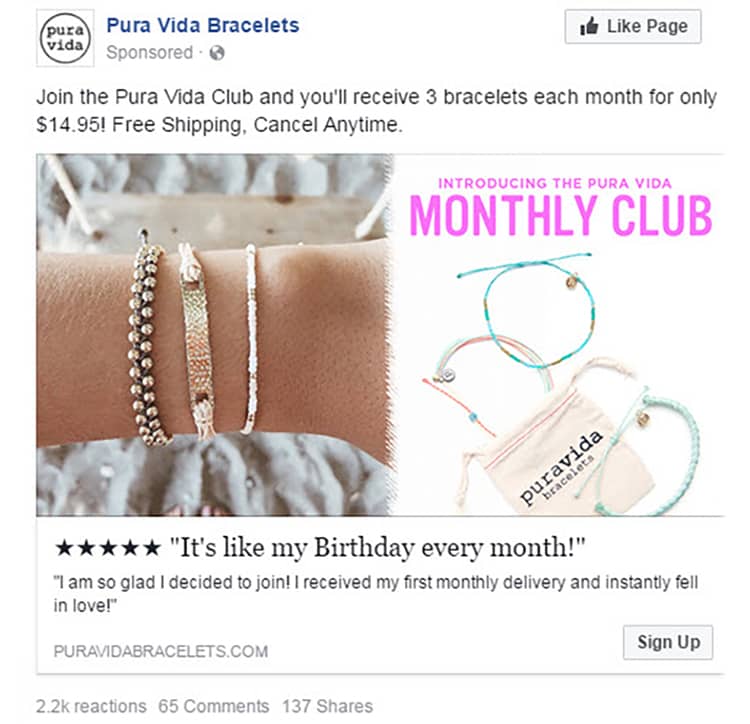 This Facebook ad for bracelets is amazing for several reasons:
It fosters a sense of belonging to a community ("Introducing the Pura Vida Monthly Club).
It uses social proof ("It's like my Birthday every month!").
It offers free shipping.
The offer is clear and enticing.
It says that you can cancel anytime!
How to use Facebook to boost your sales with Instagram ads, too
Shouldn't you simply boost your Instagram posts?
It depends.
Do you want your Instagram account to look good, or do you want to get sales?
Probably, you want to get sales. In this case, it's a better idea to launch your Instagram ad campaigns from the Facebook Ads Manager. This way, your targeting options are much wider.
When you choose to boost an already existing post, the algorithm focuses on getting the clicks, not the sales.
On the other hand, if you want to build a following, boosting your Instagram posts is a great idea. Include it in your jewelry marketing strategy. Just make sure you're spending more money on ads meant to attract potential customers.
Run ads on Facebook and Instagram like a pro and get sale after sale!
(even if you have no advertising experience)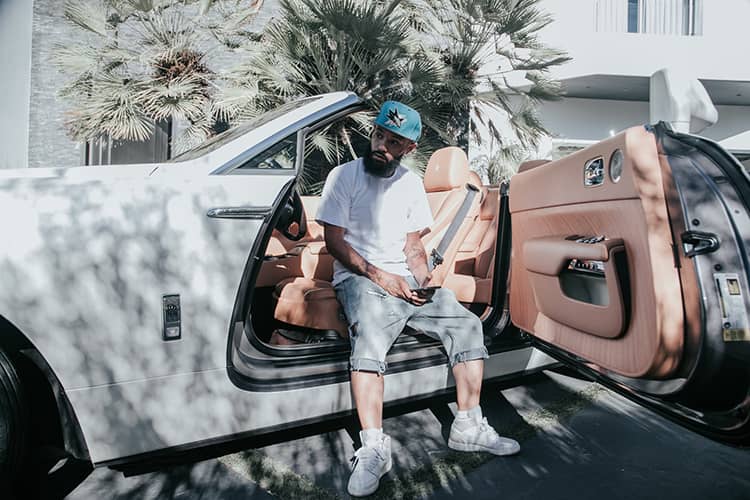 Yes, you've read that right. You don't need to spend the next three months learning all about the right ad objectives, bidding options, and targeting. We can do it for you while you take care of dropshipping jewelry.
Enter the world of automated ads.
With sixads, you can set your jewelry ads in just a few minutes! These are the four simple steps you need to take to start selling with paid advertising:
Add sixads app to your Shopify store.
Select products to advertise.
Approve personalized ad visuals, targeting, and texts.
Start selling!
And here's more: You can automate your Google ads, too.
Google Ads are great for getting your products in front of shoppers who are actively searching for products on search engines (in most cases, that is usually Google). Check it out!
Install sixads app on Shopify now and let someone else run ads for you while you sit back and relax!
If you're determined to conquer Google yourself, check out our guide on how to improve your dropshipping business with Google Ads.
4. Get new customers through affiliate partners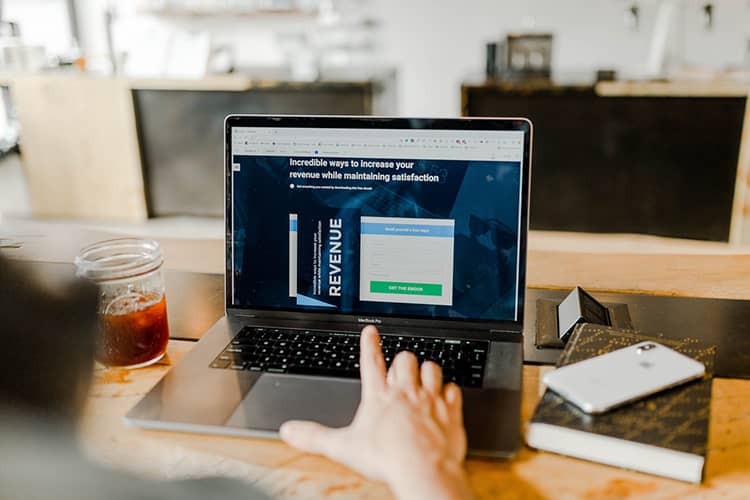 Affiliate marketing is one of the most efficient ways to attract new customers to your jewelry store.
Affiliate marketing has two sides: a merchant and an affiliate partner and the mechanics are pretty straightforward.
Affiliate partners usually use their blogs or YouTube channels to promote merchants' products. Merchants get super-targeted traffic with a high conversion rate. Affiliate partners earn a commission from each sale you make through their content.
So, how do you find your affiliate partners? You can set up your affiliate program and advertise it with Google ads. Let the partners find you!
You can also join an existing affiliate program where you can list the products you want to advertise.
Make your jewelry affiliate program attractive for your potential partners (we're speaking commission rates here).
Include material that would help to promote your jewelry. List your main value propositions in bullet points, add high-quality photos, and mention such perks as free shipping.
It does take a little bit of your time to set up your affiliate program. However, once you're done, you don't need to do a thing except watch your traffic and sales increase!
5. The best way to take pictures of jewelry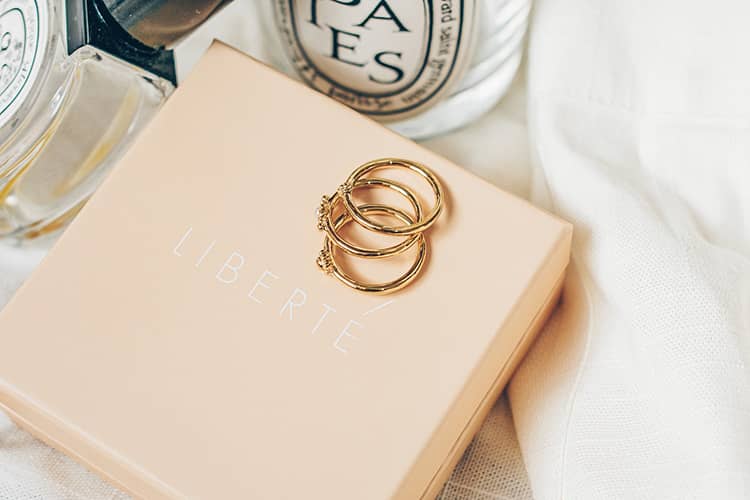 In the dropshipping world, where everyone is selling the same or very similar products, your only way to stand out from the crowd and make money online is to take your branding seriously.
A picture is worth a thousand words. Make sure you tell a good story!
Since your customers can't analyze your jewelry products as they would in a brick-and-mortar store before making a purchase, you need to make sure your visuals on your website and social media platforms are top-notch.
Sure, you'll find good-enough photos of the products you're selling on your supplier's website. But so will other people in the jewelry business.
If you want to be successful in this highly competitive industry, you need to create original images for your online store. Make your jewelry website shine!
The key tips to follow for jewelry product photography
Here's what to keep in mind when taking photos for your product pages.
Display the product from all angles. It's better to have one photo too many than too little. Being able to see a piece of jewelry in great detail can convince shoppers to go for it.

Show the texture of the product. Include a few macro shots to help your customers imagine how great your jewelry would feel on their skin.
Put the product in context. One of the reasons why people love IKEA is how neatly furniture and other items are set up in their natural environment. The same logic works for jewelry marketing too.
Include photos of people wearing your jewelry in various situations. Are you targeting the edgy Gen Z? Try arranging your photoshoot in an industrial environment. Is it an independent woman you're after? Take photos of one owning her life.
Most importantly, don't forget that buying jewelry is usually an emotional purchase, based on relatable situations and aspirations. Let your photos evoke the right associations with your brand.
How to take pictures of jewelry for Instagram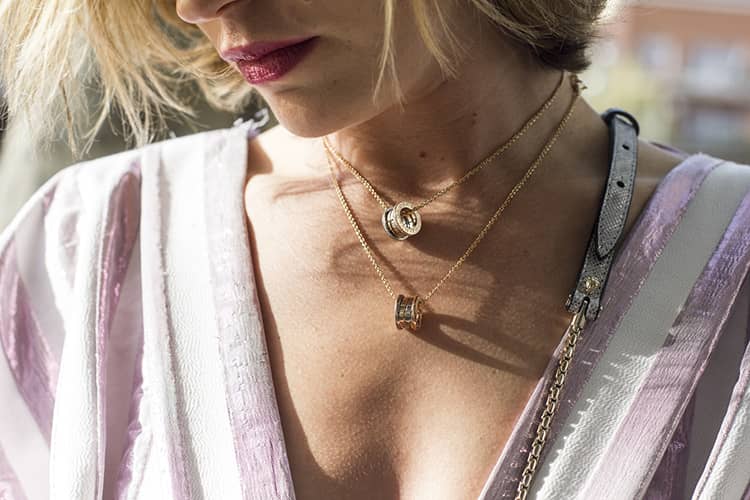 Just like with jewelry pictures for your website, the same principles apply to Instagram photography. Show your jewelry from various angles. You should have macro photos, as well as the ones where you place your products in context.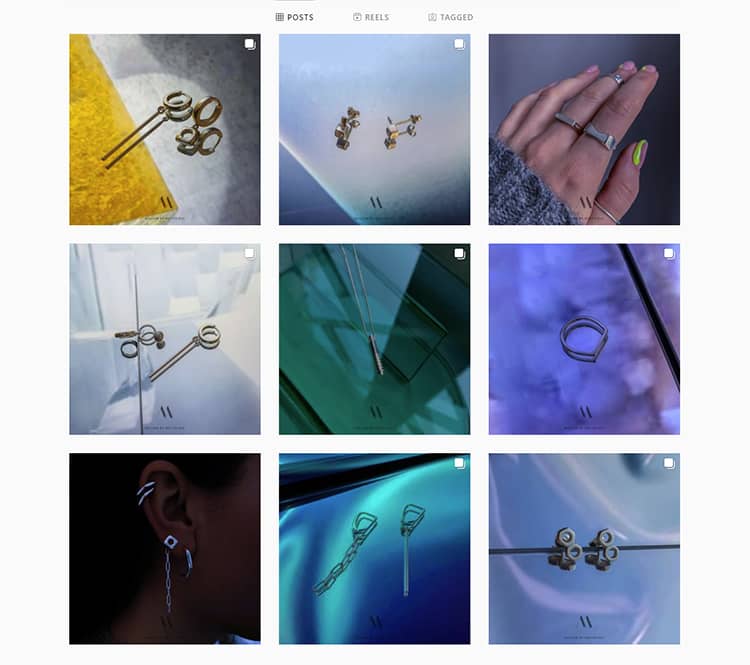 Declutter your Instagram feed
Focus on the composition of your Instagram photos as a whole. It's not just about uploading great pictures – you should also tie them together. There needs to be a sense of theme on your feed.
Here's a great example of how different the same jewelry business can look on Instagram.
Now, compare this screenshot to the image below. Do you feel the difference in aesthetics? The second image creates a much more professional and unified look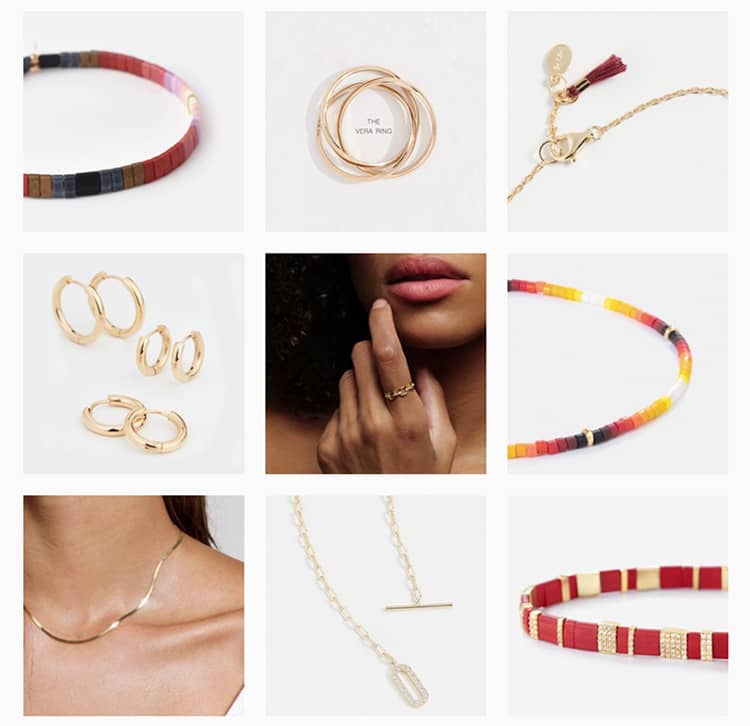 These are the images from a jewelry brand named SHASHI.
For the last two years, they've been marketing jewelry in a more minimalist style, which is also reflected on their website. Make sure your brand image stays the same across all platforms.
In the same way, the vibe you're giving on your ads needs to match the vibe on your product pages. Otherwise, your website visitors may drop out once they land on your page.
6. Best Shopify jewelry stores to get you inspired
Have a look at two fantastic Shopify jewelry stores and see what you can learn from them to improve your jewelry marketing.
King Ice - streetwear jewelry Shopify store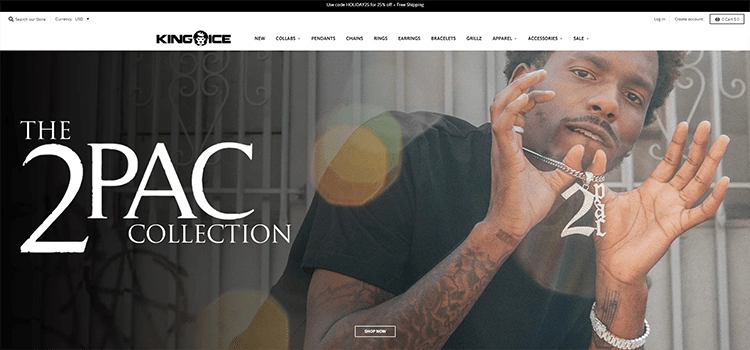 King Ice is a leading streetwear accessory brand from Los Angeles. They do exceptionally great work with their branding. Theis target audience is clear from the moment you land on their Shopify store. They maintain their vibe across all their social media channels, too.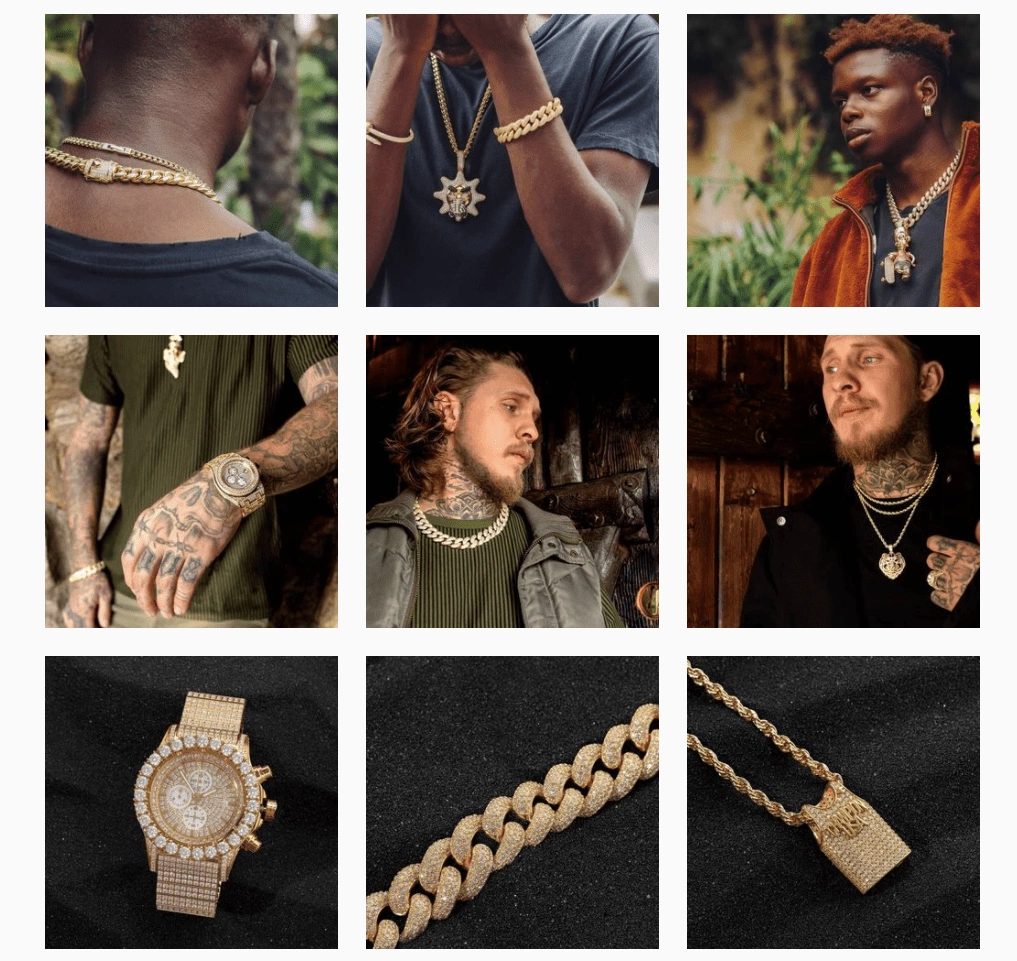 This is how their Instagram feed looks.
Ana Luisa - carbon-neutral Shopify jewelry shop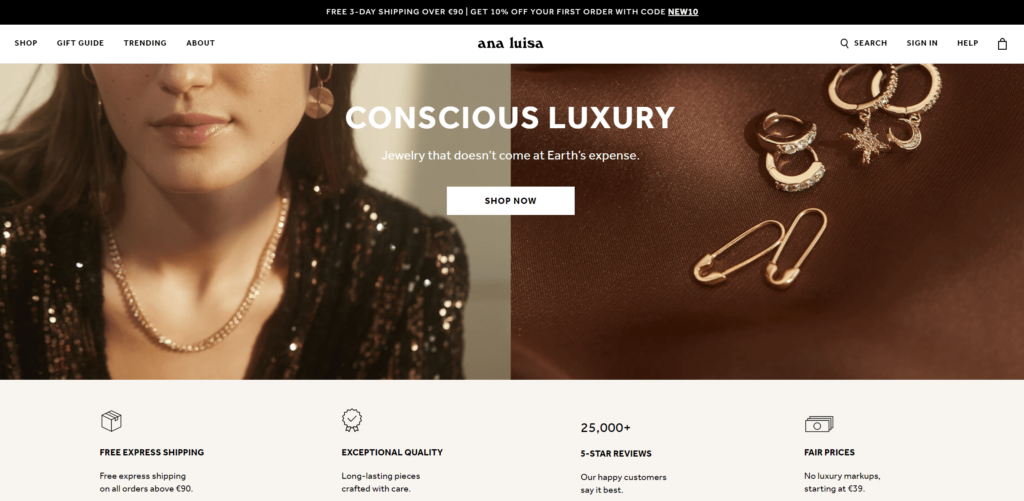 This online jewelry store takes pride in its sustainable approach to the jewelry business. Their marketing strategies revolve around the idea of selling jewelry "that doesn't come at Earth's expense."
Ana Lisa also does a fantastic job with their social media channels. Have a look at how their Instagram photos match their style on the website.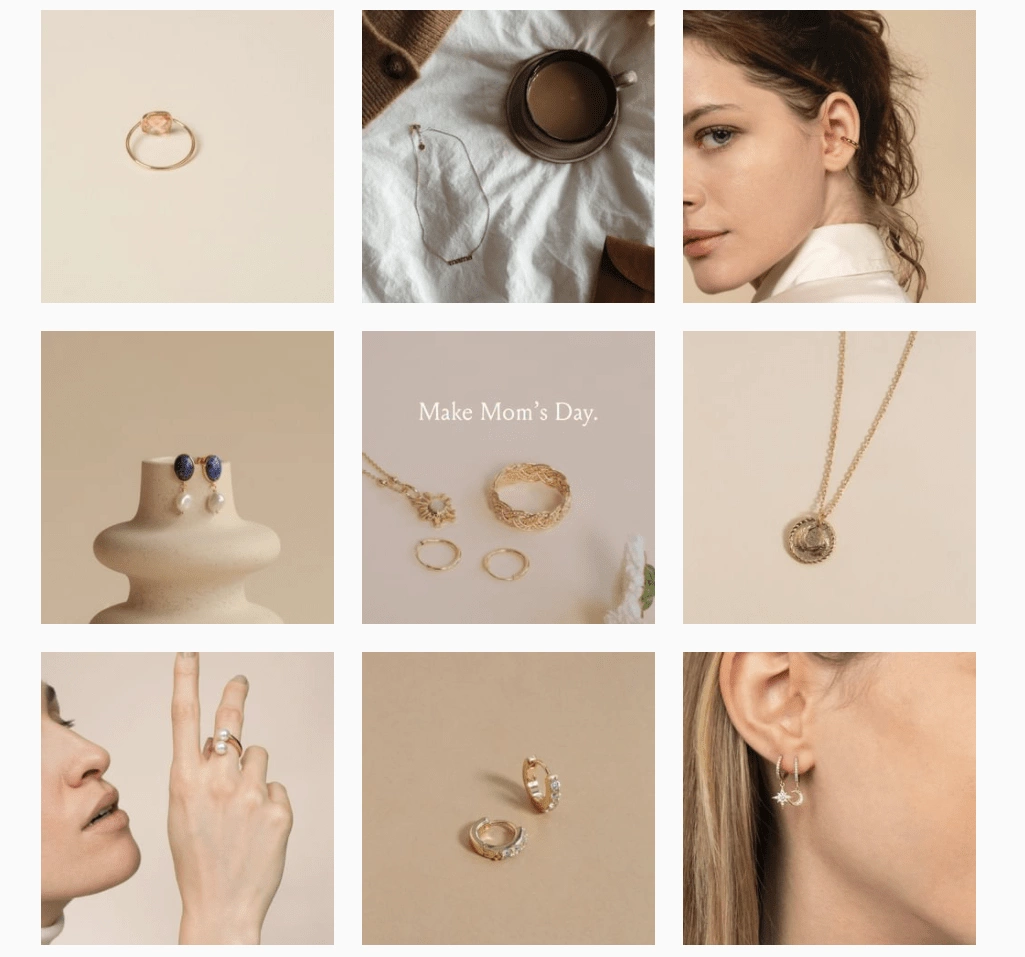 We also checked Ana Lisa on Facebook's Ad Library and found that they are also doing well with their ad creatives.
See how they're testing their ad copy in the example below.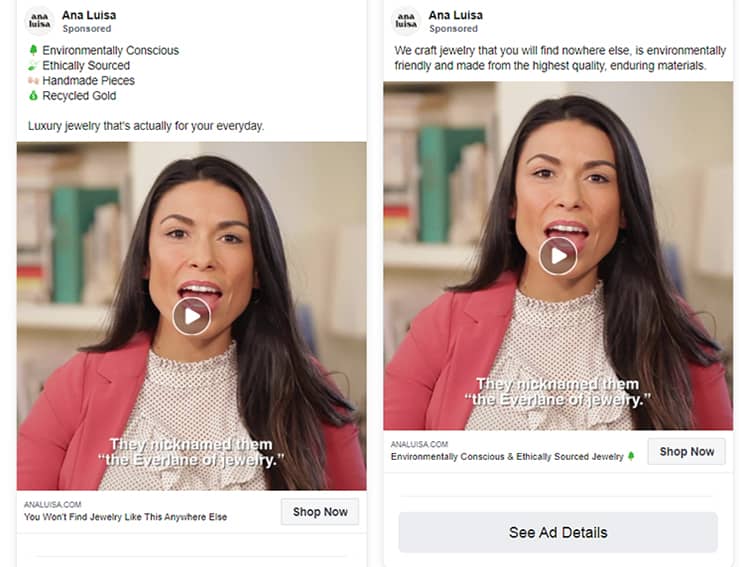 There's one issue, though. The brand has more than one variable in the test.
There are two different ad texts and two different headlines. This makes it difficult to understand what exactly might make one ad perform better than the other one. Our suggestion would be to either test the text or the headline not both.
Key takeaways for jewelry marketing
You've made it till the end of this guide – congratulations, you've got what it takes to make it in the jewelry industry too. Let's recap what you've learned about jewelry marketing so you could build your business with great confidence.
Define your target market for your jewelry brand. We suggest using psychographic target market segmentation based on your ideal customers' personality traits, interests, lifestyle, and social status.
Stand out from other jewelry businesses with your social media marketing. Share customer photos, organize contests and giveaways, work with micro-influencers, and turn your excellent customer service on social media into a selling point.
Running Facebook and Instagram ads is a must for marketing jewelry.
Use social proof in your ads to make your potential customers feel confident in your brand.
Launch your Instagram ad campaigns from the Facebook Ads Manager instead of boosting your feed posts if your marketing goal is to generate sales.
If you're not familiar with the intricate details of ad targeting and don't have the time to create the visuals and text for your ads, automate your ads with sixads, and make your life easier!
Work with affiliate partners to drive targeted traffic to your store. Set a reasonable commission to make your affiliate program attractive.
Take high-quality pictures of your jewelry that match your brand's image.
Make sure your Instagram photos create a unifying look.
Don't forget that jewelry is usually an emotional purchase. Create beautiful aesthetics and appeal to aspirations that are relevant to your target audience.
Have a look at our article on the best dropshipping courses! You'll learn how to establish your Shopify dropshipping store and find five of the best dropshipping courses for your business.