Whether you're just starting your dropshipping business or you've been in the game for a while, finding good products and suppliers can be challenging.
With so many distributors to choose from, it's easy to settle on the market leaders (we're looking at you AliExpress). But limiting yourself to one source for your products has problems:
Are you getting the best deals out there?
Are your competitors selling the same products that you are?
What happens if there are problems with this distributor?
It's time to consider some alternatives so you can diversify your product sources - which is always a smart move in business.
Enter CJ Dropshipping.
Quickly becoming one of the leading Chinese dropshipping suppliers, CJ Dropshipping boasts a great customer review score. It is becoming increasingly popular thanks to its highly competitive shipping prices.
But how can you tell if the hype is backed up by the reality? Well, we're here to help.
We've put together this review of CJ Dropshipping so you can learn more about:
what CJ Dropshipping is,
how you can use it for your dropshipping business
and if it's really worth making the shift from your current supplier.
We'll cover all the main pros and cons to make your decision easier.
So, let's hop in!
What is CJ Dropshipping?
CJ Dropshipping is a platform that offers combined dropshipping services for e-commerce sellers. These include product sourcing, order processing and shipping fulfillment. In other words, this is a platform where you can find products and place orders, with the shipping handle by CJ Dropshipping.
In some cases, you get all of this completely free of charge - differentiating CJ from its competitors and increasing its popularity among online store owners.
Established in 2000, CJ has grown to become a well-established dropshipping partner in China, and it is used by many business owners worldwide. Commonly, dropshippers use CJ in connection with their online stores to make order processes easier. It can be synchronized with the most popular softwares, such as Shopify, eBay, Woocommerce, ShipStation, Lazada and Shopee.
Their website offers over 400,000 items stored in 8 international warehouses, selling and distributing them at competitive prices. The selection is pretty broad - you can find various categories, ranging from beauty products to furniture to electronics. In addition to this, CJ's service portfolio also includes:
API support,
print on demand
and image or video photoshoots if you're in need of custom packaging or original branding.
It's a pretty comprehensive package.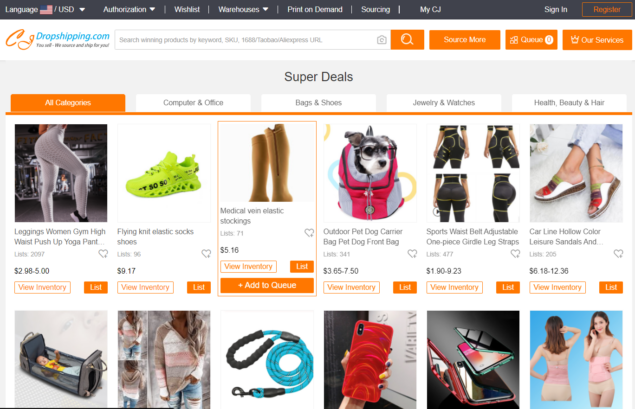 How much does a CJ Dropshipping account cost?
CJ's service fees are pretty attractive. There is no setup or monthly fee. And the costs are not just added on later when you buy the actual products. Product prices are sometimes even lower than those of eBay or AliExpress.
Additionally, you get 30 days of free storage in US and/or German warehouses and 90 days off charge for warehouses in Thailand, Indonesia and China once you sign up for the first time.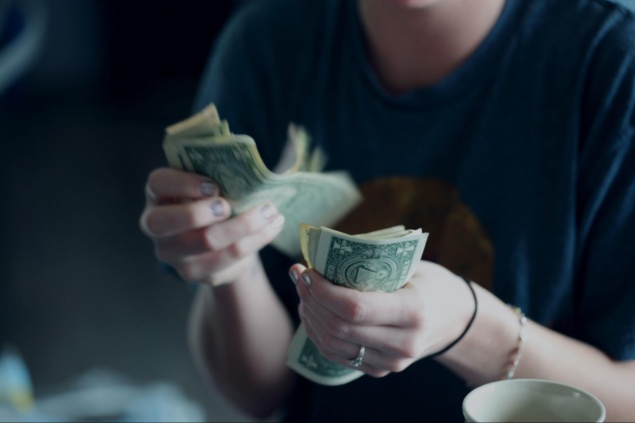 These are great conditions, but there are some exceptions you need to be aware of.
Product location: As we've mentioned, CJ only charges the product price and shipping costs. But this only applies if your products can be found at the specific warehouse requested. If the items you need are not found in a storage facility of your choice, then shipping, processing and warehouse fees apply.
US warehouses: For the US warehouses, storage begins from $0.8 for a cubic meter per day. Don't forget this is still free during the first 30 days of use. As for the processing fee, it stays and will vary between $0.6 - $5.00 per item, depending on the weight of the product.
Low turnover: Things get a tad more expensive if your turnover rate is low - you'll be charged $1.5 for a cubic meter per day in this case. On the other hand, high turnover stores are rewarded. If your daily processing of the stock keeping unit is over 100 orders and your monthly turnover rate is above 50%, the price is cancelled out completely and you don't need to pay a dime for inventory keeping.
If you need more details on pricing in other countries, you'll find them on this service fee page.
How do I sign up for CJ?
Signing up with CJ is pretty straightforward. All you have to do is go on their website, click on the Register button at the top right corner and add your details.
On the next page, create your username, and add your name and phone number. From there, make sure to activate your email through the confirmation letter. Your first step to becoming a CJ Dropshipper is now complete - it's simple as that.
If something's not clear and you need a step-by-step guide on how to do it, check out this convenient video guide.
What are the advantages and disadvantages of CJ Dropshipping?
It's easy to give in to the allure of free services, but don't get excited too quickly. All dropshipping platforms have their advantages and disadvantages.
So, it's time to take an in-depth look at the pros and cons of this particular platform. Understanding these will make it much easier to make the right decision when it comes to choosing a supplier for your dropshipping business.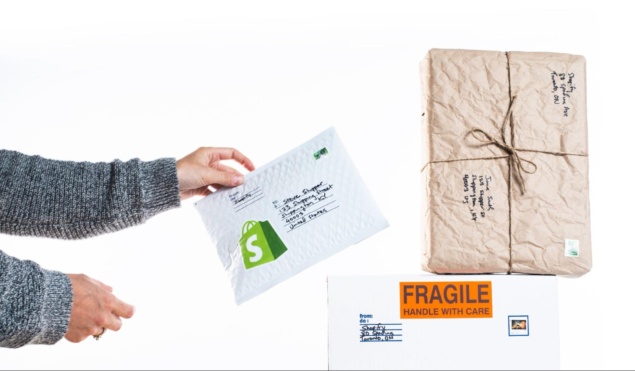 The main advantages
We'll start off with a look at the best features that CJ has to offer. These include fast shipping and processing, impressive integrations, and great customer support.
Advantage #1: Fast Shipping
Possibly the biggest benefit that CJ Dropshipping has to offer is its fast shipping times on many shipping methods. These include major global postal services like USPS, DHL, PostNL, ePacket and more.
It even has its own original shipping option, called CJPacket, which is also fast. As with most dropship marketplaces, shipping times depend on the warehouse location, the destination country, and the delivery method.
Since the USA is the biggest dropshipping market, it's great to have a US warehouse to access - and CJ dropshipping has 3 of them. These are usually stacked with listed items that only require domestic shipping.
If you ship a parcel from a US warehouse, the shipping time normally takes only 2-7 days. Even if the product is located in a warehouse in asia, it can still be shipped to customers in the US within 10-17 days via CJPacket, and in as little as 7-13 days with USPS (the latter option is a bit more expensive).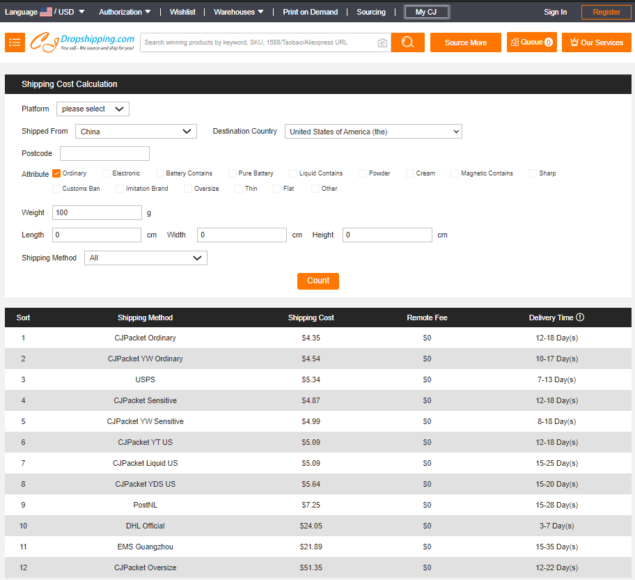 Advantage #2: Speedy order processing times
One area where CJ Dropshipping truly outperforms its competitors is order processing times.
On other dropshipping marketplaces order processing can take as long as a week. But with CJ, if the listed products can be found in the selected warehouse, processing can be a super speedy 1-3 days. For items located elsewhere, the usual handling time is 3-5 days, which is still pretty great. And don't forget, there are no minimum orders required on CJ (this is the most common reason why processing time frames are longer elsewhere).
Naturally, because CJ cuts processing times, overall shipping is shortened as well and your customers receive their product sooner.
Advantage #3: Free app and synchronization
It is easy to integrate CJ with other dropshipping and e-commerce platforms.
It currently has integrations with Shopify, eBay, WooCommerce, Shipstation, API, Lazada, and Shopee Stores.
This can be done through the CJ Dropshipping app which is completely free of charge - it is available on the Shopify App Store and (at the time of writing) has an impressive 4.9 rating.
What's great is that you don't need to be tech-savvy to connect your store to it.
Here are the steps you need to follow:
click on the Authorize tab on the top left corner of the page,
Select your required platform from the drop-down list.
Then sign in with your username and password and add the e-commerce account of your choice.
After this installation, you'll be able to list products, and place, manage, and track orders on both platforms seamlessly right from the My CJ dashboard.
For Shopify specifically, the authorization goes as follows:
First, log in to your CJ account, and click on My CJ.
Click Authorization.
Choose Shopify and click Add Store
Enter your Shopify Address.
Log in to your Shopify Account and follow the steps in Shopify to download the CJ Dropshipping Application.
Once you finish installing, you will see a pop-up window displaying Authorization Success.
Congratulations, the process is complete!
If you need more detailed instructions, check out this guide to connecting with Shopify (which includes visuals).
Advantage #4: Product sourcing upon personal request
It might seem like CJ Dropshipping's item library is somewhat limited. You might even fail to find an item you're searching for at first.
But this may not be such a big problem after all. Why not? Because they actually have a sourcing feature that will find you the best supplier and then upload your desired product upon request.
All you have to do is post a sourcing request to them, which includes some product photos and, for example, an AliExpress or Odditymall URL.
Then CJ's team does the rest - it usually takes just 24-48 hours for the product to appear on the CJ Dropshipping marketplace. Although the number of sourcing requests at the beginning is 5 per day, this increases once you start selling more on CJ.
And don't forget CJ Dropshipping also offers a print on demand service for creating products with your own design and branding.
Advantage #5: Great customer support
Customer care is an important part of CJ's overall positive image. Reviews of CJ Dropshipping suggest that it is very helpful and responsive.
Once you sign up, you will have access to both online chat support and a personal agent to help you with sales. These personal agents are especially useful in terms of scaling your business. They can quickly answer your product related questions or help you with valuable insights on what is selling at the moment. In the end, CJ Dropshipping want your business to do well, because it's good for them too.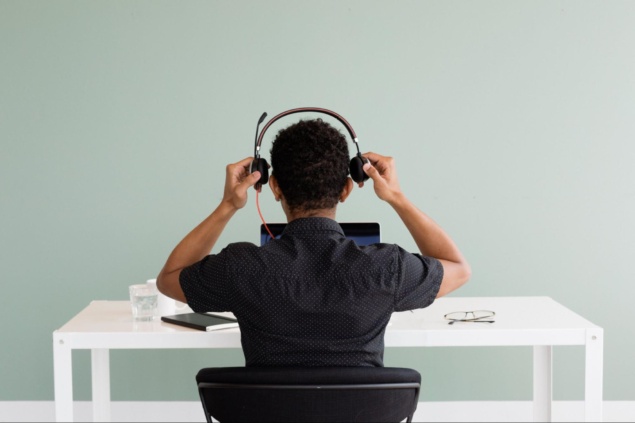 As for the chat support, this is a great feature in terms of speed of response. Users usually don't have to wait more than 10 minutes for an answer and most chat agents are fluent in English.
The downsides of CJ Dropshipping
So, we've seen the positives, but what about the negatives? In a way, CJ Dropshipping is becoming a victim of its own success. It's growth in popularity will mean more of your competitors are on this marketplace. Plus it is a challenge to keep up with the increases in order volume.
There may also be aspects of product pricing, app features, and the interface that don't float your boat. Let's take a look at the main drawbacks.
Disadvantage #1: Quickly becoming mainstream
Many dropshippers have been put off by AliExpress' long shipping times, and are switching to CJ instead. As a result, mistakes and delays are becoming more common due to increased order flows. And with more of your competitors on the marketplace, it may be harder for you to sell products that others don't.
On the other hand, since CJ is expanding so quickly, it may be a good idea to make use of its benefits now while it isn't yet at the peak of its popularity.
Disadvantage #2: A buggy app
This isn't something that should be a deal-breaker, but their application has had some bugs and lags reported. These can definitely be frustrating. You should be prepared for frequent loading screens, manual refreshes and some buttons not working occasionally.
In addition, the app's performance is quite low compared to the likes of Oberlo or Eprolo, especially in terms of agility. Many day-to-day integrated operations will be more labour intensive and time-consuming with CJ.
Disadvantage #3: Product prices are not the cheapest
Despite the personal sourcing feature that CJ offers, their marketplace still is not the cheapest alternative for dropshippers.
Prices are comparable to AliExpress, and in a lot of cases are exactly the same. For this reason, CJ tends to highlight its add-on services and focuses on ensuring good customer support.
And don't forget, dropshipping from any marketplace is going to be more expensive than sourcing products directly from a supplier or distributor. You're only going to get better prices by hiring a private sourcing agent or ordering in bulk in most cases.
Disadvantage #4: An overwhelming user interface
One of the most common problems that CJ's users mention is the cluttered interface of the website.
This issue often arises when browsing sub-pages about costs or features, or when looking for the right buttons to click. There are also plenty of errors in the auto-translated content, which is not written in native English. All of this can make it pretty challenging, especially if you're just starting out with dropshipping.
Disadvantage #5: Risk of high-selling items being revealed
If you're looking to sell that one special product, CJ may not be the platform for you.
That's because its team will be able to see your profits and the exact number of units you've sold.
This poses a risk of this information being revealed to someone else through an agent, leading to your competitors making use of your listing success. Still, since the dropshipping world is as fast-paced as it is, this may not be too much of a concern. After all, great products don't stay hidden for long.
How does CJ Dropshipping compare to AliExpress?

The fundamental and most important difference between AliExpress and CJDropshipping is the role they play in order fulfillment. AliExpress does not directly process all orders itself. Instead, it provides a platform for different vendors to operate in.
This can result in dropshippers having to do labor-intensive comparisons with dozens of sellers all offering the same product, but at different item and shipping prices.
CJ Dropshipping, on the other hand, does this all for you. It is a one-stop seller of everything, and holds all the items it sells in its warehouses.
At its core, AliExpress is an international retail platform, while CJ is exclusively created for dropshippers to use and make money from. You could even say that CJ is a mash-up of AliExpress and Oberlo based on the services it provides.
Aside from this fundamental difference, there are plenty of smaller differences that are significant when comparing the two as well.
Different payment methods
CJ Dropshipping accepts 8 different payment methods and even has an additional option of COD (Cash On Delivery) for authorized clients.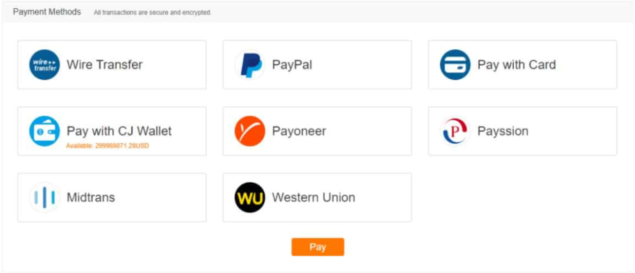 In contrast, AliExpress does not have a clear list of payment systems that are accepted, due to them varying depending on numerous vendors.
Sadly, some suppliers don't even accept PayPal, which is one of the main payment methods used by customers in Western countries.
User experience
In terms of ease of browsing the marketplace, AliExpress undoubtedly wins. Even though categorization is almost identical in both webpages, it's instantly evident that AliExpress has clearer navigation and a tidier interface.
That should come as no surprise considering CJ's many additional built-in tools created solely for dropshippers, not direct buyers. It's possible to get the hang of it, but it may take a while when you're just getting started.
Warehouse inventory
By having multiple vendors, AliExpress doesn't need to have its own product storage warehouses. Most sellers stock their own items, meaning AliExpress' inventory is usually very limited.
CJ Dropshipping has the upper hand here because it has its own international warehouses. If you need a US warehouse, there are 3 available. Plus it has 2 in China, and additional warehouses in Indonesia, Germany, the UK, France and other locations.
This means it has a much larger inventory in its warehouses for most products, resulting in much faster processing times.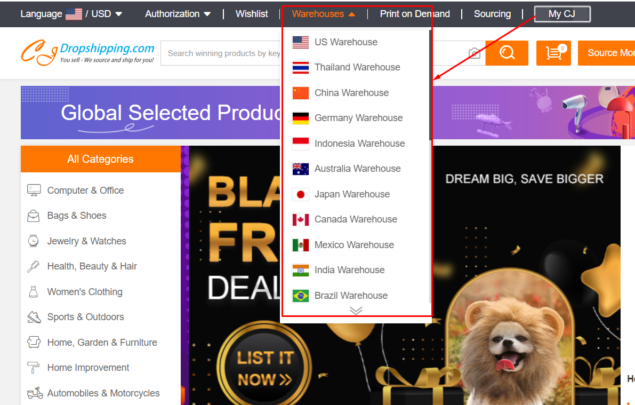 Product listings - scale and quality
Without a doubt, AliExpress overpowers CJ Dropshipping when it comes to the number of listings.
Its marketplace is enormous, with more than 100 million items available for sale. In comparison, CJ Dropshipping has a much lower selection of 400,000 products. The reason for this is that CJ has limited staff, in contrast with the millions of independent suppliers on AliExpress.
While AliExpress has almost everything you could wish for on its website already, CJ Dropshipping selects trending items and updates their library according to user sourcing requests.
The limited staff numbers at CJ also influences the quality of product details in the listings. These are much better on AliExpress because each vendor puts in lots of work on their product listings in order to attract customers.
Nevertheless, CJ Dropshipping compensates for this limitation through additional services such as professional video and image shooting in their own production studio. These are already available on the site and can be used freely by dropshippers. They are perfect for Facebook advertisements.
Original shootings can also be requested and cost around $150 for the rights to the video - they offer studio quality, although the quality of these is satisfactory rather than impressive.
Parcel packaging and delivery
Having only one supplier (in the case of CJ Dropshipping) gives one more advantage - consistency.
When ordering from different sellers on AliExpress, your parcels may arrive on random dates and in different packages. This could confuse your customers and even make them think that there has been some kind of shipping mistake.
In contrast, CJ Dropshipping puts products together to be shipped in one parcel. It can even print your store's logo, image or text on it at the same time, which if you're selling print on demand products.
Finally, if there are any problems with orders or returns, with AliExpress you might need to contact multiple suppliers. But with CJ Dropshipping there's only one place you need to contact.
Better returns and improved consistency in packaging and shipping time will mean improved customer loyalty. And for dropshippers, loyalty is like gold. Not only does it mean good reviews, it also translates into a more profitable business.
What do dropshippers say about the CJ Dropshipping App?
The CJ Dropshipping application is rated highly by thousands of users both on several consumer review websites. It has a 4.9 rating out of 1577 reviews on Shopify App Store. It also has 4.9 stars on Trust Pilot, a rating which is based on feedback from 3,159 users.
Positive comments tend to focus on customer support and personal agents, like these ones: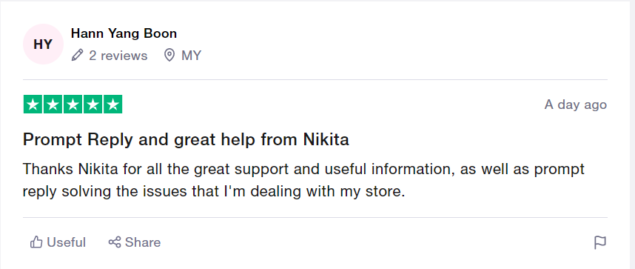 Lower rated reviews are usually related to non-satisfactory shipping updates or processing times, as well as items being out of stock. Dropshippers also point out that when you're using free inventory only, you may experience some delays. One of the tendencies seems to be that CJ customer service is quick to answer, but not always that quick in actually managing problems that arise.
In summary, about 90% of those who commented have found it to be a great dropshipping marketplace, concluding that CJ Dropshipping is a legit and trustworthy platform to use.
CJ Dropshipping Review: Key Takeaways
Overall, CJ Dropshipping seems to be a great low risk platform for starting a dropshipping business.
It's main pluses are:
wallet-friendly pricing, with no set-up or monthly fee,
speedy worldwide shipping time that is better than AliExpress,
responsive English-speaking customer support,
And customization options that include packaging and print on demand.
When compared with AliExpress, CJ Dropshipping offers better consistency in delivery time and packaging. AliExpress offers more products, but this is somewhat compensated for by CJ Dropshipping's option to request a specific product.
In summary, it's a smart option for getting started with dropshipping, so give it a try. And once you're set up with your first products from CJ Dropshipping, you'll need to know how to market them effectively. This guide to the basics of marketing for dropshippers is a great resource to help you with that.
FAQ
How does DJ Dropshipping compare with AliExpress?
There is a basic difference in the way these two platforms work. AliExpress does not directly process orders, which means you're not buying from AliExpress - you're buying from a vendor who uses AliExpress.rnrnBy contrast, CJ Dropshipping processes the order itself, shipping products directly from its warehouses in the US, Asia and Europe. This means you get better consistency from CJ Dropshipping in terms of shipping time and packaging.rnrnOn the other hand, because it has so many vendors, AliExpress offers a much wider range of products (roughly 100 million, compared to 400,000 for CJ Dropshipping). But with CJ Dropshipping, you can ask them to start stocking a product you want to sell.rnrnThere are also differences in payment methods (CJ offers more), user experience (AliExpress is simpler and easier to use), and warehousing (CJ has warehouses in 3 continents).
What are the advantages of CJ Dropshipping?
The biggest advantages of CJ Dropshipping is shipping time and consistency. With warehouses in the US, you can have products with your customers in 1-3 days (for certain products and locations).rnrnCJ Dropshipping also simplifies the whole sourcing process because you only deal with one distributor, and you get a dedicated agent to help you, plus 24 hour support.
What are the downsides of CJ Dropshipping?
In terms of user experience, CJ Dropshipping is not great. So, make sure you familiarize yourself with their website before scaling your business, as a lot of users find it confusing.rnrnIt's also important to keep in mind that CJ's shipping costs may differ depending on the location of the warehouse you are sourcing from. As with any other dropshipping website, checking and comparing is inevitable.