When you're looking for a website builder to host and power your online store, Shopify and Squarespace both have some serious benefits to offer. From Shopify's powerful app store to Squarespace's beautiful visual elements, these are definitely two top contenders for the best e-commerce platform available.
But which is best for your online store will really come down to your priorities and preferences.
In this Shopify vs Squarespace review, we're going to consider the key aspects offered by both e-commerce platforms to help your store grow.
Key differences
Although Squarespace are both highly efficient and robust solutions for your online store hosting needs, they do offer some significant differences that may influence your decision on which one to go for. For the most part, this will come down to the original intended purpose of the platform:
Shopify was founded in 2006 as a solution for hosting online stores, so it was created with e-commerce in mind. With that considered, it should come as no surprise that Shopify is probably the leading player when it comes to e-commerce solutions.
Squarespace was founded in 2003, but didn't add e-commerce functionality until 10 years later. This makes it a veteran website builder but still pretty young when it comes to e-commerce.
But don't let Squarespace's e-commerce youth fool you. In just a few short years, Squarespace packed a punch into its features and functions to make it a serious contender for the best e-commerce platform available and is certainly up to the task of giving Shopify a run for its money!
That said, if you're looking for a really powerful e-commerce platform, Squarespace simply isn't going to give you the same options as Shopify. That's because Squarespace is designed to help you build and manage a wide array of different types of websites – from online photography portfolios to a local church bulletin board and everything in between – whereas Shopify exclusively caters to online stores.
Pricing
When it comes to figuring out which is better – Shopify vs Squarespace – one of the first things you'll want to look at is the pricing. Shopify and Squarespace offer pretty comparable price plans, covering various features, user accounts, and more.
Shopify Pricing
Shopify offers five price points for users:
Shopify Lite: $9 per month
Basic Shopify: $29 per month
Shopify: $79 per month
Advanced Shopify: $299 per month
Shopify Plus: Custom pricing starting at $2,000 per month.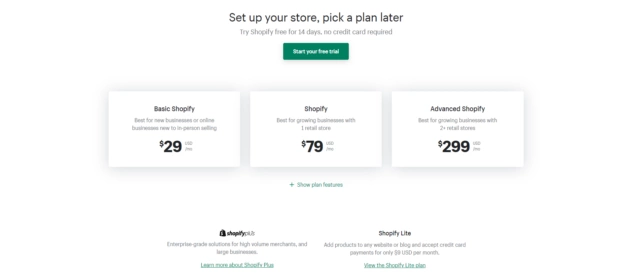 Although we've included Shopify Lite here, it's vital to understand that Shopify Lite doesn't actually enable you to build an online store. Instead, this plan allows you to integrate Shopify' Buy Buttons' to sell products or services on an existing website, social media page, or blog. This plan also gives you access to the Shopify POS Lite, so you can sell goods from a physical location with inventory integration and management/analysis features.
Shopify Plus will also be out of the question for most beginner e-commerce business owners. This personalized and highly tailored plan starts at $2,000 per month and is more suitable for big names in e-commerce. In fact, many well-known brands use this Shopify plan to host and manage their online stores.
Squarespace Pricing
Squarespace also offers five pricing plans to customers. Like the Shopify plans, not all of these will be appropriate for the small e-commerce business owner:
Personal: $16 per month
Business: $26 per month
Basic Commerce: $30 per month
Advanced Commerce: $46 per month
Squarespace Select: Custom pricing
There's also a discount if you can afford to pay annually.

Like Shopify's Lite plan, Squarespace Personal isn't suitable for an e-commerce business owner as it won't let you build and manage an online store. In fact, this price plan actively prohibits online sales. It's also not possible to customize the HTML and CSS of your site on this plan.
The Squarespace Select plan answers Shopify Plus and offers a similar style of enterprise-level hosting solutions. Again, pricing information can only be obtained for this plan via consultation with Squarespace to create a customized plan that suits your store. That said, the starting price for Squarespace's enterprise solution is considerably lower than Shopify Plus.
However, for most business owners, you're going to want to stick with a Squarespace Commerce or Advanced Commerce plan. The basic Business plan should also offer the essential functionalities you need to get a new online store up and running.
Website Builder
Before we get into e-commerce solutions offered by Squarespace and Shopify, it's worth looking at each platform as a website builder. After all, nobody is going to shop with you if your store looks run-down, and selling online will be really difficult if you're struggling to deal with the website editing.
Squarespace and Shopify are renowned for excellent ease of use when designing your perfect online store. But they do go about it in pretty different ways.
Templates
Squarespace is known for its selection of stunning templates that are easy to customize without ever needing to touch the code. There are over 70 beautiful, modern-looking templates on Squarespace.
Shopify does offer more themes than Squarespace. However, you do need to pay for most of them.

If you want a free theme with Shopify, you can choose from around 10 options. However, each Shopify theme includes 2-4 variations, so there is more choice than it appears at first. You can also select a premium theme – although these do come with a premium price: usually between $140 - $180. It's also worth remembering that these premium themes may require you to contact a third-party developer if anything goes wrong.
One thing we really like about the Shopify themes is how easy it is to find the right one for your business. You can immediately filter out all free or all premium themes and then sort the results by a wide range of filters.
With Squarespace, any theme can – in theory – be altered to suit an online store, but there are a small number of dedicated e-commerce themes that will probably suit selling online more. Squarespace also offers the added benefit of extra visual effects, including the ability to integrate Getty Images and Unsplash stock images onto your website.
Squarespace even allows you to use YouTube video backgrounds on your landing pages, with the ability to adjust filters and playback speeds. This isn't really an option with Shopify themes, although Shopify does offer a wide range of visual effects to help your online store stand out.
Overall, however, both Shopify and Squarespace have a great collection of themes and templates to choose from. And with plenty of customization options on both platforms, you're sure to be able to create a stylish and professional virtual storefront relatively easily.
Editor
Once you've picked your e-commerce theme, Squarespace and Shopify both offer plenty of customization options to help you transform the standard theme into the store of your dreams.
Squarespace uses a relatively intuitive drag-and-drop editor in its e-commerce website builder, so you can easily move content around and get your website exactly how you want it.
On the other hand, Shopify uses a "what you see if what you get" or WYSIWYG editing system. This works a little like Microsoft Word as it's a text editor that lets you place images, videos, and other special features in line with your text. You can then 'preview' or 'publish' a page to double-check how it will look on different devices.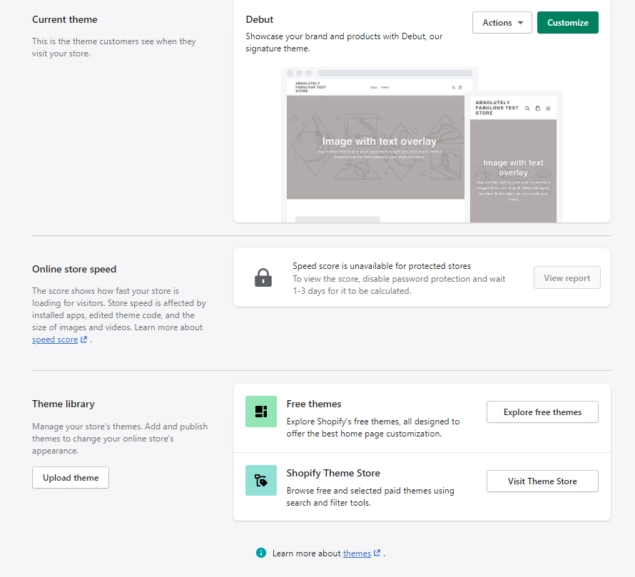 With Shopify, you will also be granted access to your chosen theme's HTML/CSS code. This means that if you know how to code (or are willing to hire a developer), you get even more customization options.
If you prefer the drag-and-drop editor approach utilized by Squarespace, it is worth noting that there is a third-party app available in the Shopify App Store that will allow you to use this. It does, however, come with a price, and the benefits are debatable.
Ease of use
Regarding the editing interface and layout, Squarespace and Shopify are relatively similar. For both platforms, you'll find a menu on the left-hand side of your screen that allows you to navigate your store's backend. On the right-hand side, you'll be able to complete various tasks, from editing content to adding products and more.
We must admit, Squarespace does offer a slightly more elegant-looking solution to e-commerce website management. The drag-and-drop layout is straightforward and mobile responsive, so you don't need to worry about editing your website for multiple devices as you do with platforms like Wix. And because there are fewer e-commerce features, first-time website builders will likely find Squarespace a little easier to navigate.
That said, although Shopify might take a bit more time to master, it's by no means a steep learning curve! You're sure to intuitively find everything you need, and the straightforward, intuitive labels on every button make controlling your online store from Shopify's backend quick and painless.
Domains
It's worth noting that Shopify and Squarespace are both domain providers in addition to being website builders and e-commerce platforms.
One of the biggest pros of Squarespace is the inclusion of a free custom domain whenever you purchase a Squarespace site. Whereas, with Shopify, you can purchase a custom domain, but this will be on top of your Shopify plan, which is an added expense you will need to bear in mind.

E-commerce features
Because the platform was built for online stores since its inception, we expect Shopify to outperform Squarespace when it comes to e-commerce features.
That said, Squarespace's e-commerce features do an excellent job of keeping Shopify in check. While they can't quite compete on every level, the platform offers plenty of features and functions for you to run a successful e-commerce website on the Business plan, Commerce plan, and Advanced Commerce plan.
Products
If you're operating an e-commerce website, it's vital to display your products in the best way to attract customers. This includes everything from ease of import to altering the product description and even the range of images/videos customers can use to make their decision.
Here, Squarespace really shines by always making your products the center of attention. e-commerce tools such as an advanced zoom feature and the ability to offer 360′ visual views 'out the box' keep your Squarespace site focused on products.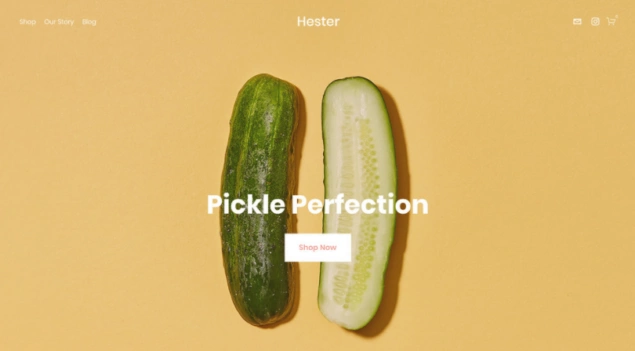 Shopify also ensures importing and editing products is as effortless as possible, whether you're dropshipping or adding your own items. You can easily alter the image title, description, and extras, and there are even options to import extra information for inventory purposes. You can also set up shipping options for your product by saving the shipping weight and more.
If you have multiple options (size, color, material, etc.) of the product, Shopify or Squarespace can manage this on a single product entry.
One downside for Shopify vs Squarespace when it comes to product viewing is that Shopify doesn't offer a zoom function 'out the box.' However, there are apps you can add to your store to help with this… Just keep an eye on the price!
Payments
If you're selling online, you'll need a payment processor and convenient payment options for your customers. In fact, a common reason people abandon their online shopping carts is due to a lack of payment options.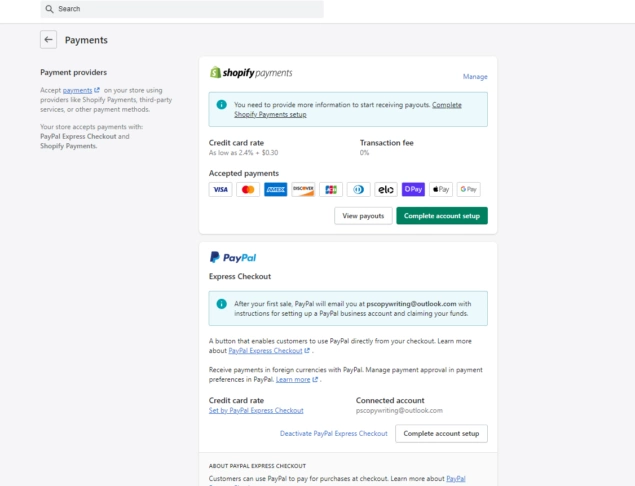 For Shopify users in the US, Canada, Europe, The UK, Asia, Australia, or New Zealand, you'll be able to benefit from Shopify's own payment gateway: Shopify Payments. This enables you to process payments from most major providers without being charged additional transaction fees. Take payments easily from the following:
Visa
Mastercard
Amex
Discover
JCB
Diners Club
Elo
Shop Pay
Apple Pay
Google Pay
If Shopify Payments isn't suitable for your store, you want to offer more options, or you're outside of the areas where Shopify Payments works, you can also add third-party payment gateways to your Shopify Store with ease. This includes the classics like PayPal, Square, and even cryptocurrencies. However, Shopify will charge 2%, 1%, or 0.5% transaction fees depending on which plan you're on.
If that's not enough, Shopify also recently introduced the ability to add a tip or donation to charity at checkout, which is a nice touch.
On the other hand, Squarespace offers a relatively limited selection of payment options, only handing Stripe, PayPal, and Apple Pay. You can also now collect in-person payments with the Squarespace POS system (which we'll look at in more detail later).
Shipping
Now you've got your products online and looking good, you need some good shipping options to get them to your customers.
Shopify and Squarespace both allow you to set up shipping zones worldwide. You can determine shipping rates based on a range of values (including weight), and even print shipping labels directly from your store backend.
However, while Shopify deals with most shipping options and labels in-house, Squarespace outsources label printing to a company called ShipStation and offers an order and fulfilment solution to your shipping needs via ShipBob.
But while Shopify seems to offer far more comprehensive shipping versatility vs Squarespace, Shopify does let itself down in one vital area: living carrier calculated shipping rates. With Squarespace, you'll be able to experience carrier calculated shipping rates on their Advanced Commerce plan and above, starting at $40 a month.
On the other hand, Shopify only includes this beneficial e-commerce feature on the Advanced Shopify and Shopify Plus plans. If you're on a lower plan, you can add it to your subscription, but it will cost you.
It is also good to note that Shopify now also offers curbside pickups and local delivery options in response to the global pandemic. This allows for fee-free and contact-free delivery.
There are also numerous shipping apps available in the Shopify App Store to enhance your shipping options and experience.
Dropshipping
When it comes to dropshipping, there really is no Shopify vs Squarespace debate at all… Simply because this isn't possible to do on Squarespace, whereas Shopify fully embraces the dropshipper lifestyle!
If you need dropshipping e-commerce features, Shopify offers a whole host of third-party apps such as Oberlo to aid you with everything from importing products to dealing with shipping options and even customer support. The Oberlo Chrome extension is a particularly useful tool for dropshippers.
Squarespace offers no features for dropshippers.
POS
POS, or "point of sale," functionality enables online stores to take their goods offline and sell in physical locations. It means that your inventory and analytics are automatically updated whenever you sell a product online or in a physical store, and you never accidentally sell out of your best-selling products.
Square is renowned as one of the best point of sale systems available, and it's this POS software that Squarespace utilizes for offline sales integration.
However, it is essential to note that Squarespace's POS system only includes a basic Square card reader. Shopify offers a complete kit that includes a card reader, barcode scanner, and even a cash draw.
In fact, Shopify's own POS system is more than capable of competing with any leading names. Included in even the Shopify Lite plan, you can manage offline sales easily via the app, take payments, and much more.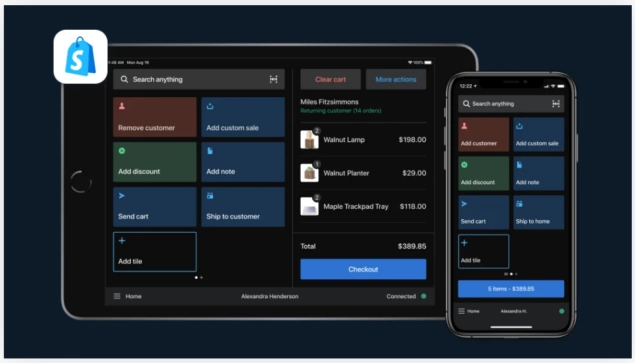 If you want a more sophisticated solution for offline sales and have a Shopify Plus account (or are willing to spend an extra $89 a month), users can also benefit from a more comprehensive POS app that lets you prepare and manage pickup orders from your smartphone.
It's also worth mentioning that Square may charge a transaction fee for credit card payments processed via the Square payment gateway. These transaction fees will be from Square, not Squarespace.
Marketing
All the e-commerce features in the world can't make up for poor marketing. After all, no matter how you build it, you won't drive traffic to your website if people don't know it's there!
From creating valuable blog posts to social integration, marketing abilities are arguably the most crucial e-commerce tools Shopify or Squarespace can offer.
Social Media
Social integration and marketing is vital for any successful online store and is a place that Shopify absolutely thrives. With the assistance of Shopify apps like sixads, you can easily manage and automate your social media marketing from one straightforward app.
Shopify Buy Buttons are also an excellent way to get your items in front of more potential customers, as shoppers can browse your wares and purchase products without ever leaving the website they're on. They're perfect for connecting your Instagram, Facebook, or even external blog with your Shopify store.
Squarespace doesn't offer the same flexibility as Shopify when it comes to multi-channel integration and won't allow you to sell products on external sites.
However, you can display content from social profiles on your Squarespace site and automatically push your web content to social. You can also embed 'share' buttons to enable followers to share your content to Facebook, Twitter, Instagram, Pinterest, and LinkedIn.

Email Marketing
Shopify, Squarespace, Wix… Any e-commerce platform should provide features and tools to make your email marketing and newsletters a little more streamlined.
For Squarespace sites, you'll be using their built-in tool, Email Campaigns. This system is straightforward and allows you to send up to 50,000 emails monthly during the free trial period. After the free trial, it will cost $8 monthly to continue using the Email Campaigns features.
In addition to the emails themselves, Squarespace also includes popups and an announcement bar as part of the marketing package.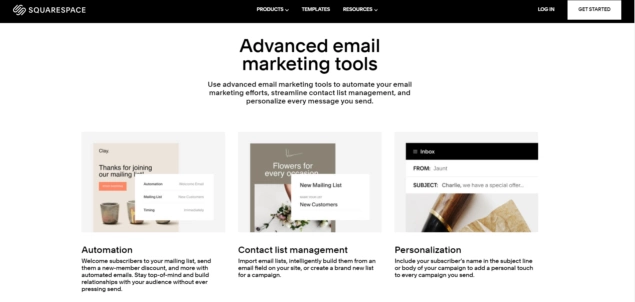 Comparatively, Shopify Email gives you up to 2,500 free emails every month with a $1 fee for every 1,000 emails you send above this limit as basic Shopify solutions. That said, if you want to expand these limits, there are loads of free and paid apps and add-ons you can use for email marketing campaigns in the Shopify App Store that should satisfy any requirements you have here.
It is worth mentioning that if you're a Mailchimp user, you might not be happy with Shopify, as they do not offer any integration with Mailchimp. Squarespace, however, does allow you to link your forms directly to Mailchimp with minimum hassle.
Abandoned Cart Recovery
It might surprise you to hear that Squarespace doesn't actually offer abandoned cart recovery features 'out the box.' Instead, you have to pay a minimum $46 monthly to access these features and chase up those cart abandoners.
On the other hand, Shopify has some decent abandoned cart recovery email features. This automated service allows you to create abandoned cart emails that you can send out at a set time after the cart was abandoned. You can also include a gift card or discount code to entice shoppers back to your store.
The only thing we'd like to see with the Shopify abandoned cart features would be popups or other on-site recovery features, as the 'out the box' solution only lets you contact customers if they have provided their email address. However, when it comes to Shopify vs Squarespace, Shopify definitely wins for abandoned cart recovery for having any free services in place at all!
Blogging
When it comes to creating blog posts and content, you're going to get more options with Squarespace than Shopify. This is simply because Squarespace is set up as a website hosting platform dedicated to displaying your content, whereas Shopify is focused on selling products and creating online stores.
That said, Shopify does offer the ability to create, manage, and categorize simple blog posts on your website. It also lets you integrate RSS feeds so readers can share your content on social platforms and subscribe to your blog.
If you want more sophisticated blogging options, you can always look to the Shopify App Store, as there will undoubtedly be add-ons that let you extend these capabilities.
Squarespace provides much more power vs Shopify when it comes to blogging, with features including:
The ability to drop your content into any landing page or sidebar using summary blocks.
Built-in analytics.
Custom search features.
Archiving functionality.
SEO
Seeing as Squarespace offers so much more sophistication when it comes to blogging than Shopify does, it might surprise you to learn you get a lot more SEO functionality when you use Shopify vs Squarespace.
While Squarespace offers basic search engine optimization (like adding meta titles and descriptions), the platform doesn't offer advanced features 'out the box' nor does it provide any SEO-friendly advice as you work on your store.

As a platform dedicated to helping your e-commerce store achieve as much as possible, Shopify has an impressive range of features to help you rank higher on SERPs (Search Engine Results Pages).
Out the box, you'll be able to edit product titles, descriptions, images, and even the URL for your store (although this is one of Shopify's less SEO-friendly features). The platform is filled with advice to help boost your rankings, and there are loads of apps in Shopify's App Store to further your SEO journey.
What's more, Shopify will automatically create a 301 redirect if you alter the URL of your landing pages. This effectively tells search engines that your content has moved, so you get fewer failed visitors. While Squarespace will allow you to do this, it won't do it automatically or even prompt you to set a 301 redirect if you alter the URL.
Analytics, reporting, and inventory
If you're looking for an e-commerce platform provider, chances are it's because you want your online store to do as well as possible. But the only way to know if your store is a success or not is through analytics and reporting.
Squarespace and Shopify offer various analytics, reporting, and inventory tools to help you streamline your online store. This includes the ability to see where and when your sales are taking place, key audience metrics, and inventory updates so you're not advertising out-of-stock products.
Reports and analytics
For advanced reporting performance, you're probably going to need to use Shopify rather than Squarespace as this is the more e-commerce minded platform. However, Squarespace shouldn't be disregarded when it comes to analytics.
In fact, Squarespace Commerce includes some decent built-in analytics software to help you track various metrics, including total order numbers, revenue, and customer behavior. Not bad for a content-based platform!
That said, as you might imagine, Shopify offers a significant variety of analytics metrics, including:
Total sales
Store conversion rate
Average order value
Sales by traffic source
Returning customer rate
Total orders
Store sessions by device type
And so much more.
Shopify's Live View page is also a valuable reporting tool, as it shows you even more in-depth information about your customers as they browse your stores.
However, Shopify does limit some of the reporting tools to higher price plans. This means that users on Basic Shopify might be missing out on some key metrics for their store.
The silver lining here is that both Squarespace Commerce plans and all Shopify stores can easily integrate with Google Analytics, so you can rely on that if your current plan doesn't offer the tools you need.
Inventory management
While you might expect the winner for inventory management features to be Shopify, Squarespace really impresses in this area and beats out most other competitors that don't offer e-commerce only features.
The clean, user-friendly, intuitive inventory interface is delightful to use. The inventory panel can handle unlimited SKUs and multi-dimensional product variants, and the dashboard will send automatic email alerts when your stock is running low, in addition to adding 'Limited Availability' labels to the products in question.
You can also sync your Squarespace inventory with other platforms to ensure you're updated across the board.
But while Squarespace is a valid competitor to Shopify for inventory management tools, Shopify still takes the win with a complete inventory features package. With full management information and tools on one page that also links to your separate sales channels and the POS app, there's very little missing from Shopify's invoicing.
Customer support
Shopify and Squarespace both offer decent options when it comes to customer support. However, it's Shopify again that pulls ahead here.
Shopify offers 24/7 customer support via telephone, live chat, and email. Squarespace doesn't offer phone support, and the live chat agents are only available Monday to Friday, 4am-8pm EST, so there's already a lot less support here.
Squarespace does advertise 24/7 support via email and on Twitter; however, we found you're unlikely to get an immediate response using these channels, which can be frustrating when you have a problem with your website that could be a quick fix.
That said, Shopify and Squarespace both have a really high-quality support forum, FAQs, and other online resources to help you find answers without contacting support.

Security
The final criteria we wanted to look at in our Squarespace vs Shopify review was the security of the platforms, both for users and your customers.
Shopify and Squarespace are both secure by design and incorporate SSL with all their plans. You can also enable two-factor authentication to protect your account with either platform.
A significant benefit of Shopify and Squarespace is that they're close systems and highly controlled by developers, vs open-source competitors like Woocommerce or Webflow.
FAQ
Shopify vs Squarespace: Final Thoughts
In conclusion, we found you can create a stylish, modern, professional-looking store with Shopify or Squarespace. Both interfaces were easy to use, and the customer support teams were friendly and helpful (and there was plenty of information available online when the customer service wasn't available, or we didn't fancy talking to anyone).
As we keep mentioning, choosing whether Shopify or Squarespace is better will depend on your business and how manageable you want your online store to be.
Choose Squarespace for an easily manageable small store that's an addition to a stylish website or blog. Squarespace is also a good option if Shopify Payments doesn't function in your country, and you will only be dealing with digital sales.
Choose Shopify if you're serious about taking your e-commerce store to the next level and are looking to grow your store. It's also better if you want the flexibility offered by apps or the ability to edit the code of your website. Shopify is also the better option for dropshippers, as Squarespace doesn't support dropshipping.