Who doesn't love getting a ton of Facebook likes for their latest post?
But did you know there's a lot more to Facebook likes than just the feel good factor. Likes on Facebook can actually improve the marketing performance of your e-commerce or dropshipping business.
How? Well you can read on for the details, but basically Facebook LIkes will improve:
the visibility of your Facebook page,
the levels of engagement with your Facebook page,
the levels of customer loyalty your brand has,
and, thanks to improved social proof, the amount that you sell.
But how to get more likes on Facebook? Don't worry. As always, we're here with the answers you need.
In this article, we'll have an in-depth look at why Facebook likes matter so much. Then we'll consider how to get more Likes on Facebook. We'll cover:
Which are better: organic or paid likes,
3 short term strategies for getting more likes,
And a long term plan to consistently get more likes for your Facebook page.
Ready?
Why Facebook likes matter for your e-commerce businesses
Facebook is the cornerstone of all social networks. And you won't be surprised to hear that it has enormous potential to help your e-commerce business. Just look at these stats:
And it's not just Facebook's scale that is impressive. It's great for businesses too.
Pretty impressive.
Because so many people use Facebook so frequently, it makes sense for a business to be where its potential customers already are. Connecting your e-commerce store with an online community of this size is a great opportunity to showcase your products and grow sales.
However, simply setting up a Facebook business page and posting content is not enough to be successful. Without an audience, social media cannot help your business, regardless of how well-written and timed your posts are. If people do not like your page or your posts, nobody will see what you're offering.
So, getting more likes on Facebook - both for your business page and your posts - should be a key objective of your marketing and advertising goals. Why? They serve a couple of important purposes.
Facebook Likes play a vital role in how content is prioritized on users' feeds
As people are sharing more content than ever, competition for space on Facebook users' feeds is increasingly intense. For many pages, this means a decline in organic reach.
So how do you compete with the onslaught of posts, ads, and shared content that dominate users' feeds every day? By getting followers to like your Facebook page.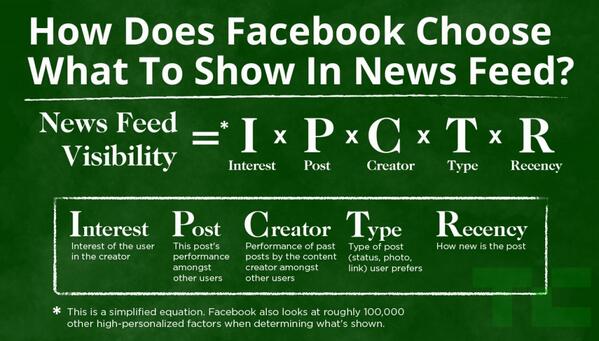 The popularity of a post is among the most important ranking factors when it comes to how high up in the news feed a post appears. Likes indicate that users are actively interested in seeing more of your content, so Facebook bumps up your posts on those individuals' feeds.
Interest in the post creator is also important. And here, likes for the Facebook page of the creator can play a big role.
Likes and shares are an important measure of success
Just like the person with more likes on the photo who seems more popular, an e-commerce store with hundreds of likes on its posts will appear well-liked by customers.
Likes are among the most measurable means of social proof. If users see that your content receives a lot of likes and shares, they tend to think that your brand is supported by a lot of people. This encourages further engagement with your page that might lead to product awareness and sales.
In other words, likes act as visible proof of happy customers and can help you to build an engaged community of Facebook users who love your niche and, more importantly, your products.
Likes are a big deal for your e-commerce store
In short, Facebook likes are a pretty big deal. They make your posts more visible on users' feeds as well as show potential customers that they will be happy with purchasing from your online store.
But you can't just expect your customers to find you on Facebook and start liking your content. You need to have a clear plan for reaching potential customers and encouraging them to like your page and posts.
Organic or paid: what's the best way to grow your Facebook page?
It's clear that getting Facebook users to like your business page and posts is important. It will help you reach potential customers and increase sales. But what's the best way to do it? Before we get into the details, let's tackle a general question:
Should you focus your efforts on getting the organic reach or paid?
What is the difference between organic reach and paid on Facebook?
Organic refers to content that's free to post. This includes status updates, pictures, announcements and other posts that come up on users' news feeds organically. Organic likes are the likes you receive without the use of promotions. You can expect to get likes on the content you post organically from your followers. If your followers share your posts, you may also get likes from their friends. Finally, you can also reach people following any hashtags you use.
Paid refers to content that involves paid placement, such as ads or sponsored posts. If someone sees a promoted or sponsored post and likes it, it's counted as a paid like. Paid posts let you target people beyond your page audience, raise brand awareness and attract new followers. On Facebook, you can define the target audience for your paid content based on criteria such as age, interests, geography and others.
Which type is better?
There is no straightforward answer as to which type of likes you should strive for. Both paid and organic social strategies have strengths and weaknesses.
Organic posts nurture your relationship with your existing audience and help you to retain customers. They're also free. But on the downside, they can often be a slower way to receive likes and other types of user engagement.
Paid content requires a budget upfront. Furthermore, some expertise on how to run ads on Facebook is needed (if you don't have any expertise, you can use a tool to help you create and run Facebook ads). But there are plenty of pluses to paid. It can help you to get your message in front of a much larger audience. It also has a more immediate impact.
So it's best to combine organic and paid - and when we dive into the detailed strategies we'll cover both. Finding this balance will enable you to simultaneously engage with your followers while extending the reach of your business to a broader audience. Win-win.
Warning: never pay for likes
A word of warning before we move on. There is a world of difference between paid reach (which we just described) and actually paying for likes.
Using paid content like ads to gain likes is totally OK. That's because you're just paying to get your message in front of people - they decide if they want to like your Facebook page or not.

But paying for likes is not OK. There are services that enable you to actually buy likes using a Facebook media tracker. There are 2 great reasons why you should never do this:
Facebook doesn't allow it, and is constantly looking out for fake accounts that buy likes and shutting them down. This means the likes you pay for probably won't be around for very long, because once Facebook shuts down the account the likes disappear.
Paying for likes doesn't actually work. It makes it impossible to understand your audience (which, as we'll see, is super important). And, most importantly, the likes don't actually bring any value to you because there is no real user behind the lik.
Instead of buying likes, put in the work that will encourage users to engage with your content: create compelling ads, boosting them to the right audience, and offer something genuine rather than clickbait that overpromises. This is exactly what we'll cover in the rest of this article!
How to boost your likes on Facebook
So, we've covered why likes still matter. And we've also compared getting free likes for your Facebook page versus paying.
Now, let's get into the details. We'll cover two broad approaches to boosting your number of likes: short-term and long-term. With short-term, we're aiming for tactics that you can implement today, the minute you finish reading this blog. And with long-term, we're thinking about strategies that require a bit more planning, and which might also take longer to show results.
Your best approach will probably be to combine some of the short-term strategies with one or two of the long-term - so you get an immediate impact, and also a sustained improvement. Either way, here are a few of the things you'll learn from the strategies below:
How to increase Facebook page likes for free,
The fastest ways to get likes on your Facebook page,
And how to get genuine likes on Facebook that actually improve your e-commerce business' results.
Let's get into the strategies.
3 short-term strategies for getting more Facebook page likes
From ad campaigns to contests, fixing your profile through to adding links to your page, here are 3 top strategies you can implement right now that will get more likes for your Facebook page:
Running a contest,
Embedding posts and Like buttons in your blogs and landing pages,
And running Facebook page-like campaigns.
Let's take a deeper look.
Short term strategy 1: Run a contest
This is one of the most effective ways to boost the number of likes your Facebook page has. Contests have an immediate and direct appeal, they create buzz around your brand, and they're a great way to get more people interacting with your Facebook page.
Let's clear one thing up straight away. You shouldn't be asking for "Likes" in return for entering the contest. Facebook expressly forbids this. Likewise, you're not allowed to incorporate timelines and friend connections in your contests - a competition asking you to "tag a friend" or "share on your timeline" won't pass Facebook's rules.
So, how do you get more likes for your page from the contest? Simple. Make it a great contest. Your audience will naturally share contests with like-minded connections if you have something great to offer.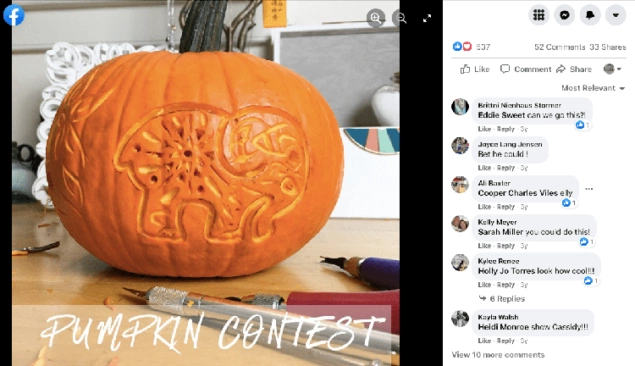 One smart tip is to make it clear you will run regular contests - this is a huge incentive for the audience to Like your Facebook page. Doing so will keep them informed when a new contest comes up.
Here's a handy checklist to follow when running your contest:
Create a landing page that includes the contest rules. You should specify who can participate, when and how a winner will be chosen, who is administering the contest and what exactly the prizes are. Here's a handy template you can use for your Facebook contest to make sure it follows the rules.
Decide which kind of contest you want to run. You can choose from sweepstakes or prizedraws (where the winner is chosen at random), or contests where entries are judged. Just remember, no gambling or lotteries - you can run a contest on Facebook where participants have to buy a ticket to enter.
Get permission to use any user-generated content. User-generated content can be a great bonus - authentic images or videos of the product in action can be really effective. Just be sure to include in your terms and conditions the fact that, by entering the contest, they give permission for you to use the content.
Double check Facebook's rules for running contests. Facebook regularly updates or changes its rules for running contests on your Facebook page, so make sure you check these Facebook policies from time to time.
Remind your audience that you will be running regular contests like this. This will encourage your audience to like your page so they don't miss future contests.
Overall, contests are a simple and effective way to get lots more likes for your Facebook page.
The main advantages are that you will get genuine likes using this message. Of course, not everyone entering a contest will necessarily be ready to become a customer. But, there's a good chance they are at least interested in what you're offering. Think about it. If you're giving away a skateboard, there's a pretty good chance the people who like, share, and participate in your contest are skateboarders themselves. So you're building an audience that is relevant to your product.
The main disadvantage is that this can be labor-intensive. If you're concerned about this, just pick a contest format that doesn't require any judging, like a sweepstake.
Short term strategy 2: Embed Facebook posts and Like buttons on your pages and blogs
Do you have a lot of traffic to your e-commerce site, but only a small community on Facebook? Then this is a great strategy for you.
You see, your Facebook page doesn't have to exist only on Facebook. Using embedding, it can have a much wider reach. And with a wider reach will come more Facebook likes.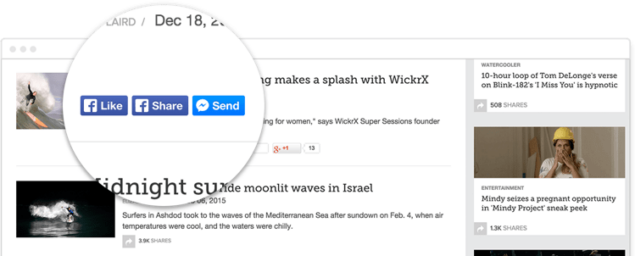 There are 2 main ways you can use embedding:
You can embed a post from your Facebook page onto a page on your website,
You can embed a like button.
Now, you might be thinking: "this sounds a bit techie and complicated".
The good news is that, in both cases, it's actually a pretty simple procedure to follow.
How to embed a Facebook post
In the case of embedding a Facebook post, here are the (super simple) steps to follow:
select the post you want to embed and click the drop-down arrow icon at the top of the post (see the image below),
Click on the Embed Post option and some code will be generated,
Copy and paste this code into your web page in the place you want the post to appear.
You can get full instructions, plus a manual way to add the code, in this tutorial by Facebook.
How to embed a Facebook Like button
Adding Facebook Like button to one of your pages is just as simple:
Just go to Facebook's Like Button Configurator,
Then enter the URL of the page you want the Like button to be on,
And the code generator will create the code you need. Simply copy and paste this code and add it to your page in the place you want.
And here's a great tip on how to use this function. Find one of your best-performing blogs, then add the Facebook Like button with a call to action:
Enjoyed this content? Like our Facebook page to make sure you never miss an article
You're giving them a great reason to like your Facebook page, and also ensuring you will get genuine likes from people who want to follow you.
Short term strategy 3: Run Facebook ad campaigns to boost page likes
No doubt you're used to running Facebook ad campaigns (if you're still finding your feet with Facebook ads, this guide to the different types of Facebook ads will help). You probably use your ads to promote products or deals, right?
But how about using your ads to gather more followers for your actual Facebook page?
This can be a super smart strategy, especially when preparing for the all-important holiday season in November and December. Over this period, the cost of advertising on Facebook rockets. According to research into advertising costs, the cost of reaching your audience doubles over the Black Friday period if you're using Facebook ads.
So what's the solution? Run ads from August to October instead, and focus these ads on gaining followers rather than driving sales. This means that by the time you reach November, you will have a large following on your Facebook page. And you can then run posts rather than ads, promoting your deals and offers, which will then be shared by your larger audience. Pretty smart, huh?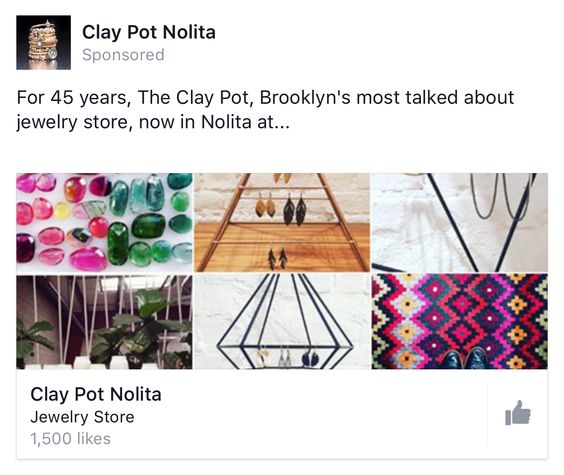 Here's a super useful Youtube tutorial on how to run ad campaigns for gaining Facebook page likes.
And you don't need to restrict yourself to the seasonal sales team. Try running Facebook page like campaigns every one or two months to ensure your audience keeps growing.
A long term plan for getting more Facebook page likes
Now let's think about the longer term. The tips mentioned above will get you more Facebook likes fast. But for sustained success, you need a comprehensive plan. And we've got one right here for you.
There are 5 steps to this plan:
Strategize
Create
Engage
Test
Optimize
Let's take a look at each step in detail.
Step 1: Formulate a strategy for increasing Facebook likes
Success on social media is all about having the right strategy. So before you start creating posts and testing, take the time to figure 3 things:
Who is your target audience?
What are your goals for your Facebook page?
Who is your target audience?
The value of gaining a like depends on who it is doing the liking! Think about it:
If a random person with little to no interest in what you offer likes your Facebook page, you're not going to benefit much.
If a person who is interested in the products you sell on your e-commerce store (and can afford them) likes your Facebook page, that's worth a lot.
So figure out who you're communicating to.
A good place to start is by understanding what problems your products solve. For example, do you help people to live healthier life? Or stay on top of the latest fashions? Or cook tasty meals on a budget?
Once you've identified a problem, then think about who might be facing that problem: perhaps young parents, or health-conscious Gen-Zers? Congratulations, you're figuring out your audience.
You might want to take this a step further and develop buyer personas. These are detailed descriptions of an imaginary person who is your ideal customer.
The example below, formulated by Munro America, details everything from salary to personality. It also includes clear explanations of the goals and frustrations of their buyer persona Brandi.
What are your goals for your Facebook page?
Now you know your audience, set some clear, achievable targets for your Facebook page. These could include:
Number of new Facebook page likes per month,
Average number of likes and shares per post,
Average number of comments per post.
And these could feed into larger targets that you have related to traffic, sales and customer loyalty.
Step 2: Create a profile and content
Now you know who you're targeting, it's time to start creating.
The first stop is your profile, and here's a quick checklist to follow:
Take the opportunity to tell your story by completing all the elements of the About section of your Facebook page profile. Here you can include a one-sentence mission statement, a short description, and even a history of your brand. This will educate your audience on who you are and help to build loyalty - which could lead to more likes.
Use your logo, or another simple but engaging image, as your profile picture. This will give a professional look to your page.
Then get creative with your cover photo. This image should communicate everything essential about your brand in one photo. You could go with a collage of images featuring your customers, an inspiring image that shows your values, or a dazzling product pic. If you're not sure what to use, think back to your buyer persona and what would motivate them.
Here are a couple of different approaches you can take to your Facebook page's cover photo.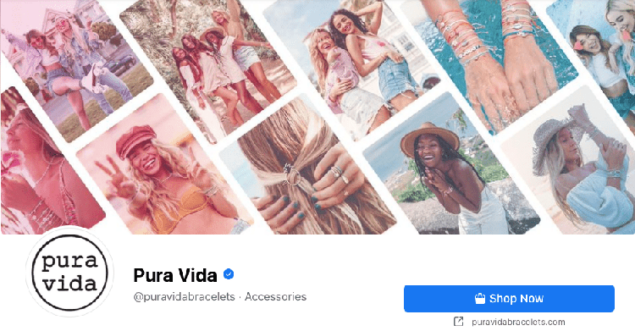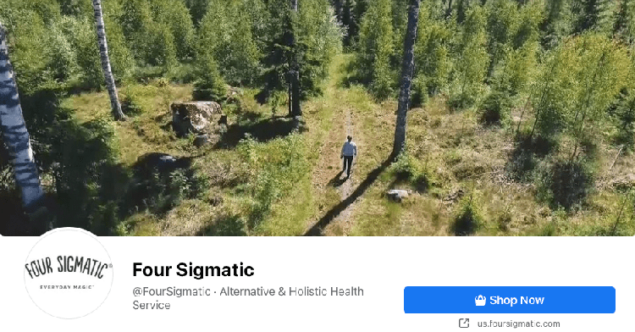 With your profile sorted, it's time to think about the content for your Facebook page. After all, this is one of the main reasons someone will like your page - to see the content you're producing.
So, make sure you create great posts. Here's another quick checklist you can follow to make sure you're doing it right:
Make sure each post has a compelling and attention-grabbing visual. Your posts will need to stand out on the Facebook news feed.
Write short, clear copy that is easy to follow and uses your brand's voice. Remember who your target audience is and try to write in the style they themselves would use.
Include a call to action. This could be an invitation to comment or share an opinion, or a link to a useful resource on your page where they can learn more.
You should aim to plan out your Facebook page's content for a 1 or 2 month period, and be ready to post very regularly. 3 to 5 posts per week is a good amount to aim for. You should treat these first months as a period of research. You want to post a wide variety of content - try sharing quotes, stats, insights, infographics and videos. Then your job will be to see what works best (more on that in Step 4).
Step 3: Engage with your audience
Once you have started posting your content, make sure you engage with your audience.
If people comment on your posts, reply to them. If someone asks a question, answer it. This will show your audience that this is a channel where they can actually get involved - it's not just you promoting yourself.
Wendy's is a brand that does an amazing job of interacting with its audience. Whether they are playfully teasing their followers on Twitter or responding quickly to genuine requests, it is always engaging with its audience.
Step 4: Test to see what performs best
So you've planned out your first months of posts, and you're ready to respond to your audience. All you need to do now is make sure you're testing all the time.
Keep track of how each post performs and look for patterns. Here are some good ways to organize your tracking:
Type of post: monitor which types of posts get the most attention. Is it videos, text+image, polls, or something else.
The topic of post: check if certain topics resonate with your audience more than others. What subjects really get your followers commenting?
Length of post: See if the amount of text makes a difference. Do your followers prefer long or short posts?
You can organize this monitoring manually, or use Facebook Insights to help with this. However you do it, make sure you are learning as you go along.
Step 5: Optimize your strategy and content for gaining more Facebook likes
By this stage, you should now have a good idea of what it is that your audience really responds to.
So, create your plan for your next 2 months of posts. But this time, focus on the post types and topics that get the most traction. This will really help you to generate more Facebook likes. That's because the closer your content on Facebook is to the interests of your audience, the more they will be interested in following you.
Facebook Likes: the takeaways
To sum up, Facebook likes are an excellent way to increase your visibility on Facebook. They also provide valuable social proof, showing potential customers that you are popular and trustworthy.
In terms of getting likes, there are 3 short terms strategies you can employ:
Run a contest,
Embed posts and Like buttons on popular pages of your website,
And run Facebook ads aimed at gathering more likes.
Once you've taken advantage of these strategies, you should then start planning long-term. This is all about quality content creation, and (as we've shown) there are many factors to consider.
If you're looking for some help in creating Facebook content, first check out this guide to creating video content for Facebook. And these 30 inspiring ad examples for Facebook might also give you some post ideas. And don't forget, you can repurpose golden oldie posts. See what has worked well in the past, then maybe change the visual or tweak the copy.
With these strategies in place, and some quality content on your page, you'll be collecting valuable Facebook likes in no time.
FAQ
Are Facebook likes really important?
In short - yes. Facebook likes can improve the marketing performance of your e-commerce or dropshipping business. Posts with a lot of likes get prioritized on users' feeds, which means better organic reach for your content. Moreover, Facebook likes act as social proof, showing potential customers that they will be happy with purchasing from your online store.
What's better for gaining Facebook likes: organic or paid?
It's best to combine organic and paid as both types of reach have their strengths and weaknesses. Organic posts are free and help to engage your existing audience, but are often slower to attract likes. Paid content requires a budget and some expertise on how to run Facebook ads, but also has a more immediate impact and extends the reach of your business to a broader audience.
What strategies can I use to get more Facebook likes?
We suggest 3 short-term strategies for getting more Facebook page likes: running a contest, 
embedding posts and Like buttons in your blogs and landing pages, and running Facebook page-like campaigns. Thinking about the long term, you can implement a 4-step plan to consistently get more likes for your Facebook page. The steps include formulating a strategy, creating content, engaging with your audience, testing what posts perform best, and optimizing your strategy.