Podcasts are one of the most popular forms of media. For good reason.
The ability to listen to them anywhere at any time makes them perfect for our busy lives and the amount of high-quality information being shared through them can quickly take you from novice to expert in a huge range of fields.
Podcasts provide a fantastic way for e-commerce business owners and entrepreneurs to learn new tactics, stay up-to-date on the latest trends, and grow your business. Whether you're just starting your e-commerce journey, are an experienced professional looking for new angles, or someone just looking for inspiration, we'll walk you through the e-commerce podcasts you should be listening to in this article.
The Most Popular Podcast Formats
Podcasts come in a lot of shapes and sizes these days. There is no one-size-fits-all and depending on your personality and interest you may be surprised just how much you enjoy the variations.
Depending on the intended aim and the content, different podcasts may use one approach or mix and match. But the three main formats are– interview, conversational, and educational podcasts.
Interview podcasts tend to be direct and focus on providing listeners with actionable advice. The podcast host usually interviews an industry expert or a particular individual of interest and the interview is usually related to a specific topic.
Conversational podcasts are less formal. The podcast may cover a wider range of topics and, while offering advice, tends to be less focused on providing direct information and advice. These podcasts are often more relaxing and engaging to listen to.
Educational podcasts are created for those looking for specific information or a focused topic. These tend to have multiple hosts and their aim is to educate and inform listeners. Each episode usually focuses on a specific topic and the information is direct.
Ecommerce Podcasts For Beginners
1. The Fizzle Show Podcast
This podcast has been running since 2013 and has over 250 episodes that extensively cover topics like productivity, content marketing, and audience growth.
This podcast is full of fantastic, actionable business advice. Many of the podcast episodes are interviews that aim to provide creative, honest advice to entrepreneurs that are looking to earn a living from their passion.

2. Smart Passive Income Podcast
This is a weekly podcast, hosted by Pat Flynn. It offers weekly coaching for entrepreneurs looking to take their businesses full-time. The podcast features Q&As, as well as interviews, and provides advice for improving your online business.
With over 300 episodes, it's an ideal podcast for new entrepreneurs.

3. My Wife Quit Her Job Podcast
Hosted by Steve Chou, this podcast is aimed at entrepreneurs looking to begin their e-commerce business. The show offers great advice for those looking to transition from a traditional workforce role into online business owners.
The podcast is filled with fantastic tips on how to get started and provides useful insight into how to grow your business online.

Ecommerce Podcasts For Professionals
4. Ecommerce Braintrust Podcast
This podcast is ideal for anyone already working in e-commerce. It can help you dive deeper into the more complex aspects of the business and provide new insights.
Hosted by Kiri Masters, the podcast provides advice from some of the most successful and talented industry experts. The podcast is aimed at providing listeners with detailed, comprehensive information.

5. Core Of Commerce Podcast
If you're looking for a direct, informative podcast, then Core of Commerce is for you.
Each episode focuses on a different topic within e-commerce and specifically aims to provide information on how to stay up-to-date with changes within the industry and features interviews with leading industry experts.
Episodes aren't posted frequently, but the topics covered can be a useful starting place and it is perfect for those who only listen to podcasts occasionally.

6. eCommerce MasterPlan Podcast
Hosted by Chloe Thomas, eCommerce MasterPlan Podcast delivers 30-minute weekly episodes which provide actionable information and advice.
The podcast covers a wide range of topics, including the latest e-commerce tech and ways to maximize profit. One of the podcast's biggest strengths is its frequent focus and insight into how to create meaningful relationships with customers, including attracting new customers and building loyalty.
This podcast is an excellent example of an interview format.

7. HBR IdeaCast Podcast
This weekly podcast offers informative and trusted advice on business management.
Through regular interviews with key figures in the industry, the episodes typically center around specific, real-world case studies.
This is an especially useful podcast for anyone looking to scale their business or grow their team.

Ecommerce Podcasts For Dropshippers
8. eCommerce Lifestyle Podcast
This podcast is specifically aimed at providing up-to-date and valuable information on the entire e-commerce cycle.
Hosted by Anton Kraly, the podcast offers specific advice on how to run a successful online store, dropshipping, and a wide range of marketing methods.
Regular episodes of this podcast offer a fantastic way to keep on top of the latest e-commerce trends and the impact of current events on the e-commerce industry.

9. Oberlo's Start Yours Podcast
This podcast is ideal for anyone looking to start a dropshipping store.
The podcast features a range of highly successful and inspirational entrepreneurs, who share their stories. The content is primarily story-driven and the podcast usually takes on a conversational tone, making it easy to listen to, inspirational, as well as informative.

10. Shopify Masters Podcast
Hosted by Felix Thea, this weekly official Shopify podcast features hundreds of interviews with a range of Shopify store owners who share their experiences and strategies.
The podcast utilizes a case-study approach to interview individuals, from a variety of industries. The interviewees share advice on how to run a business on Shopify.
It's a particularly useful podcast for those looking to understand how strategies work in practice, especially as many interviewees often share key templates or examples in the show notes.

11. EcommercePulse Podcast
Hosted by Leighten Taylor, EcommercePulse Podcast focuses on providing actionable advice to online retail businesses and supporting them in their daily operations.
Through interviews, the podcast covers a wide range of e-commerce topics, from how to increase your website traffic, to finding and selling high-quality products.

Inspirational Ecommerce Podcasts
12. eCommerce Minute Podcast
eCommerce Minute is a perfect choice for a quick, daily podcast.
Hosted by Jason Suder and Bart Mroz, 7-minute episodes are released daily Monday through Friday. The podcast is effective at providing listeners with new and relevant information from the world of e-commerce.

13. Cha-Ching! Podcast
In this weekly podcast, host Jay Myers interviews a range of merchants, as well as thought leaders and app developers, who all share their experiences and offer valuable tips to listeners.
The podcast covers a range of topics including how to run an online store, as well as what the future of e-commerce might look like.

14. Nerd Marketing Ecommerce Podcast
Considered by many within the industry as the best ecommerce podcast, Nerd Marketing is hosted by Drew Sanocki and shares valuable business insights.
From discussing strategies to help start and grow small businesses, to advice on how to sell a business, this podcast is filled with trusted information and resources. In addition to the podcast, Nerd Marketing's site also offers access to a range of resources, including free and paid courses, newsletters, and growth audits.

15. The Jason & Scot Show Podcast
This is another popular podcast that offers interesting insights into the world of retail and commerce.
The podcast is hosted by Jason Goldberg (best known as the Retail Geek) and Scot Wingo (the Founder and Executive Chairman of ChannelAdvisor) and features interviews with industry experts and leaders.
High-level conversations and debates about current trends in e-commerce are some of the most popular features of this podcast.
You don't want to miss the in-depth discussions between these two industry veterans as they dive into the nuances of e-commerce.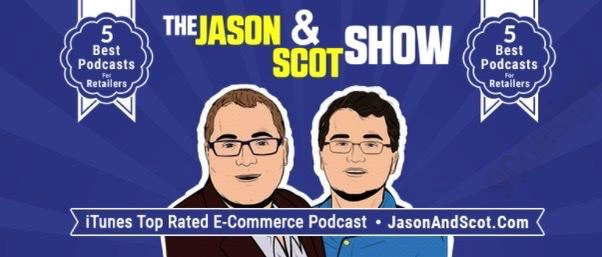 Key takeaways
Podcasts offer a fast and convenient way to keep up-to-date with the latest developments and trends in the world of e-commerce.
Gain access to tips and advice from leading experts to unlock your business's potential. With a range of e-commerce podcasts to choose from, there is something for everyone.
Next time you are stuck in traffic or doing boring paperwork, push the play button on one of these podcasts. You never know! You could hear something that sparks the million-dollar ideas for your business! Also, rea dour list of inspiring books for female (and not only) entrepreneurs.