Who wouldn't want to run a business and not worry about inventory or product fulfillment?
Dropshipping is one of the easiest ways to make money online. However, you won't make bank if you treat e-commerce like a get-rich-quick scheme. It takes a bit more than just launching a basic online store and adding a few apps. You need a solid business plan to win big.
So, how to start a dropshipping business?
We at sixads have worked with more than 100,000 Shopify stores, and we know what works for online stores. To help entrepreneurs like you, we've put up this ultimate guide on how to dropship.
Want to launch your first dropshipping business with confidence that you did everything right? Let's do some reading then!
What is a dropshipping business?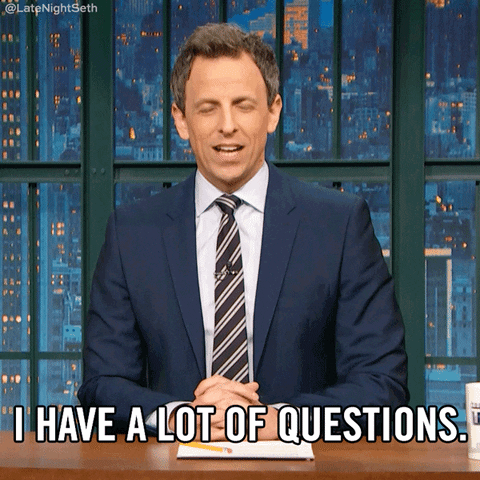 Dropshipping is a type of order fulfillment method where store owners don't need to manage their inventory. Instead, they buy the products from a third-party supplier (or wholesaler) who fulfills the customer orders for them.
As a business model, dropshipping has been here for decades, since the mail catalogs. Then eBay and Amazon came into the picture, allowing people to sell goods online.
However, dropshipping really kicked off with the rise of AliExpress. Launched in 2010, the giant marketplace enabled anyone with internet access to resell products directly from Chinese manufacturers.
Today, people with an entrepreneurial spirit can launch fully-functioning dropshipping businesses from the premises of their homes. All you need is an online store, trustworthy suppliers, and the determination to hustle!
How profitable is dropshipping in 2022?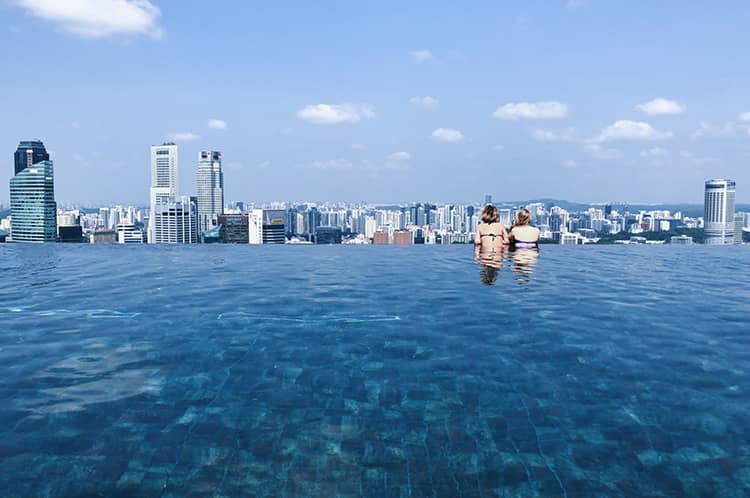 Here's a spoiler alert - it's very profitable.
The dropshipping industry has been booming lately. In 2019, the global dropshipping market was valued at a whopping $162.44 billion.
This research also predicts that the dropshipping market will grow by 28.8% every year until 2025 and will be worth $557.9 billion by then. The future is looking bright – there's no better time than now to get a piece of that pie!
How does the dropshipping business model work?
Dropshipping is based on a supply chain model.
A supply chain is a journey a product makes from a manufacturer to a customer.
There are three key players in the supply chain: manufacturers, suppliers and wholesalers, and retailers (merchants like you).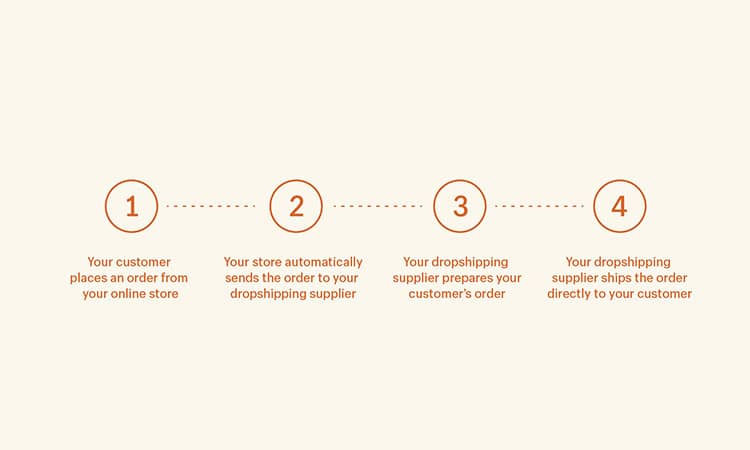 Here's the simplified process of dropshipping (or "dropshipping for dummies," one may say):
A customer buys a product on your online store.
Your store automatically sends the order to a third-party supplier.
The supplier ships the product directly to the customer under your name.
Your customers pay the retail price on your store – up to you how much.
You pay the supplier's wholesale price.
The difference between the retail price and the wholesale price is your revenue.
Subtract any advertising or your store's maintenance costs from your revenue, and you'll have your profit.
Easy so far, right?
You may have one question, though… What are dropshippers paid for? It looks like they're not doing much in the supply chain.
As a dropshipper, you don't have to store your products (your supplier does it for you).
You also don't have to handle the shipping (your supplier does it for you).
You don't have to handle returns, too (you guessed it – your supplier does it for you).
How do you earn money then?
You are the salesperson. You're also the social media manager and content creator. The customer support team. Sometimes the designer, too.
In other words, you represent the whole marketing team. Your main task is to get traffic and sales to your store - do marketing for your dropshipping store.
Does this sound a little more intense now? Don't worry too much. There are many processes you can automate to make your life easier. For example, you can run Facebook ads on autopilot to bring paying customers to your store!
How much does it cost to start dropshipping?
In our article on the cost of dropshipping in 2022, we calculated that you can start a dropshipping business with $280.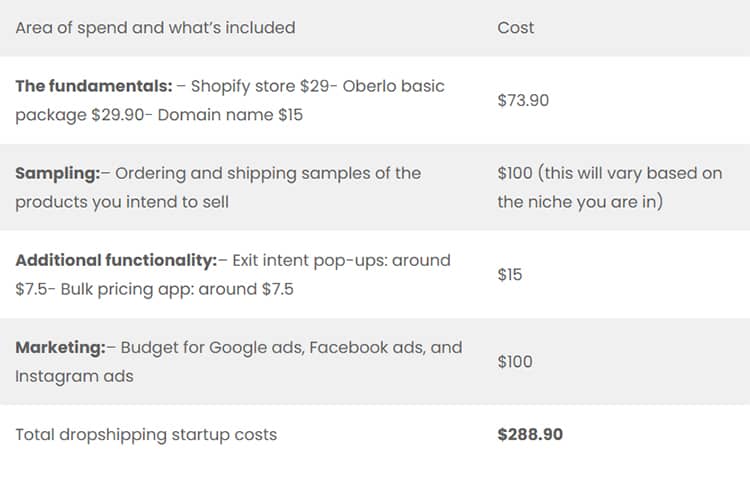 However, if you don't want to invest any money initially, you can also get away with launching a functioning store with almost zero upfront cost.
Yes, you've heard us right!
Here are some tips on starting a dropshipping business with no money:
Extend your Shopify trial. Contact Shopify and ask for an extension of your free trial. This can come in handy if you haven't started making sales yet. You can extend the free trial once.
Ship products for free. You can use the free version of the Oberlo app (more on it later) and ship your products at no cost whatsoever. This way has its limits since you can't scale much, but it's great to get things started.
Work on your SEO. Paid advertising is without a doubt the most effective way to get customers quickly. However, if your money is tight, you can work on bringing organic traffic to your store with SEO (search engine optimization). It takes some time, but the results are worth it.
Want to learn more? Check our article on the cost of dropshipping in 2022!
8 steps you need to take to start a dropshipping business
Here's what you need to do to launch a successful dropshipping store.
1. Create mission and vision statements for your business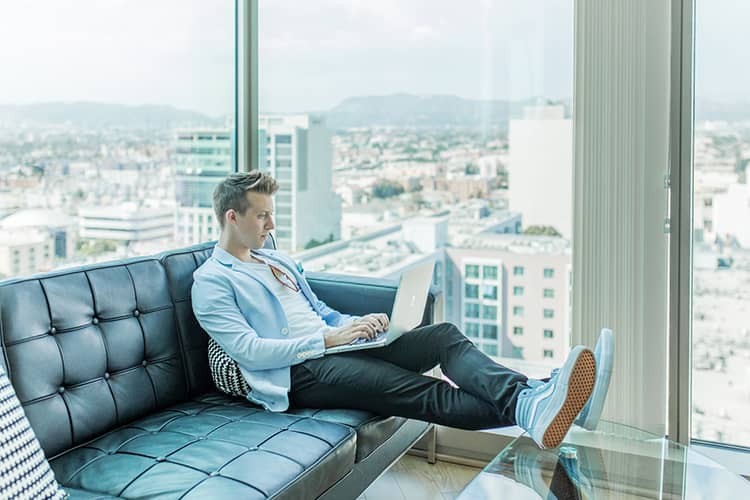 This may not come to your mind when you think of dropshipping, but starting with crafting your vision and mission statements is the key to long-term business success.
You may think – isn't this stuff meant for big companies with hundreds or thousands of people? The truth is, even a dropshipping business of one person will not succeed without a clear direction. And the direction is not to "make money online." You need to think about your why's and how's.
The difference between mission and vision
A mission focuses on today and what your business does. It states the what, who, and why of your dropshipping store. Whereas a vision focuses on tomorrow – it's about what you want your store to become.
To create your mission statement, answer these questions:
What does my business do?
Whom do I serve?
How do I serve them?
And here's what to think about to create your vision statement:
What are your hopes and dreams?
What problem(s) can your products solve for the greater good?
What change do you want to see in society?
An example of vision and mission statements
Let's have a look at what Google says about their mission and vision to get your creative juices flowing.
Mission: Our company mission is to organize the world's information and make it universally accessible and useful.
Vision: To provide access to the world's information in one click.
Check our article on the mission and vision of entrepreneurship for more information on defining your goals so you could establish a solid business online.
2. Pick a niche for your business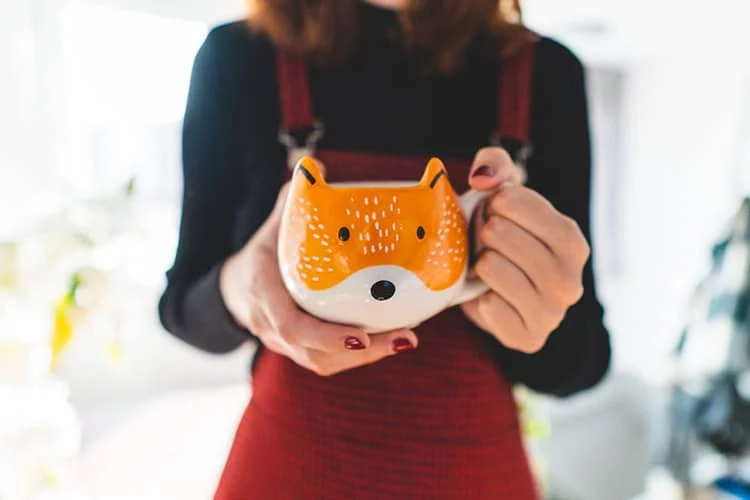 The dropshipping industry is very saturated. You probably won't be able to compete with big, established brands, so to maximize your chances of selling, you need to narrow down your focus.
Some examples of niche dropshipping products:
Calming dog beds
Zero-waste beauty products
Beard oils
Ice fishing gear
A perfect niche for dropshipping needs to meet two main criteria:
It should be something you're passionate about (or at least interested in).
You can like many things but you'll probably have a hard time spending months (or years) on creating content ideas on a topic you care about just to some extent.
Think about what makes you itch.
Maybe you're a sports junkie? Or maybe you are interested in nail art? Find an area that naturally sparks your curiosity, and it'll be much easier to create a strong brand around it.
It should be trending.
While passion is great, it will not pay your bills by itself. When picking a dropshipping niche, you should also evaluate your chances of making a profit.
One way is to go to Google Trends and type in your preferable products.
For example, let's say you've been watching a lot of Netflix lately (not the most unlikely scenario for the last year), and you've decided to learn how to play chess.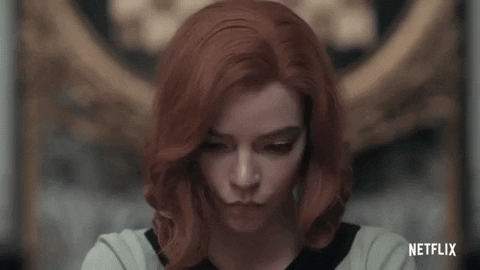 You have a feeling that many other fans of The Queen's Gambit had the same idea, too, so you're thinking of selling chess sets in your online store.
Luckily for you, in this case, a little market research on Google Trends shows that chess sets have been trending lately, giving you the green light for your business model.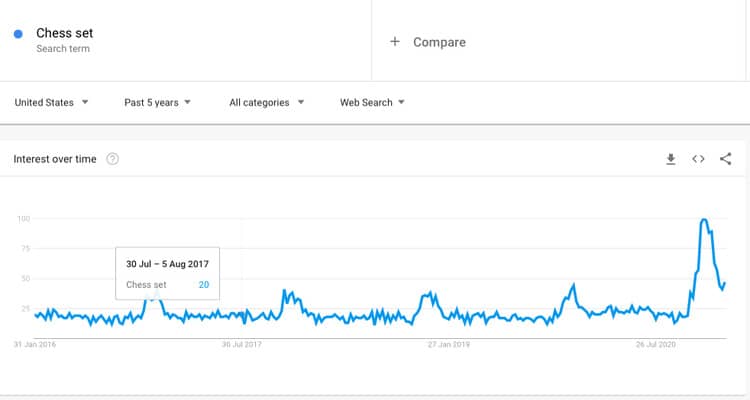 You can also dive into Amazon Bestseller listings to see what products are trending now.
Amazon bases those lists on their sales and updates them hourly. You can be sure you get the latest information.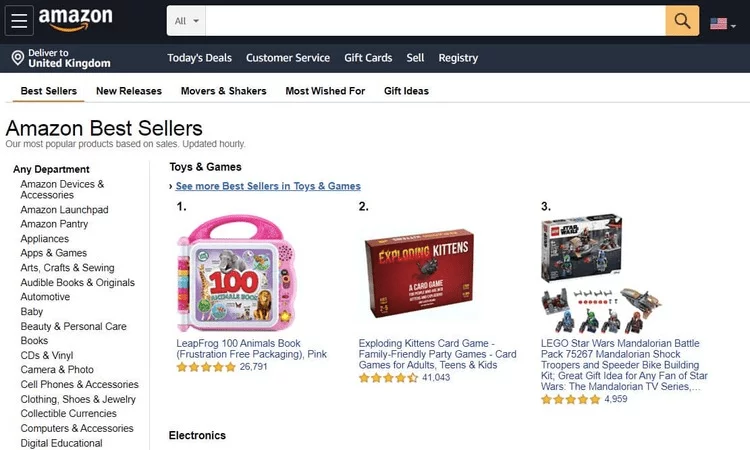 It's a great tool to look for product ideas since you can find categories for pretty much anything.
Want to see trending products right away? Check our great article on 21 best-selling products online in 2021, and save yourself a lot of time picking a niche!
3. Conduct a competitive analysis
It's also essential to see who you'll be competing with once you've found your product niche.
It may be tempting to look for things that your potential competitors are doing wrong, just to make yourself feel more enthusiastic about launching your store. Don't do that.
The goal of such an analysis is to find out how you can stand out from your competitors. That's why you should be as objective as possible.
Make a list of your competitors
Here's how to do your competitor analysis. First, you need to find out who they are.
The easiest (and probably the smartest) way to find your competitors is to look for them on Instagram.
For example, let's say you want to sell dog collars.
Type your product as a hashtag in the search field (#dogcollars).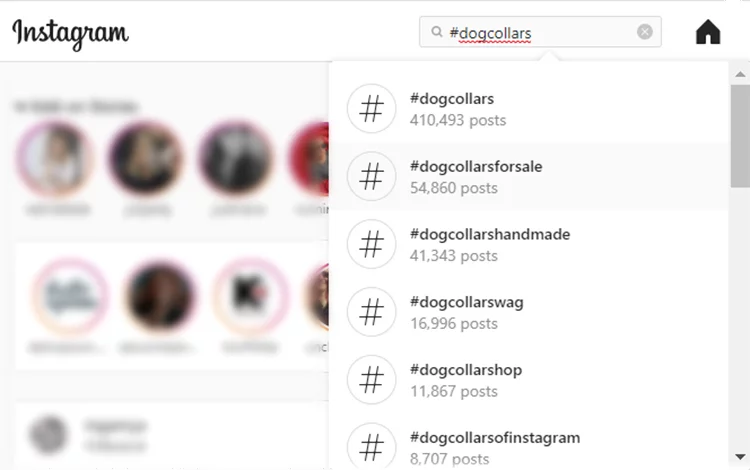 Check the dropdown menu – you'll see more specific results related to your product.
It's a good idea first to make a list of relevant hashtags and categorize them. It could look something like this:

You can also include the hashtag volume in the list so you could see from a glance which topics are the most saturated and attract the biggest attention.
Once you've picked the hashtags relevant to you, click on them one by one and check the posts that "rank" on Instagram with them.
At the moment of writing this article, this is what we see when we check the posts under the main hashtag – #dogcollars: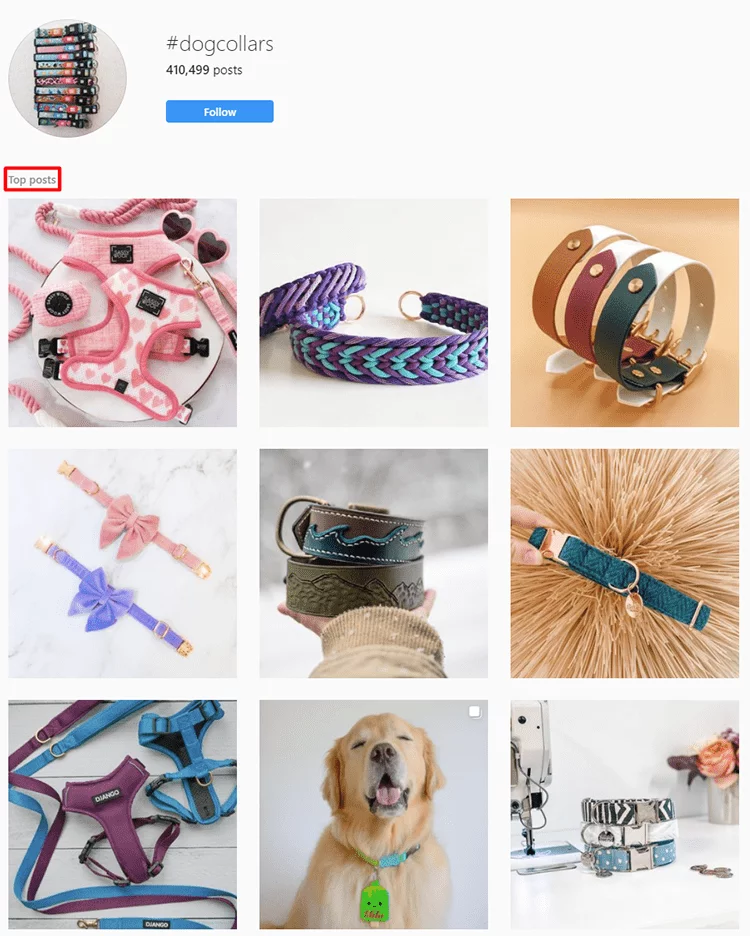 These are the top posts for this hashtag. If you scroll below, you'll also find recent posts but we suggest to only look at the top posts. They are featured because people like them!
Start clicking on the photos, and you'll likely discover different pet stores that sell dog collars. Make a list of the shops you find to analyze them later.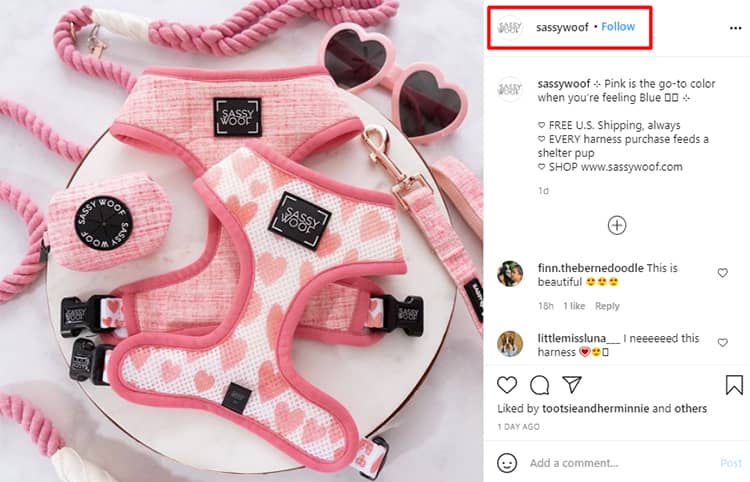 Another way to see who your competitors are is to go straight to Google and type in "dog collars." Scroll through the results and search for websites that look like online stores. Go through the first few pages (or as many as you're willing to) and make a list of the stores you find.
However, keep in mind that you are less likely to find dropshipping stores at the forefront of Google's search listings. The stores that appear on the first few pages are usually strong, well-known brands that take good care of their SEO.
Unless your goal is to disrupt your industry and turn your dropshipping store into a huge company, these stores are likely not your direct competitors. You'll need to dig deeper into further results to find dropshipping stores.
For this reason, we recommend going to social media first to look for your competitors. This is where dropshippers thrive. Getting results on Facebook and Instagram is much quicker than working on a long-term SEO strategy, especially if you use paid advertising.
Analyze your competitors
Once you've made a list of your competitors, it's time to analyze them. We suggest creating a Google Sheet for this analysis. You can be as thorough as you want to. However, don't go overboard with your analysis. As long as you find your competitors' strengths and weaknesses, you're good to move on to the next step of starting your online business.
Here are some of the things to cover in your analysis:

Brand name: especially important if your competitor is focused on a single product.
Price: how much your competitors are charging for their products
Date of establishment: see how old is the store by checking their Facebook page:

USPs (unique selling propositions): how your competitors differentiate themselves from the rest. You can find this information in their Instagram bios, Facebook About sections, homepages.
Vision & mission: what are the why's and the how's of your competitors? How do they position themselves? You should find this information on their About Us pages.
Blog: do they have a blog? If yes, are their posts regular? What's the quality?
Social media: create different tabs for different social media channels. Then, note down these things for each social media: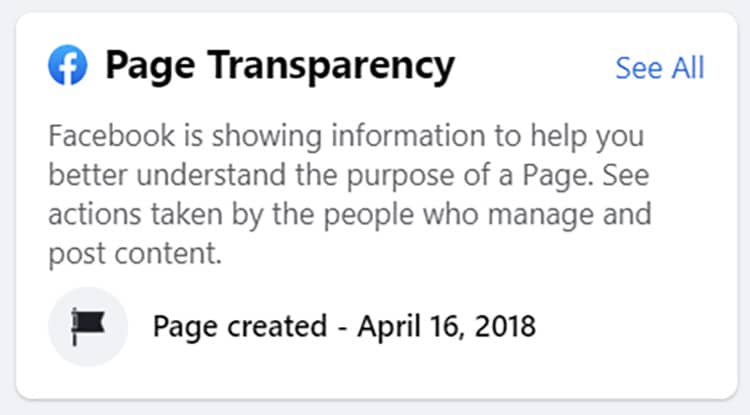 the number of followers/page likes;
social media handles with links for easy access;
types of content;
posting frequency;
engagement (Do followers interact with the content shared? What gets them the most excited?);
collaborations with influencers;
any other patterns you find.
It's also a good idea to spy on your competitor's Facebook & Instagram ads!
You can do everything manually, or you can use tools like SproutSocial, Hootsuite, or Buzzsumo to make your competitor analysis easier. If you don't want to spend too much money on tools, try to do everything you need while the free trials last.
4. Generate the name for your store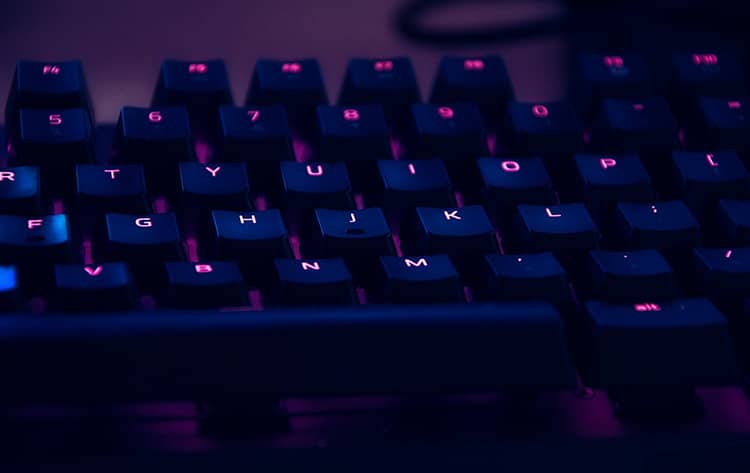 The #4 thing to do is to come up with a name for your store. This is an essential step. After all, your store's name will be one of the first things your potential customers will notice. What do you want to say with it?
Think about your store
Here are the questions you need to answer:
Will I sell one product or multiple products?
Will I brand my products or resell them under whatever brand they come from suppliers?
Will I target a specific audience? If yes, what are its triggers?
Check your competitors
Also, have a look at your competitors' names from the list you made before. Do you see any patterns or anything else you like? Use it for inspiration.
Revisit your mission and vision
It's also a good idea to go back to your mission and vision statements and pick out the key values from them. Then, use tools that generate synonyms (e.g., thesaurus.com) to find more ways to say the same things.
Get creative
If you want to come up with a truly original name, check these tools:
rhymezone.com – for, you guessed it, finding words that rhyme.
brandpa.com/brainstorm – for brainstorming new ideas for your business and product names. Just type in a word, and you'll get related words, concepts, and more.
Twist the words that made it to the final
If you feel that the words you came up with still need a twist, you can always mold them.
Add a prefix (a–, be–, co–, un–, etc.).
Add a suffix (–y, –sy, –o, –ly, etc.).
Check availability
Have the winner? Amazing! There's one more thing to do – you want to make sure your preferable name is available.
We suggest using this tool to check the availability of your domain and social media handles: namechk.com. Aim for getting a .com domain!
That's it. We know it's a bit of work. However, your store's name is very important. Together with your logo, it's the face of your brand! Spend enough time finding the best variant for your business.
5. Choose a supplier
Congrats on getting half-way the list! You've proved that you got what it takes to build an online business. Now, let's get into one of the most crucial steps in starting a dropshipping business – finding a supplier.
Use the AliExpress Dropshipping Center

The AliExpress Dropshipping Center is a tool created by AliExpress to help dropshippers run their business more efficiently.
This tool is completely FREE, even if you don't use AliExpress for dropshipping.
At the AliExpress Dropshipping Center, you can browse hot selling products in multiple categories. You can sort your search results according to many criteria, such as price, orders from consumers, dropshippers' requests, sales performance, and rating. If you're not sure about your niche yet, it's also a great tool to generate product ideas.
Connect with trusted suppliers
Most importantly, you can check the suppliers' ratings to find business partners motivated to deliver great results. The ratings are based on customer reviews, so you can be sure they're accurate.
Finding a trustworthy supplier is the key to running a successful dropshipping business. No matter how great your products are, if they're lost or not delivered on time, you'll have a bad time explaining the mistakes you're not directly responsible for to your disappointed customers.
Check our article on AliExpress Dropshipping Center to see how to use and activate it to find trusted suppliers.
Use Oberlo
Another tool you can use to find suppliers is Oberlo. It's a dropshipping app that helps to find products to sell on Shopify. Oberlo lets you search for products and choose suppliers. Like with AliExpress, here you can also see reviews and ratings and how long the supplier has been on the platform.
Questions to ask a supplier
Once you have a list of your potential suppliers, the next step is to contact them about their terms. While this may seem a little daunting at first, there's nothing to worry about. Just make the first step!
Here are some of the questions you may want to ask a supplier:
Do they work with dropshippers?
How long have they been in business?
Do they offer blind shipping (when the identity of the supplier is hidden from the customer)?
Do they have tracking? It's important to provide such information to your customers.
How do they deal with refunds?
How do they handle product quality issues?
Is there a minimum order quantity?
What are the shipping costs?
How can you pay them?
What are the shipping times?
Also, pay attention to how quickly suppliers respond to your questions, how elaborate their answers are. See how long they've been in business and if they have a company registration number.
What if you want to do branded dropshipping? Pros and cons
If you want to resell products under your brand name, then you should look for suppliers on Alibaba (the creators of AliExpress) instead.
It's a platform that lets you dropship products directly from Chinese manufacturers. This way, you can do some branding.
For example, you can add your brand name to the products, customize packaging or rewrite the product instructions. You can be sure there will be no awkward grammar mistakes or tacky pictures.
Branding comes at a cost, though. Depending on your product's wholesale price, you may have to invest a few thousand dollars upfront because such changes usually require the minimum order quantity (MOQ).
This is the hard way to do dropshipping business.
Since you have to place an order upfront, you may end up losing a lot of money if you don't manage to sell the products you paid for. However, if you get the sales going, your online store will look much more trustworthy and authentic.
Whatever option you choose, make sure to order samples first! It's always a good idea to test the products before selling them. You don't want to invest a lot of time in crafting a marketing strategy for a disappointing product.
6. Build a dropshipping store on Shopify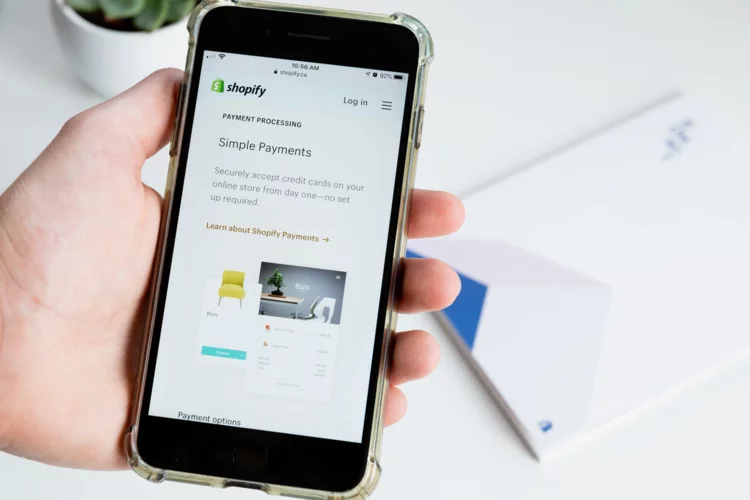 Dropshipping on Shopify is straightforward and easy. That's why we recommend using this platform to build your online store. Shopify offers multiple resources to help you launch your store – you can check their Help Center, join the Shopify Community, hire an expert, or contact their customer service, available 24/7.
Why you should choose Shopify:
24/7 customer service;
A 14-day FREE trial to help you get started;
Fully customizable online store (access to the HTML and CSS of your store);
Automated product fulfillment process (check the best Shopify shipping apps);
You can use your own domain name;
100 payment gateways (from bitcoin to PayPal);
Multiple languages;
Integrated marketing solutions and more.
One of the best things about Shopify is that it offers multiple Shopify apps that can help you run your dropshipping business more efficiently. There are apps for live chat, product reviews, ad automation, and more!
You don't need to have designer skills to create a good-looking store with Shopify, neither do you need to be a developer. They have tools to help you with all the parts of building an online store.
Here's what to think about when creating your online store:
You don't have to do everything on your own. Delegate and automate as many tasks as you can so you can focus on scaling your business.
7. Take care of your finances
Here are a few things you need to do before you start handling transactions:
Separate your personal and business finances. Open a business bank account for your dropshipping store. This way, you'll be able to follow your finances easily, and you'll avoid legal trouble that could arise in the future when filing for taxes.
Get a credit card. You'll be buying a lot of products from your third-party suppliers and spend money on other business expenses. Your purchases will likely accumulate, so take advantage of the rewards travel cards, such as Capital One.
Check if you need to collect sales tax in your state.
Read our article on common accounting mistakes that can sink your Shopify sales for more information and get started on the right foot!
8. Start driving traffic with paid advertising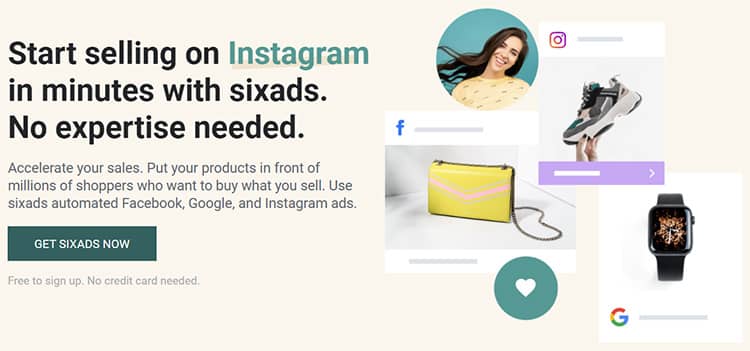 Finally, you need to take care of your marketing.
There are many ways you can attract traffic to your store. You can work on influencer marketing or try to get visitors organically by creating an SEO strategy. However, we advise you to start with paid advertising since it can bring you results instantly.
Your first task is to figure out which paid channels you'll be focusing on to drive traffic to your store.
It may be tempting to cover all your bases at once, but it's always better to master one or two channels first. For example, in the beginning, you may only want to focus on Facebook or Google Ads. If you find these two platforms too complicated to navigate, check out our list of advertising alternatives to Facebook Ads and Google Ads.
Not sure which channel is the best for you?
Check our article on driving traffic to a Shopify store. We collected data from more than 60,000 Shopify stores to see what are the main traffic channels that bring in visitors for different product niches.
Facebook ads
Facebook offers sophisticated audience targeting options, helping you reach your ideal customers at the best time and place. You can target your potential buyers based on:
location;
demographics (age, gender, education, job title, etc.);
interests;
behavior (purchases and devices used) and more!
Read our article on Facebook advertising for beginners to learn how to create Facebook ads that bring you high-quality traffic and sales!
Instagram ads
Instagram ads can be very effective for two main reasons:
They are highly visual and the internet lives and breathes visuals. Just imagine how many impulse purchases you could get with a creative ad campaign!
Since Instagram is a part of the Facebook family, you can use the Facebook Ads Manager to maximize your targeting capabilities.
Bookmark our article on advertising on Instagram for tips on how to launch a successful ad campaign.
Google ads
With Google advertising, you don't have the sophisticated targeting options as with Facebook or Instagram. However, Google ads can help you reach people who are actively looking for the products you sell. That is done by targeting keywords that have a purchase intent (dog leashes shop, etc.).
Google advertising can be a bit hard to master, especially if you're just starting with it. Install sixads and run Google ads on autopilot! Or find a suitable Google Ads alternative.
Buy an existing dropshipping store and start right away
Don't have the time to build a dropshipping store from the grounds up? Buy an existing one on Exchange and get into running a business right away.
Exchange is a Shopify marketplace where you can find over 10,000 online shops for sale. You can choose from freshly made new stores to already established fully-functioning businesses that make good money.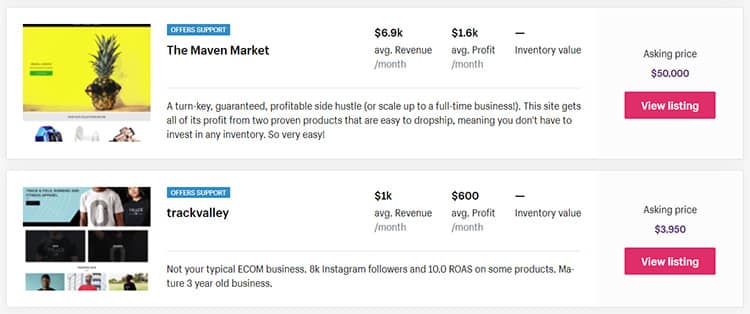 At Exchange, you can see such information as to how long the store has been running, how much money it makes, and its traffic. The numbers are provided by Shopify and can't be edited, so you can be sure it's true.
FAQ
Do this once you've launched your dropshipping store
First of all, fix yourself a nice drink, you deserve it!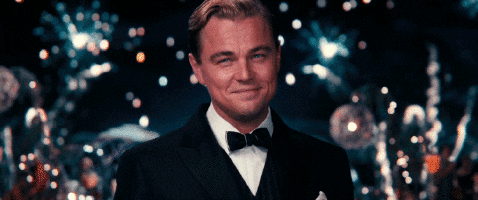 Secondly, start gathering ideas on how to get your brand new dropshipping store in front of your potential customers. One way to start is to check our 5 tips to build brand awareness for your Shopify store.
Roll up your sleeves and start your dropshipping business today – adventures await!