If you're in e-commerce — you've jumped on the right train. As more and more people choose to shop online, e-commerce businesses are soaring!
However, with great power comes great responsibility, and huge traffic suddenly flooding your store raises some new challenges — like providing fast and efficient customer support.
Live chat can help you solve these issues!
It is quickly becoming one of the must-have marketing tools for any e-commerce site. Adding this personal touch to the communication experience is changing the way online stores serve their customers and boost their sales.
In this article, we will give you a brief overview of the best live chat apps for Shopify and go through the key advantages they offer for online businesses.
Let's dive in.
What is a live chat?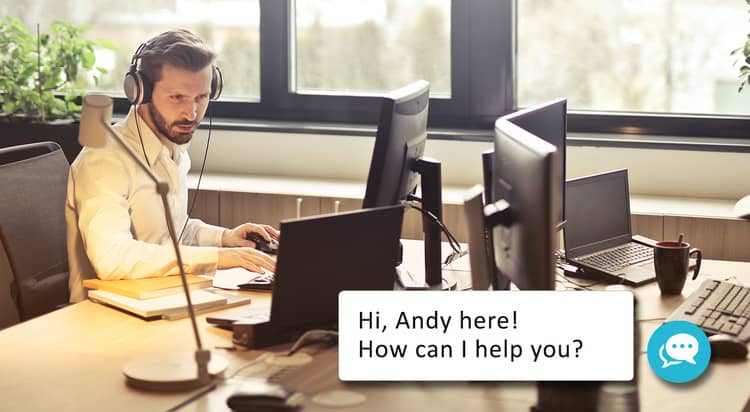 Live chat is the little chat bubble that you will find located at the bottom right corner of many websites. It's programmed to greet site visitors with a question (such as: "How can I help you?") as soon as they land on the page.
Apps or software that provide tools like this allow customers to message businesses and get answers in real-time. Brands that use live chat can help their customers instantly and engage them more effectively.
Why offer live chat support?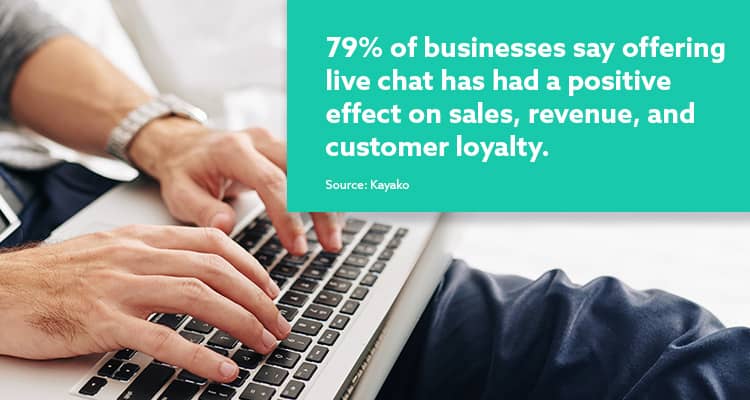 With attention spans shortening and instant messengers dominating online, live chat can fill connection gaps between your business and customers.
Why?
It's LIVE. Live chat means just that. Live chat. Site visitors can get in touch with someone who can fulfill their needs in seconds. This can reduce wait times and noticeably boost customers' satisfaction with the brand.
It's preferred by customers. Phone or email support has always been a thing, yet numbers show that people are looking for alternative means of communication. 41% of customers prefer live chat as the communication channel when talking with customer support agents, while phone and email stand at just 32% and 23%, respectively.
It builds closer connections. Live chat helps businesses connect with prospects and customers in a more personal way, enabling a more human-centric approach to sales.
Top 6 live chat apps for Shopify in 2022
One of the biggest reasons to use Shopify for your online e-commerce business is their wide range of apps. These apps can help you build a truly unique marketing approach that suits your business and its needs. Live chat apps are no exception, yet the number of options available can be overwhelming when trying to figure out where to start.
To help you get a better understanding of the top tools, here's an overview of the 6 highest-rated live chat apps for e-commerce.
1. HelpCenter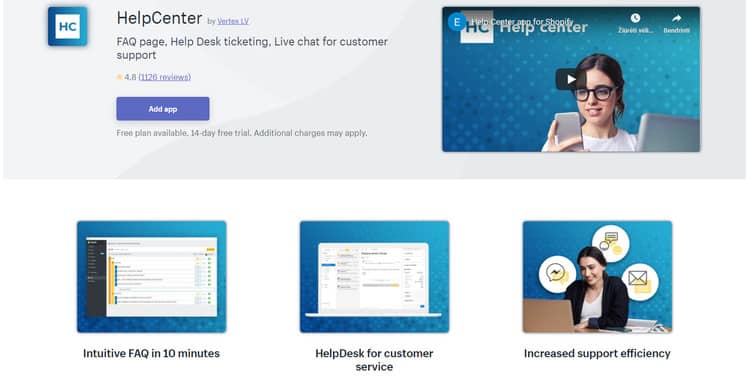 Live chat is a fairly fresh HelpCenter app feature, yet it has everything you might need to successfully try it out. It takes no more than a few minutes to get started so don't have to worry about a long setup process when it comes to this gem.
HelpCenter's live chat has two options for customers.
Customers can communicate with customer support agents in real-time during business hours.
Or
Customers can fill out a contact form after business hours and agents can reach out to them later.
As great as this sounds, live chat is not the only reason HelpCenter has made it to our top list. This app actually provides a full package of customer service solutions (Live Chat, HelpDesk ticketing, and an FAQ builder). According to the ratings and overall feedback, HelpCenter seems to be meeting all of their clients' needs. It's really worth considering this tool to cover it all rather than going between separate apps for the different aspects of customer service.
What you get with the HelpCenter app
Live chat for fast and efficient communication with customers at all times
Ability to access and manage inquiries from several channels in a single location
Customer purchase and inquiry history
Unlimited live chat, Facebook Messenger accounts, and unlimited agents
Custom tags, auto-responses, signatures, templates, and more
Multilingual FAQ builder that is well-organized and easy to navigate FAQ pages
Seamless integration with Shopify
2. Tidio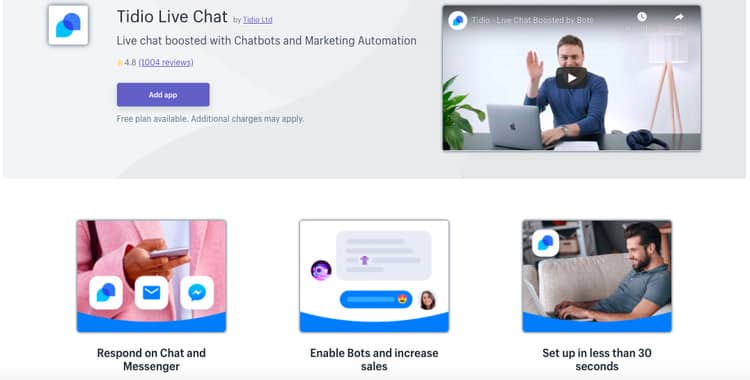 Tidio is focused on providing its clients with all the necessary tools for effective live chat communication with customers. This app offers clients an impressively thorough live chat experience, making it one of the leading customer support apps on Shopify.
Tidio's live chat supports real-time communication with customers and also provides the possibility to use chatbots. They can help automate many interactions and save some valuable time. Tidio also allows access to all live chat, e-mail, and Messenger communications in one panel, eliminating the need for checking them all individually.
What you get with Tidio
Live chat, e-mail, and Messenger inquiries in one place
Intelligent chatbots 24/7 support
Ability to see what your visitors are typing in real-time
Customizable widget design
Multiple languages
Email marketing solutions
Free mobile app (iOS and Android)
3. Gorgias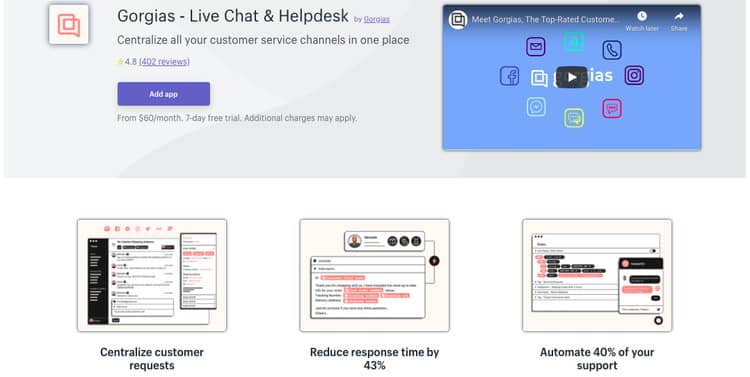 In terms of features, Gorgias is similar to the HelpCenter app. Along with live chat, it also comes with a fully equipped help desk ticketing system to help make the communication experience smoother.
Gorgias's live chat does exactly what it's expected to do – ensure quick communication with store visitors in real-time, but there is one more thing worth mentioning. Based on the URL (e.g. the checkout page), Gorgias can trigger a live chat conversation or a contact form that allows you to engage your prospects automatically. Moreover, Gorgias offers seamless integration with social media platforms, various macros and auto-responders, the possibility to manage multiple stores, and more.
What you get with Gorgias
Instant responses via live chat
Customer inquiries across all channels accessible from one place
Live chat with the ability to identify the number of customers currently in the store
Triggered live chat interactions on important pages
Multi-store connection
Pre-made templates and macros
Automated responses to recurring questions
4. Reamaze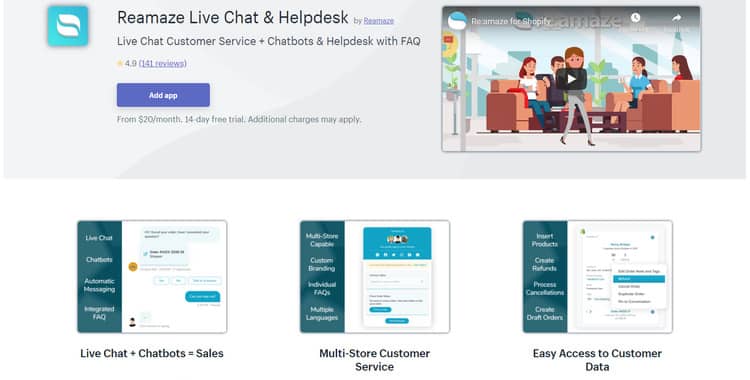 The Reamaze app is another live chat option that is quite functional. Besides allowing quick interactions via live chat directly in your store, Reamaze is also a help desk and FAQ help center platform aimed at making all communications easier.
But the key feature that makes Reamaze stand out is its automated messaging opportunities. These messages can help engage specific types of visitors using rules and pre-defined conditions. They can be triggered by various criteria, such as time spent on the store, specific Shopify parameters, etc. The app then uses chatbots to provide answers whenever it's needed.
What you get with Reamaze
Functional live chat that can be customized to specific needs
FAQ within the chat widget
Unified communication experience (instant messengers, SMS, VOIP, etc.)
Automation, bots, and workflows
Status pages for alerts
Multiple store management
Easy access to order data from Shopify
5. Live Chat, ChatBot, Cart Saver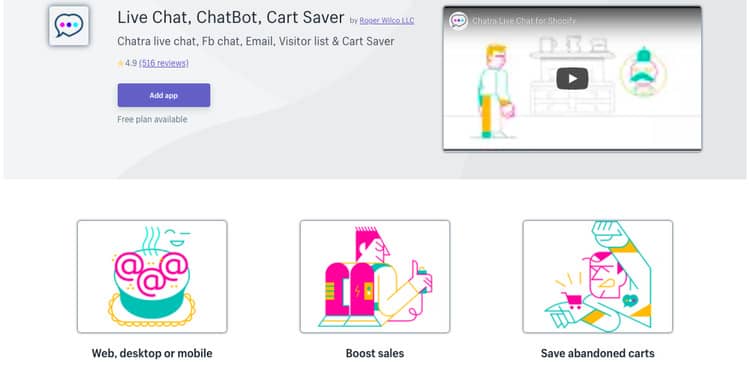 Last but not least is the app Live Chat, ChatBot, Cart Saver. This app literally covers everything it has to offer in its name.
Its live chat is called Chatra and provides businesses with a convenient way to talk to their customers via a desktop or mobile app. The app itself is pretty rich in features and offers many great options for connecting with site visitors.
For instance, by using Chatra, you can always know who's on your site, where they came from, and offer help to specific people. The app also includes live typing insights which provide an opportunity to preview messages before someone has hit the "send" button.
While access to conversation history creates a continuous thread, a built-in contact form ensures customers are not left in confusion even after office hours.
What you get with Live Chat, ChatBot, Cart Saver
Real-time visitor list
Live typing insights
Targeted chats
Conversation history
Intelligent contact form bot
Convenient access from a browser, desktop, or mobile app
FB Messenger integration
6. LiveAgent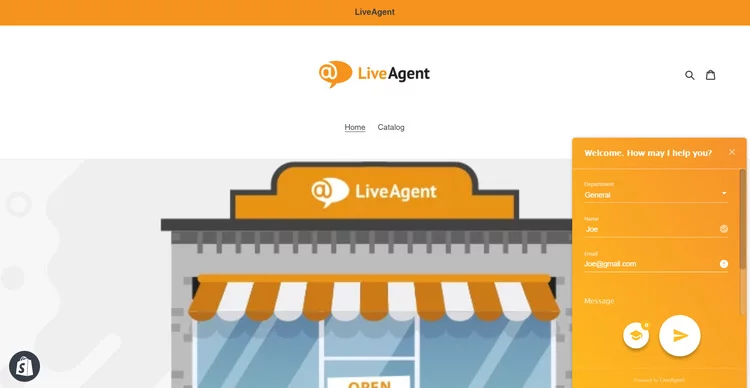 LiveAgent's mission is to be proactive and affordable. As one part of a complex, hybrid ticketing system, live chat software ensures that no customer request will ever go unnoticed. Whichever platform customers choose to contact you, the conversation will be transformed into tickets and stored within the single universal inbox. Agents can then access and view their information, past tickets, purchases, and any other additional collected information with the help of a powerful built-in CRM.
LiveAgent not only offers features for efficient communication with the external visitors but also internal staff as well. Admins can monitor and set up the maximum queue length, distribute chats, and create chat invitations in multiple languages based on the URL of the customer—all for the purpose of efficiency and customer satisfaction. Agents can benefit from utilizing internal live chat and support multiple conversations simultaneously. Bonus is an option to test your typing skills with a free typing test directly on the LiveAgent's website.
What you get with LiveAgent
14-day free trial
User-friendly interface
Third-party software integrations
Optimized chat tool available for all platforms and mobile devices
Multi-Language option
Chat overview
Advanced features
So, you've installed a live chat… What can you expect?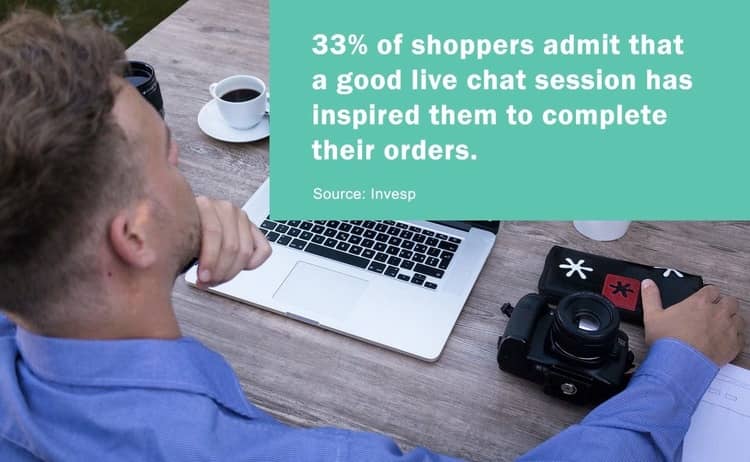 Increased conversion rates
77% of customers say that they're not willing to make a purchase if there's no live chat support on the website. 38% of them admit that a good live chat session inspired them to complete their orders.
A better understanding of customer pain points
Besides messaging, live chat serves another important function. Data collection. Businesses can get access to all inquiries, filter and categorize them using specific keywords, and do a quick search to identify common problems that customers face.
Higher customer satisfaction and engagement rates
Live chat can help easily start a conversation and boost customer experience with your brand. Even if there was no way to fix their primary problem, live chat can actually leave your customers happier. Being available and listening to them still goes a long way.
Improved customer service efficiency
Experienced agents can use live chat to communicate with 4-5 customers at once
More advanced live chat apps can provide a preview of chats before visitors even send a message. This gives some extra time for customer support agents to prepare for the issue
When combined with chatbots, live chat can also become the team member that is ready to address common customer support issues 24/7.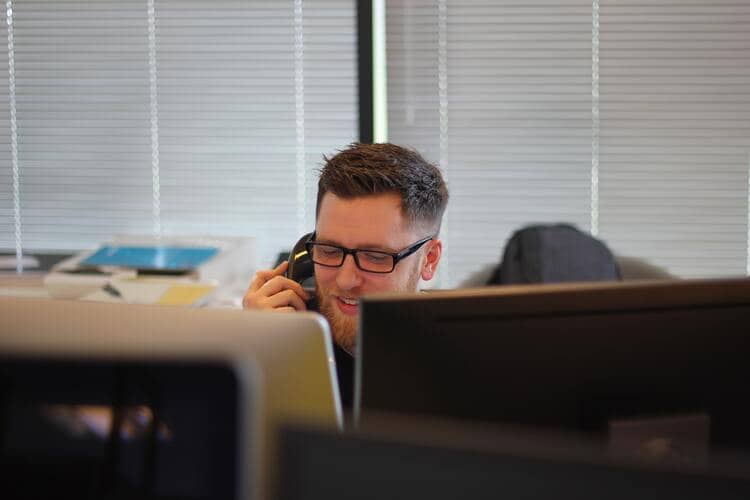 Conclusion
Between changing habits and the constantly evolving customers' needs, businesses are constantly looking for new ways to engage their visitors.
It seems like live chat is a great way to bridge these gaps currently. It offers both brands and their customers an easy way to interact with each other, while also reducing unnecessary hassles when it comes to long response times or trying to get in touch in the first place.
Live chat is no longer just a shiny new feature that the elite have. Your customers will expect to find. If they don't they will likely search out a competitor that does. Having live chat installed on your site can help boost your business growth and build a closer connection with your customers.

What are you waiting for? Add a chatbot and start meeting your customers' expectations!