It's very easy to launch a t-shirt store. There are a gazillion apps and online services that can help you get your business up and running in a couple of days. Also, clothes tend to be an impulse purchase, so it's definitely a good niche to get into for dropshippers.
Here are even more reasons to start dropshipping t-shirts:
They're cheap to source;
It's pretty simple to customize your products;
Everyone needs t-shirts.
In fact, by 2025, the global demand for custom t-shirt printing is predicted to cross 10 billion USD.
Everything sounds perfect… almost too perfect. There must be a catch, right? Well, there's one.
T-shirt dropshipping is a highly competitive field. To succeed, you'll need to roll up your sleeves and work hard on your branding.
But don't be discouraged from opening your own store! Marketing your business can be an exciting and rewarding experience. Plus, we're here to help you navigate all the things related to dropshipping.
In this article, we'll teach you everything you need to know to start selling t-shirts online and make yourself an extra source of income.
Let's go!
The basics of making it in the t-shirt business
Want to start a successful t-shirt dropshipping business?
First of all, aim for selling only high-quality t-shirts. Otherwise, you'll be flooded with poor reviews on your social media the moment your prints start to come off after the first few washes.
Also, it's best to come up with your own prints rather than resell already made t-shirts. This way, you can work on your own brand and stand out from the rest of your competitors.
You may be thinking now – but wait, is it still dropshipping if I'm creating custom prints? Don't I have to store my t-shirts then?
Yes, it's still dropshipping! And no, you don't have to store your custom-made t-shirts.
With Print on Demand (POD) services provided by multiple companies online, you can sell your branded t-shirts with zero inventory! We've included a list of the best Print on Demand companies at the end of this article.
Once you've got a good product, you need to create your dropshipping marketing strategy.
Is t-shirt dropshipping profitable?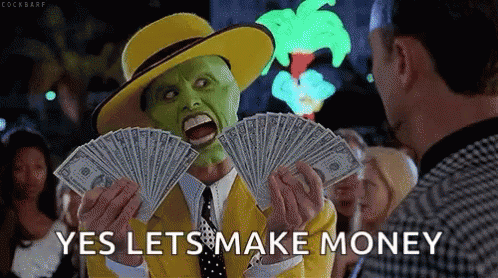 Yes, as long as your branding game is strong, you can sell t-shirts at a 50% margin and make good money. For example, if you're selling your t-shirts for $25 and you get $12.50 from each sale, you only need to sell 100 t-shirts per month to make $1250!
Of course, you may need to invest more in advertising initially, which will cut your profits, but it's a necessary step to attract your first customers and build a strong online presence. If you don't have any experience running ads, add sixads to your Shopify store and run high-performing ads on autopilot.
7 steps to start t-shirt dropshipping
So, how does one start a successful dropshipping store? There are seven essential things you need to do – we've listed them below.
1. Come up with an idea for your brand
Remember, clothes are often an emotional purchase. As Seth Godin nicely said it:
"People do not buy goods & services. They buy relations, stories, and magic."
This explains why Kanye West's plain white t-shirts were sold out for $120 back in 2013. In fact, the website that was selling them even crashed in the process – there were that many people trying to buy the t-shirt you see below.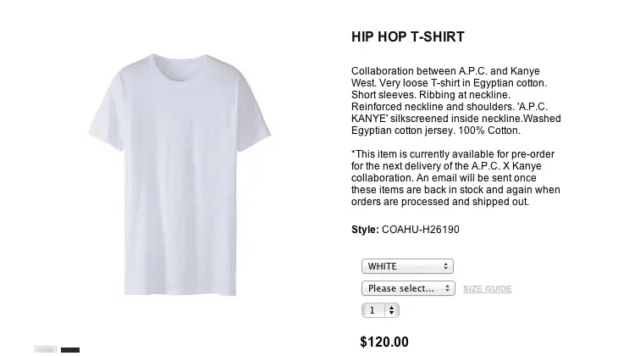 Sure, it looks like a decent t-shirt, but it was sold out because Kanye West designed it, not because of its reinforced neckline.
"But I'm not Kanye West" you may be thinking.
Well, you don't need to be one to sell overpriced clothes! You need a good story behind your brand – an angle to attract a specific group of people.
A good place to start is to think about what interests you. Maybe you're a dog lover? You could be selling t-shirts with cute dog prints or witty phrases like "I work hard so my dog can have a better life."
Want to make a statement against climate change? Design environmentally-themed t-shirts like the one from Ecoalf you see below.
Donate 10% to an organization that plants trees, and you'll have yourself a nice brand identity.
Or maybe you're into arts? Create original drawings and sell t-shirts with your prints.
The key is to pick up a niche that you're naturally drawn to so you could create a strong branding strategy and create a community around your brand.
2. Create the design for your t-shirt
If you've always felt that you should have been an artist but went for a safer career instead, it's your time to shine. Make yourself a nice beverage, put on some music, and start sketching! You can first do it on the good old paper if you want.
Or you can use a t-shirt mockup straight away. It's a blank t-shirt that you can virtually add your design on. Google "t-shirt mockups," and you'll get plenty of websites that offer this feature.
If you don't feel like creating the design by yourself, you can always hire a freelancer on platforms like Fiverr.
3. Choose your printing method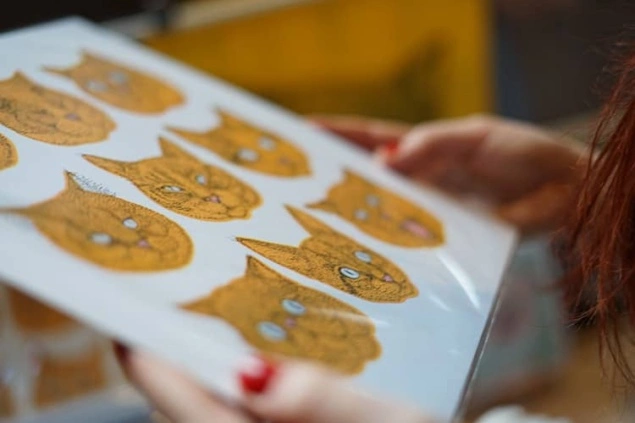 While working on your t-shirt design can be fun, choosing the printing method can seem a bit technical and, naturally, daunting. Still, it's an essential step that shouldn't be overlooked if you want to sell quality t-shirts and have your happy customers talk you up.
To make things easier for you, we've summarized the main printing methods and their advantages below.
Direct to garment
Direct-to-garment printing, or DTG, is a type of printing that applies ink directly onto the garment. Your designs are downloaded to a computer and directly sprayed on your t-shirts using a special printer. Think of it as printing on paper.
Since there's little to no setup time, it's easy to print one-offs if you want to get a sample of your t-shirt before going all in. DTG printing also offers a wide range of color choices, allowing you to come up with detailed designs and photorealistic images.
However, if you want to have transparent design elements, DTG is not your best choice as DTG printers will create gaps in your design. But other than that, it's a great printing technique. It doesn't require an upfront investment, too.
Screen printing
With screen printing, ink is applied to the fabric in layers using different stencils for different colors. Instead of soaking into the garment, ink lays on top of it.
The setup with screen printing is longer than compared to direct to garment printing, for example. The more layers your design needs, the more different stencils will have to be made for it and the longer it will take to print your t-shirts. For this reason, screen printing is best used for printing items in bulk.
Screen printing is a great choice for graphics that don't have small details. The final price is usually based on the number of colors needed for the print.
Heat transfer
Heat transfer is a fairly new printing technique. It's a process where an image (your design) is put on heat transfer paper, cut from that paper, and then transferred on a garment by heating it to a high temperature.
This method allows for creating designs with small text and intricate details. It also boasts a low setup time and costs, making it a great choice for smaller orders. There's also no limit for the number of colors used, which can be the case with screen printing.
There are three heat transfer techniques: dye-sublimation printing, vinyl transfer, and Plastisol transfer.
4. Choose your Print on Demand service
There are a few things to think about when choosing a print on demand (POD) service. First of all, look at the shipping times to know how long production takes once your customer orders your t-shirt. Find out how they calculate their shipping fees. Then, compare printing techniques to find the one that offers the best quality. Finally, make sure to check if your preferred print on demand service is compatible with your store.
We've listed 5 of the best print on demand companies at the end of this article for your convenience.
5. Order samples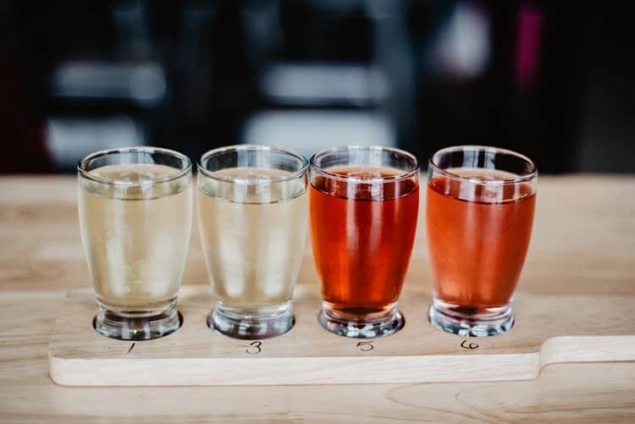 One of the greatest things about the t-shirt dropshipping business is that you don't have to store and manage your inventory. You can run your store without ever actually seeing the products you're selling. However, we highly advise ordering samples of your products before launching your store.
There are at least two good reasons why you should invest in ordering your product samples for yourself:
You'll be able to check the quality of your t-shirts. If you're not sure about the best printing on demand technique for your business, you can order several different prints and compare them before making your final choice.
You can also create photos and videos of your products for marketing purposes. It's always a good idea to organize a photoshoot where actual people wear your t-shirts!
6. Build your dropshipping store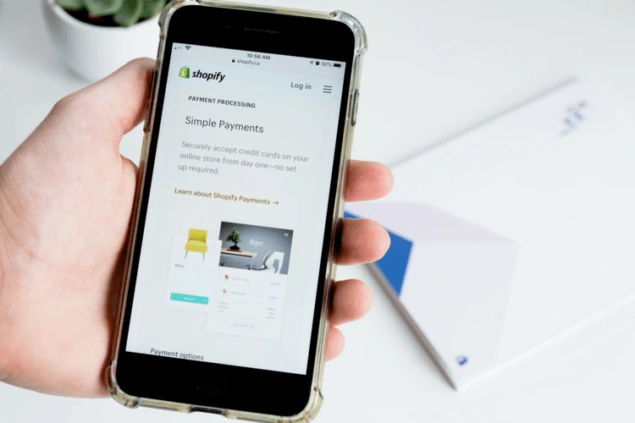 The next step on your list is creating your own store. One of the easiest ways is to go with Shopify. This e-commerce platform offers multiple resources to help you at every stage of your store's launch and maintenance. They also have 24/7 customer service available, which is a huge plus when you need help ASAP and your sales are at stake.
If you don't want to go through the store building process, you can buy an already existing dropshipping store on Exchange and get into running a business right away.
7. Drive sales with paid advertising
Congrats, you've launched your online store! Now, you need to get your first customers and start making sales. The best way to reach your target audience is with paid ads.
We recommend you run your ads on three channels: Facebook, Instagram, and Google.
Build your brand with Facebook ads
Facebook is a great place to start with your ads – its sophisticated targeting capabilities let you reach whoever you want! You can target people based on their interests, location, marital status, job title, and many more criteria.
With Facebook ads, you can start spreading awareness of your t-shirt business and start building your brand. Gradually, you'll have enough people visiting your store that you will be able to turn into paying customers with retargeting ads.
If you've never run a Facebook ad before, go ahead and read our Facebook advertising guide for beginners. There we give all the necessary information you need to get started with Facebook ads.
Run ads on autopilot and save time
You can also make your life easier by using ad automation. At sixads, we use advanced analytics tools that can track your store visitors and target them at the right time and place with engaging ads until they become your customers.
Install sixads and see how easy running Facebook ads can be!
Instagram is also worth it
Instagram is where fashion happens. Just look at all the influencers always sporting new clothing items in their posts and stories. If you want to run a t-shirt business, you must be on Instagram, even if your Facebook game is already strong. Check our article on advertising on Instagram for tips on how to create successful ad campaigns.
Target shoppers with Google ads
While Facebook (and Instagram) boasts granular targeting capabilities, Google can help you get in front of people who are actively looking for your products. There are multiple types of Google ads, such as search ads (when your ads appear in Google's search results) or display ads (banners you see when reading your favorite blog).
We especially recommend checking Google shopping ads – the latest data from 2021 Q2 shows that customers are clicking on them much more than on the usual search ads.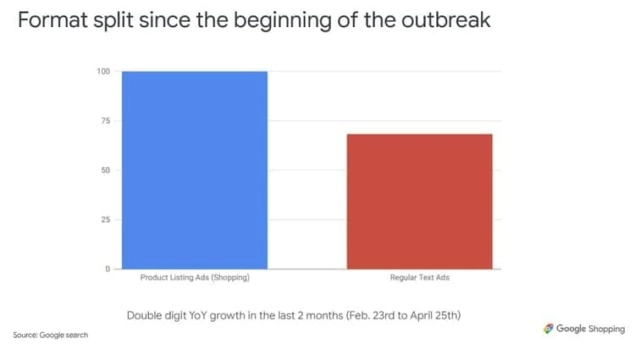 5 best Print on Demand companies
As promised, here are some of the best print on demand services.
1. Printful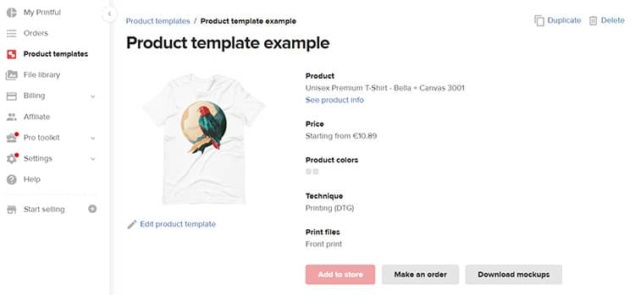 Printful is the first on our list because it's one of the most popular print on demand platforms. Besides ordering t-shirts, you can also create many other custom products, such as sweatshirts, hoodies, laptop cases, jewelry, stickers, coffee mugs… the list goes on! They even have built-in tools that let you create your designs, product mockups, or even your brand logo.
Shipping times:
Standard (3-4 business days in the US, 6-12 days in Canada, 5-20 days internationally).
Live rate shipping options: overnight (next day delivery in the US) and express (1-3 business days in the US, Canada, and internationally).
Fees: no sign-up or monthly fees, you only pay when you order a product.
Printing options: cut and sew, direct-to-garment, embroidery, and sublimation printing. You can also add branded tear-away tags, stickers, and inserts to your packaging.
Overall, Printful is a great choice both for beginners and experienced merchants. They take care of your inventory, equipment, and shipping.
Plus, you can order your t-shirt samples with a 20% discount and free shipping to select destinations.
Add Printful to your Shopify store here. Also available with other e-commerce platforms.
2. Printify
Printify works as a vendor provider. They source and print products from more than 90 print provider locations. Printify has over 300 products that you can customize. When picking the best provider for your business, check its location, fulfillment time, and price.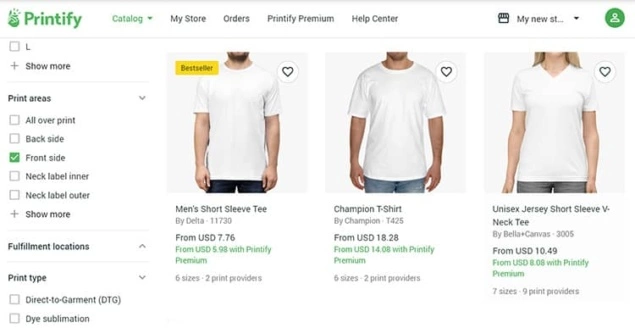 Just like Printful, Printify also has a mockup generator that lets you apply your designs to t-shirts and switch between colors.
Shipping times: depends on the print provider you choose (see the list here).
Fees: free plan available with 5 stores per account and unlimited designs. You can upgrade to a Premium plan for $24.99 / month for more perks, including up to 20% discount on all products and 24/7 merchant support.
Printing options: direct to garment, cut and sew, embroidery, sublimation, and more.
Because of the large network of printing partners available, you can choose your vendor based on the location you want to sell your t-shirts. This will let you keep your shipping rates and times to a minimum.
Add Printify to your Shopify store here. Also available with other e-commerce platforms.
3. Print Aura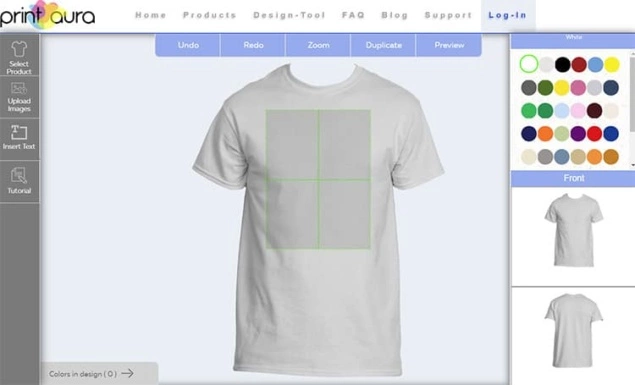 Print Aura is based in New York, USA, and focuses on dropshipping t-shirts.
Even though their website looks a bit like it's still '95, Print Aura offers great services.You can start designing your t-shirts right away, even without creating your account first. Just like other print on demand companies, Print Aura also has multiple custom branding options, such as hand tags and inside and outside labels.
Shipping times: standard shipping: 3–5 business days, rush processing: 2-3 business days (extra fees apply).
Fees: no sign-up or monthly fees, you only pay when you order a product.
Printing options: direct-to-garment.
Print Aura also provides complimentary delivery tracking. Plus, they use environmentally friendly inks, which can be a great branding angle for your store!
Add Print Aura to your Shopify store here. Also available with other e-commerce platforms.
4. Apliiq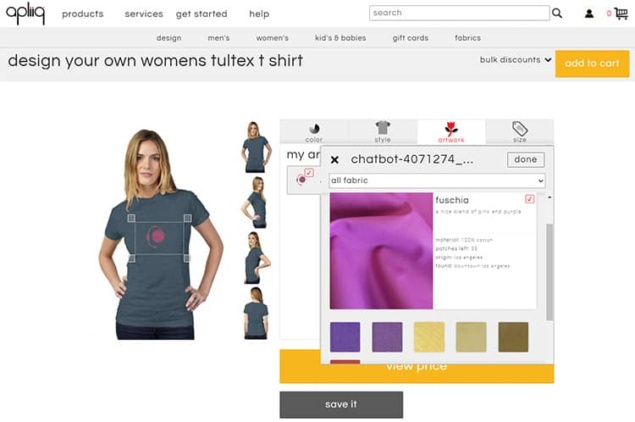 Apliiq is an excellent choice if you want to start a fashion t-shirt brand.
Design and quality are the utmost priorities for this company. Apliiq offers multiple customization options that allow you to create your high-quality private label products (goods that are produced by one company and branded and sold by another) with no manufacturer's tags.
Also, an in-house production artist reviews your t-shirt designs to make sure it's the best version it can be.
Shipping times: up to 7 days for production. If you want faster fulfillment, you can pay a 10% rush fee. There's also an expedited shipping option available.
Fees: no sign-up or monthly fees, you only pay when you order a product.
Printing options: digital print, cut and sew, appliqué, screen print (for bulk orders), embroidery.
Apliiq also offers more branding customization options than other services. For example, you can add packers, patches and design the interior lining.
With some thought-out marketing strategy, you could look like a legit fashion brand and sell your t-shirts at high prices!
Add Apliiq to your Shopify store here. Also available with other e-commerce platforms.
5. SPOD
SPOD offers the fastest order fulfillment times in the print on demand industry – your t-shirts can be shipped within 48 hours! Plus, if you don't have an idea for your t-shirt design yet, SPOD offers over 50k free designs to choose from.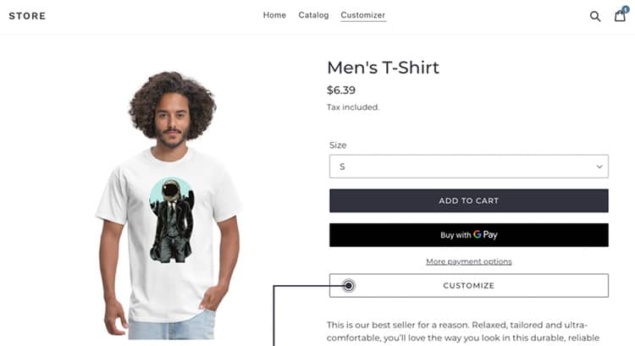 Shipping times: ships within 48 hours from the US, estimated time of arrival – 3 to 8 business days.
Fees: no sign-up or monthly fees, you only pay when you order a product.
Printing options: thermal sublimation, digital/laser transfer, digital direct, special flex.
SPOD is great for new dropshippers for its simple pricing model, speedy fulfillment times, and competitive prices.
Add Apliiq to your Shopify store here. Also available with other e-commerce platforms.
FAQ
How can I start a T-shirt business with no money?
If you want to start a successful t-shirt business, the best way is to go for dropshipping. With this business model, you don't need to hold any inventory, you only pay for your products once someone orders them. The success of your t-shirt business mainly depends on your marketing. Look for free online resources, such as blog posts (we have plenty of them) or YouTube videos from Shopify gurus to get you going.
What is a print on demand business?
Print on demand is a business model where you create your own design and use a service to produce and fulfill your orders. You only pay once a customer orders your product, so it's a great choice if you don't want to invest a lot of money. Some of the most popular print on demand products are t-shirts, coffee mugs, and hoodies.