After multiple failing dropshipping stores and months of research, testing lots of different products, and losing $2,000 on Facebook ads, I finally hit my 1k/day goal with a Shopify store! Let me tell you my dropshipping success story.
Story by Maria Jones , our loyal sixads customer.
TL;DR
At first, I naively assumed that creating a default Shopify dropshipping store and testing my jewelry products with Facebook ads will be enough. But then I faced the harsh reality of high costs and low profits. Together with a combination of Pinterest research, a well-designed store, and conversion optimization, sixads is now helping me bring in $1k/day.
So how did I get here? I will tell you my story step-by-step and help you learn how to become a successful dropshipper.
Step #1: Created my first (un)successful dropshipping store
Last year, I decided to launch my jewelry dropshipping store for women. Everything looked promising! But truth be told, I failed quite hard at the beginning. REAL hard. This is how it went.
I found the jewelry at AliExpress Dropshipping Center that looked nice. I mean, it was the rings and hairpins I'd totally buy for myself! So, I created what I thought would be a successful dropshipping store with a default theme (I didn't want to be bothered too much at that time, I just really wanted to get started ASAP).
Then, I imported the items that I wanted to sell. Hairpins, rings, bracelets… those cute minimalist necklace pendants that always look so sleek… you name it!
And, of course, I turned to Facebook ads for marketing. Big mistake.
Step #2: Used Facebook ads to test new products on Shopify
I was testing lots of products with Facebook ads. I was creating 10 ad sets for each type of jewelry from my Pinterest boards. I was playing around with different messaging, different types of ad formats, different images - you name it!
I targeted broad and different interests for each ad set.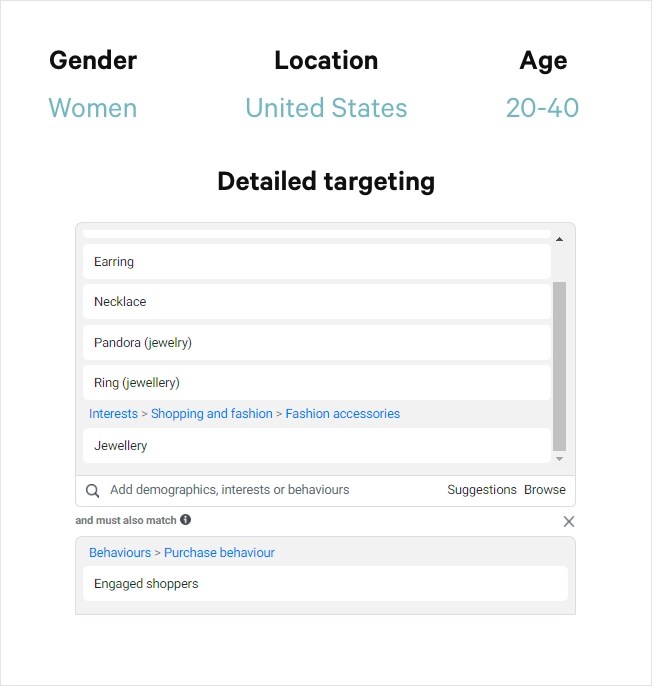 In my case, I learned that photo ads on Facebook work best for attracting traffic to my store. It was cheap traffic, but the problem was that people were not buying!
Well, they were buying some but not nearly enough - after weeks of Facebook testing, I couldn't even break even.
I'd spend hundreds of dollars per week for just a few sales. I was getting frustrated.
I was continually losing money with Facebook ads, and it was a tough time for me. After losing almost $2,000 trying to become a dropshipping millionaire, I had serious thoughts to quit. However, I didn't give up and said to myself, "One last try, after all, my dream is that juicy salary dropshipping stores can give you."
One month later, with lots of hustle, I finally reached my 1k/day goal. Here's how to make money dropshipping:
Step #3: I found a cheaper alternative for my Shopify store
After weeks of trying with Facebook ads, I finally admitted to myself that relying only on this type of advertising is a bad idea and it is not the way to go if you want to build a successful dropshipping business.
Most gurus on Youtube and Facebook groups are saying that Facebook ads are the way forward, and, most of the time, the only way forward. However, after months of trying to make it with Facebook ads, I thought that it was time to think for myself if I want a business that made millions.
So, I decided to do in-depth research on new advertising opportunities and how to make it cheaper. Having read multiple dropshipping success story on Reddit and Shopify, I found one thing many of them had in common - Shopify traffic apps. I decided to give it a try and turn my shop into a dropshipping success story.
This is how I started using sixads. I have to be honest, at first, I was skeptical about this app. I couldn't believe that sixads was such a great solution and also FREE!
But it proved to be worth it.
I am now using sixads services for product testing. It is 30x cheaper than Facebook ads, which means you can test more products with the same budget.
Testing my jewelry products with a Shopify App:
My tactic with sixads was to look at which product would attract more attention.
I looked at CTR (click-through rate).
I waited till my products had 1000 impressions on each of them and then killed the ones that showed lower than 1.5% CTR because they were not the winners for sure.
And the ones that managed to get 3-10% CTR turned out to be worth investing in.
I found myself on a really good path, with an answer to how to succeed in dropshipping. And then I got another genius idea!
Step #4: I researched dropshipping trends in 2021 with Pinterest
Like many Shopify dropshippers with success stories, I tried to figure out what will be trending in the upcoming year. And being trendy is especially relevant in my niche - jewelry.
sixads was working like magic for me. But I wanted even more. Faster! Better! I realized that I also need to do proper research on the products themselves. Until now, I was basing my product decisions on what I THOUGHT would work well. But the reality is…
You need to find what people want instead of trying to guess what they want.
So I started using Pinterest for research.
I was spending hours scrolling through Pinterest, looking at what kind of jewelry ladies pin the most.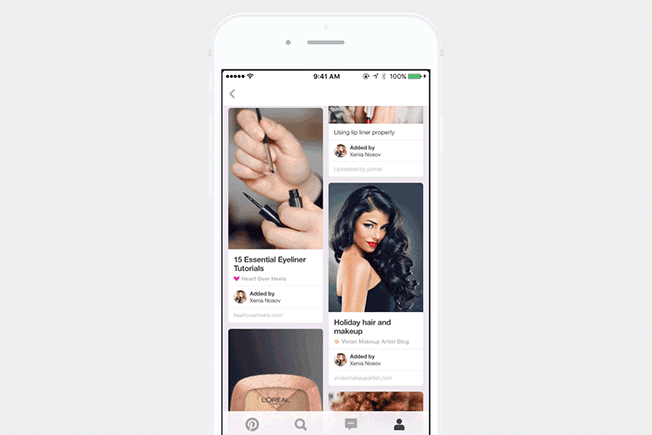 Why this channel?
Even though Pinterest is categorized as social media, it works more like Google. You type your keywords and get the highest-ranking results with pictures. So, just like the mighty Google, Pinterest is a pretty good platform to understand with what products you can have Shopify dropshipping success.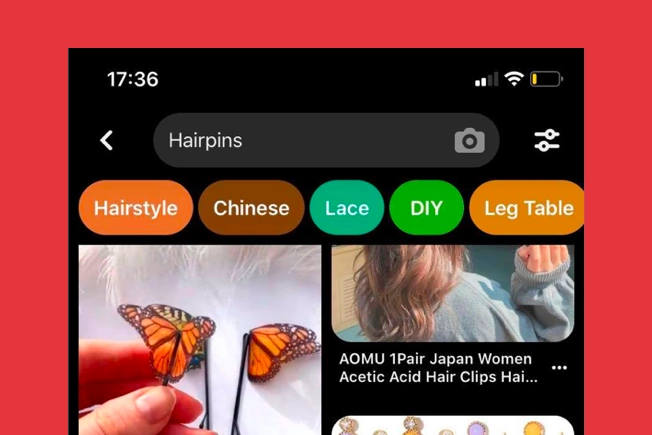 In my case, I tried to answer the question - what kind of jewelry products for women will be trending in 2021.
Step #5: I organized Pinterest boards for jewelry dropshipping with Shopify
Here's how I carried out my research on Pinterest:
I created many different boards for the most searched types of jewelry, such as hairpins, rings, bracelets, earrings, watches.
Then, I grouped those boards according to different styles - boho, fancy, and minimalist.
I made notes to myself which boards represent the most searches.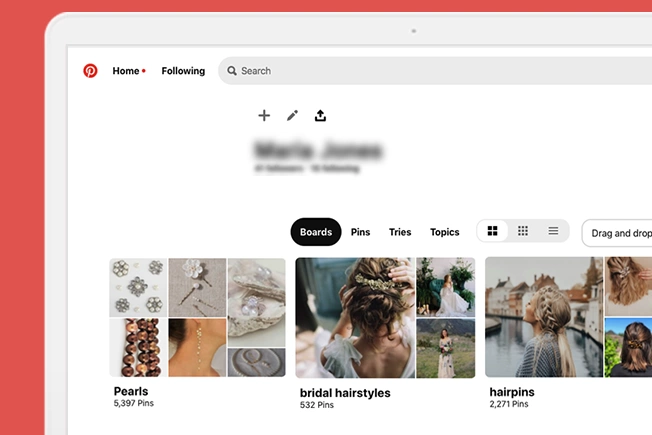 I made notes to myself which boards represent the most searches on Pinterest (I went to their ads maker and used the keywords data there). Also, I got a free trial on SEMrush to check the keyword search volume on Google for the jewelry I was interested in dropshipping.
Finally, I went to AliExpress and Amazon to find the lookalike products from my Pinterest boards and make approximate calculations from which types of jewelry I could earn the most. As for the calculations, I used Google Sheets for that.
It was a lot of work.
I spent all my evenings after work for about two months to do this research properly. I missed teambuilding at my 9-5 job — not that I care about laser tag though — but I was getting drained. I also skipped at least three nights out with my besties and got way behind my favorite TV shows.
But I did all this background work because I wanted to do a better job at finding winning products and actually being successful at dropshipping. I didn't want to randomly dropship the first beautiful hairpins that I saw on AliExpress - I wanted to be successful in planning my products and have a success story for my e-commerce business.
Step #6: I used a Shopify traffic app to scale products
At this point:
I had a proper Pinterest research on my jewelry products.
I was using a Shopify traffic app to test those researched products.
Now it was the time to scale my business!
Scaling winners for well-targeted audiences
My next step after product testing was scaling the ads that worked. Scaling products with cold audiences as I did before (with multiple ad sets and different interests) is extremely expensive. However, there's an option of how to make it much cheaper and more profitable.
With sixads, there's a feature called "Facebook ads on Autopilot." In short, this feature creates Facebook ads for you with hot and well-targeted audiences from their data. It means you get much more traffic to your store that is already interested in your products. All you have to do is to choose a budget you want to spend!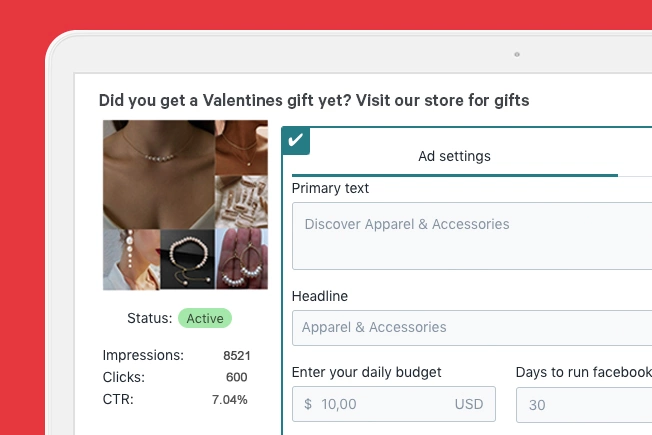 For my two winning products, I started with a $50 daily budget for three days. I pushed my products through their FB ads service and managed to get my first sales without losing money!!! It was a massive step for me as it finally worked.

However, then I realized my other huge problem. My conversion rate was extremely low (0.3%).
Step #7: Improving conversion rate on my Shopify store
Since I got my first sales, I was super motivated to work on my conversion rate. I started analyzing other professional Shopify dropshipping stores and their design so I could improve my own. I used a list of Shopify stores provided by Oberlo.

During my research, I understood that my store was awful, and it was a miracle that I got some sales.
My store looked spammy and scammy.
It had lots of pop-ups and very questionable trust badges.
Product descriptions were horrible because I put 0 work into them - I imported them from AliExpress. And you know what that looks like.
I just had to do something about it. I mean, I was finally driving quality traffic to my store but I left people disappointed because my store didn't live up to the promise of the ads I was running.
Here's what I did to improve my Shopify dropshipping store
The first thing I realized was that almost all stores use a default debut theme, and it's hard to stand out from the crowd this way.
I purchased a paid theme.
I customized it, chose good looking and easy to read fonts.
I also wrote clear and interesting jewelry descriptions that appealed to the needs of my target audience.
I used the Loox app to get some social proof on my products. I imported some photos from AliExpress made by happy customers.
I also made my product photos with a beautiful, blurred background.
I removed fishy looking trust badges and pop-ups from my store.
After all those changes, my store finally looked professional and trustworthy.
Here's my proud achievement! As a result, the outcome was stunning. I increased my budget with the sixads Facebook ads feature and finally reached my 1k/day goal! The conversion rate increased from 0.3% to 1.9%! So, can you make money dropshipping? Sure thing!
Here's my proud achievement and the focal point of my dropshipping success story!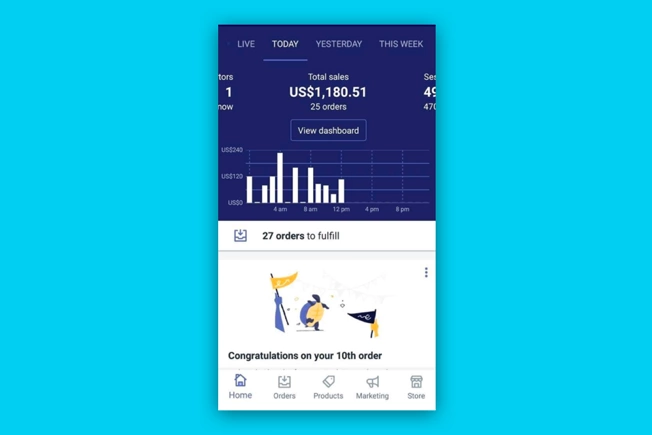 Shopify Dropshipping Success Story Summed-up
The moral of my story - Shopify dropshipping business is a hustle, sweetheart. It's a trial and error thing. But you can learn a couple of things from my experience and get to your first 1k/day faster.
Here are the key things that can help you to run a successful dropshipping store:
Don't rely only on Facebook advertising. Play around with it a little to get an idea of how it works, but don't invest in Facebook ads too much, especially if you have limited resources.
Instead, use Shopify traffic apps to test your products cheaper.
Use Pinterest to understand what's trending in your niche.
Most importantly, invest in your dropshipping store - make sure it looks professional, has good UX, and has a strong brand presence. What's the point in making all the efforts to drive traffic to your store if it doesn't convert?
I hope this has been helpful. Remember, I've started my Shopify dropshipping business from scratch. If I did it, you can do it, too!
FAQ on Dropshipping Success Story:
Is dropshipping still profitable 2021?
Well, it depends. If you're hoping to earn thousands a day with literally no effort, then it's not going to be profitable. But if you're willing to spend money to make money - then it will definitely pay off. You can start a dropshipping business with as little as $288.
Can you get rich from dropshipping?
It depends on what is "rich" for you. For some people "rich" means enough money to cover their daily expenses. To others, it means millions of dollars made monthly. Either way, read my success story, it'll provide you with insights on how to reach 1k/day with dropshipping. You can downscale or upscale your business from there.
What is the success rate of dropshipping?
The success rate of dropshipping business model is 10% in the first year as stated by successful dropshippers. Most of the money dropshippers spend is dedicated to paid advertising.
How long does it take to become a successful dropshipper?
It depends on how much money and time you're willing to invest. Dropshipping is a long-run game, but if you make it your priority it should start making you money within 6-12 months.