When it comes to running an effective eCommerce business, you need to think about a whole host of different things. And while a dropshipping business takes away the pressure of finding a warehouse or actually shipping the items to customers yourself, there are still plenty of things that can go wrong.
With a quality dropshipping and Shopify app, you can streamline your eCommerce business. These apps provide a much-needed link between your online store and the suppliers who create, hold, and ship products on your behalf.
While there are plenty of dropshipping and Shopify apps out there, two tend to stand out time and time again: Dropified and Oberlo.

Dropified and Oberlo are two of the most popular e-commerce apps out there at the moment. They were developed within about 6 months of each other and both are designed to help streamline dropshipping to make your online store work more efficiently and profitably than ever before. They are both compatible with Shopify and include a whole host of features to make it easier to find products, import them to your store, and aid you with order fulfillment.

But while Oberlo and Dropified both aim to make your life easier, so many similarities can make it tricky to decide which one is best for your eCommerce business. So, we've decided to help you make that all-important decision with this comprehensive, unbiased (pretty rare on this subject!) Oberlo vs Dropified review so you can start selling with confidence.
In this review, we're going to look at Oberlo and Dropified and the services offered by each in detail. We'll be looking at the similarities and differences between the two, and end with a detailed conclusion on which is likely to suit your business best… And why.
Oberlo vs Dropified: Overview
Before we look into the differences between the two dropshipping apps, let's take a moment to understand what each one offers.
What is Oberlo?
Oberlo was one of the earliest dropshipping apps to make waves in the e-commerce industry. It was founded by a group of friends in 2015 and almost immediately hit the #1 spot in the Shopify app store, retaining its status as a trusted platform to this day. Over 100 million products have been sold using the Oberlo app, and over 700,000 users have downloaded the Chrome extension from the Google app store.
Oberlo works uniquely as a go-between for Shopify and AliExpress.
The Chrome extension allows you to easily import directly from AliExpress, or you can use the Oberlo marketplace – where you can find verified suppliers and tools to help with product research.
It's easy to customize products using Oberlo, with the ability to add and amend product images, write your own product description, adjust the title, fix pricing, and much more.
Oberlo also aids with order fulfillment, making it almost effortless to organize customer orders and send products in just a few clicks.

The cheapest plan offered by Oberlo is totally free of charge, and their most expensive subscription plan is $79.90. There's a 90-day free trial that lets you test the perks of the Pro Plan, and you can use Oberlo at your chosen price point for as long as you need.
What is Dropified?
Dropified incorporates many of the same features that Oberlo offers, but one of the key distinctions is the range of e-commerce platforms supported by the Dropified app. These include:
Shopify
WooCommerce
BigCommerce
GrooveKart
CommerceHQ
eBay
AilExpress
Dropified also connects dropshippers to a wider variety of suppliers, so you can import products from more sources to fill your eCommerce store. What's more, Dropified can be used with multiple stores.
Similarly to Oberlo, Dropified includes the ability to quickly and easily launch a new eCommerce store, find products, import products, and fulfill orders in a few simple clicks.
Dropified also offers a downloadable Chrome extension to make importing products quick and easy, plus a range of extra features and addons – it can even help with dropshipping marketing and includes a CAPTCHA solver even on the lowest price plan (CAPTCHA solver is only available on the premium Oberlo plan).

At the time of writing, Dropified boasts of over 44,714 satisfied customers, and the Chrome extension has been downloaded over 40,000 times.
Dropified's cheapest plan starts at $17 (for Shopify users) and their most expensive plan, Dropified Black, costs $297 per calendar month.
There is a discount for businesses who pay annually, providing savings up to $567 per year on the Black plan. If you want to 'try before you buy,' Dropified also offers a 14-day free trial.
Oberlo vs Dropified: Comparisons
Now we've seen an overview of what Oberlo and Dropified are, it's time to dive a little deeper into the services and features they both offer.
Dropified vs Oberlo: eCommerce Platforms
One of the first things any dropshipper wants to know about Oberlo and Dropified is which e-commerce platforms they support. There's no use in paying for a dropshipping app that doesn't work with your chosen online store.
Oberlo
Oberlo works exclusively with Shopify, making it quick and easy to import products to your Shopify store. You can get started with Oberlo via the Shopify app store or link your account in seconds on the Oberlo admin page.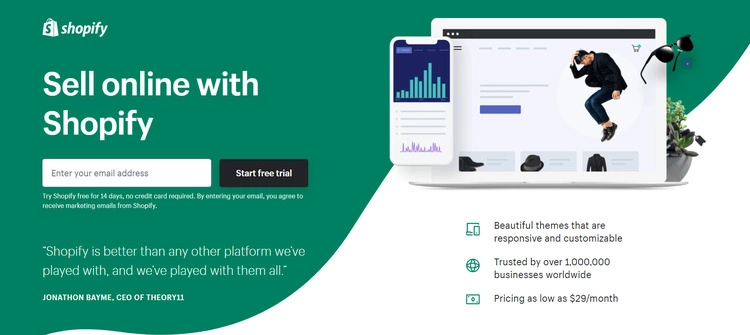 It is worth noting that a single Oberlo account only supports one Shopify store at a time; there is no way of managing multiple stores with one account.
Dropified
Dropified hosts a much broader selection of dropshipping platforms. Besides being compatible with Shopify stores, you can also use it with platforms such as WooCommerce, BigCommerce, GrooveKart, eBay, AliExpress, and CommerceHQ.

Dropified vs Oberlo: Suppliers and Products
Once you've got your online store set up, the next step is sourcing products. The supplier sites supported will dramatically influence your product research and will make the difference between successful automatic order fulfillment vs hours of wasted time.
Oberlo
Oberlo and its downloadable Chrome extension both work exclusively with AliExpress for product import. Using the extension, you can import directly from the AliExpress website (the Chrome extension will turn blue when you're on a page with an importable product) in just a couple of clicks.
The Oberlo marketplace also works with AliExpress, allowing you to import products and bundled products into your store almost instantly.
The marketplace offers the additional benefit of making it easy to find bestselling products, plus future bestsellers and high-potential products.
Dropified
Dropified allows you to import from over 75 different supplier sites, including:
AliExpress
eBay
Etsy
Walmart
SammyDress
Overstock
Wish.com
And many more.
These sites all support Dropified's one-click ordering and importing process and are even easier with the Dropified Chrome extension.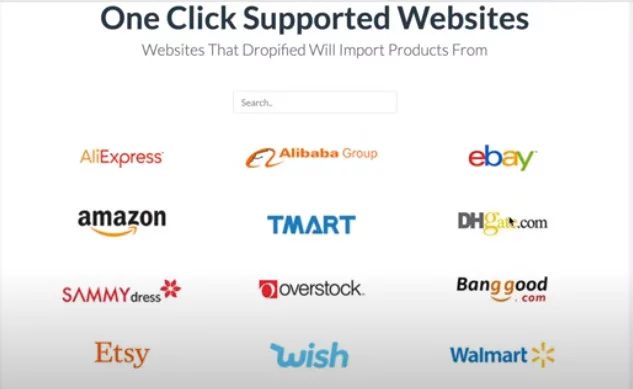 In addition to this selection of product boards, Dropified customers can also source products from the Dropified US product database, which offers faster shipping to US customers.
Dropified vs Oberlo: Pricing
Whether you're a dropshipping enterprise or a first-time small business, finding a subscription offering the right services at the right price point can make a massive difference to your profitability. Particularly when there are other dropshipping costs to consider.
You can pick up a 14-day free trial with Dropified. Oberlo, on the other hand, offers a 30-day free trial plus an always-free plan to help you start selling without substantial upfront costs.
Dropified Pricing
Dropified offers three different pricing levels to suit a range of business models and requirements. The cheapest option is the Builder Plan, which starts at $47 per month, and the most expensive option is the Supplements on Demand Plan, which costs $197 per month. Dropified also offers a Black subscription plan, costing $297 per month. This includes a whole host of bonus features plus a complimentary subscription to the Dropified Black magazine.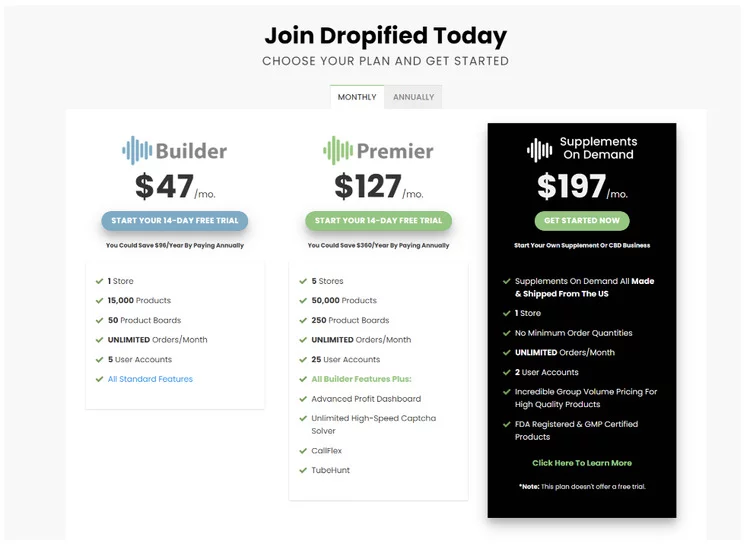 If you choose to pay yearly, Dropified offers discounts for annual subscriptions that can save you up to $96 per year on the Builder plan. You can also test any of the plans out free for 14-days.
Oberlo Pricing
Oberlo is a hugely accessible platform with affordable price plans to enable dropshippers to benefit from their services without spending a cent! Oberlo's "cheapest" option is the free starter plan, which costs absolutely nothing and includes a surprisingly thorough selection of features and benefits, including the Chrome extension.
Oberlo takes a user-friendly, no-pressure approach to dropshipping, so users who select the starter plan won't be under any stress to upgrade until or unless it suits their business model.
Oberlo's most expensive option is the Oberlo pro plan, which costs $79.90 per month and includes more advanced features, such as:
Variant mapping
Bulk order processing
Real-time order tracking
Access to the Oberlo affiliate program
Order fulfillment monitoring
CAPTCHA solver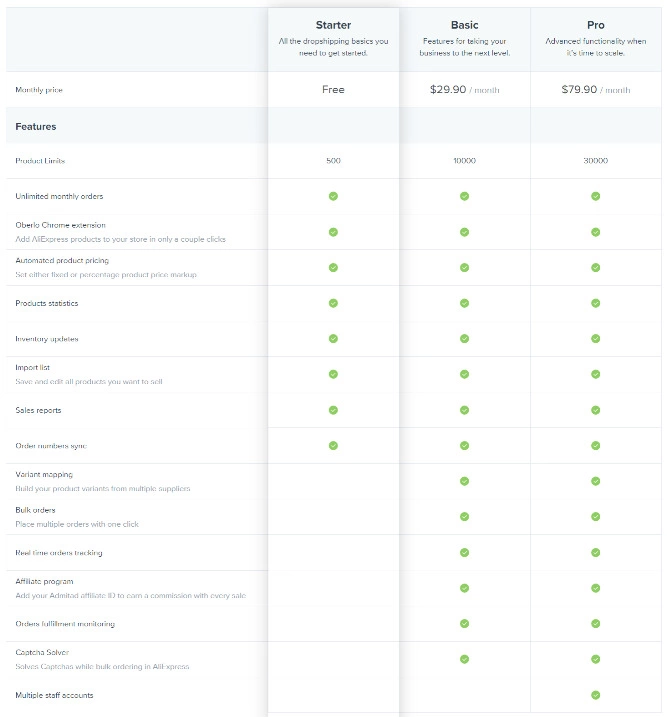 Oberlo doesn't offer any discounts for annual subscriptions. If you're thinking of taking advantage of Oberlo Pro, you can try this plan free for 30-days without needing to enter your credit card or billing information until or unless you wish to subscribe to a paid plan.
Dropified vs Oberlo Customer Support
Whether you're having problems with your Google product feeds or need help understanding your monthly orders profit dashboard… A good customer support team is vital for smooth operations and happy customers.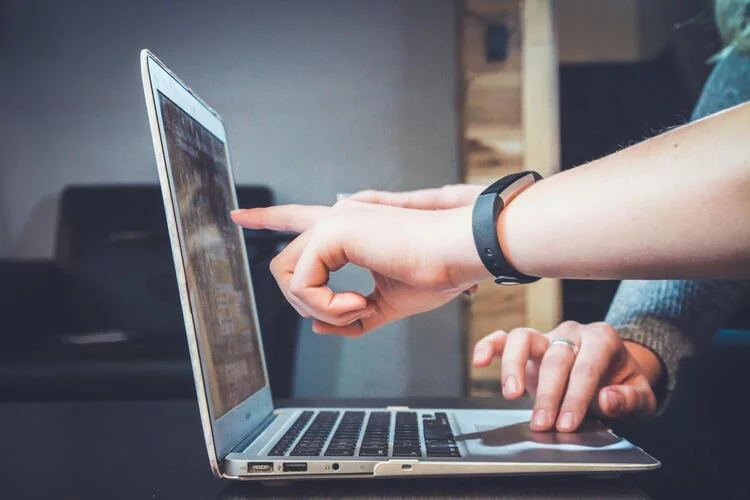 Dropified
The Dropified customer support team is on-hand to answer any of your queries during regular office hours (Monday to Friday, 8 a.m.-5 p.m. Central US time). However, they do have a reduced staff to assist on evenings and weekends, too.
You can contact the Dropified support team via email, live chat, or Facebook messenger.
Dropified also contains a vast selection of training videos, detailed blogs, and a thorough FAQ section to further assist customers.

Oberlo
Oberlo's customer support is available 24/7 via email or live chat, so they do take the prize when it comes to easily accessible support and help. Plus, the Help Centre is filled with invaluable blogs, guides, advice, and answers from the Oberlo team.

In addition to their Help Centre, Oberlo also has a vast selection of online resources to help users navigate the features and services on offer. The 'Oberlo 101 course' is particularly beneficial, and you'll find plenty of how-to videos at every turn.
Dropified vs Oberlo: Find and Import Products
Creating a high-quality product inventory for your customers to browse is probably the most crucial aspect for any successful store. You can't sell products if you don't have any!
How to create a product inventory with Oberlo
Oberlo works exclusively with AliExpress suppliers to provide you with an import system that takes a few seconds to master and a couple of clicks to complete. You can shop via the Oberlo marketplace or download the Oberlo Chrome extension to import directly from AliExpress.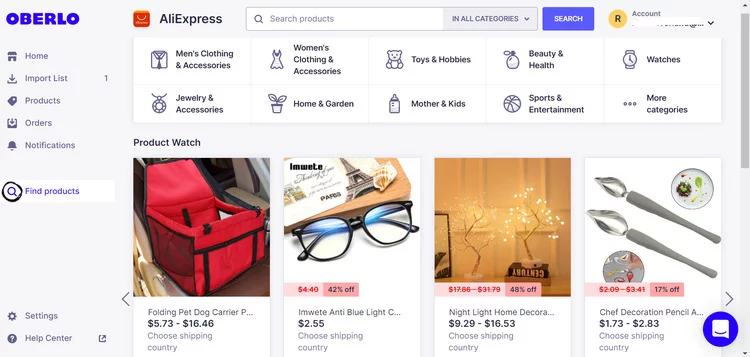 Once you've found something you want to sell, click "Add to import list" (or "add to Oberlo" if you're using the extension on the AliExpress website). From there, you can customize your product images, description, title, and pretty much every other aspect to make the listing perfect for your store image and SEO.
How to create a product inventory with Dropified
The easiest way to import with Dropified is via the Chrome extension. To do this, you'll need to head to the main menu in your Dropified account, then click on "products" followed by "Import product."
From here, you'll see the suppliers who support Dropified's complete automation services and a green button that links to training on how to use this system.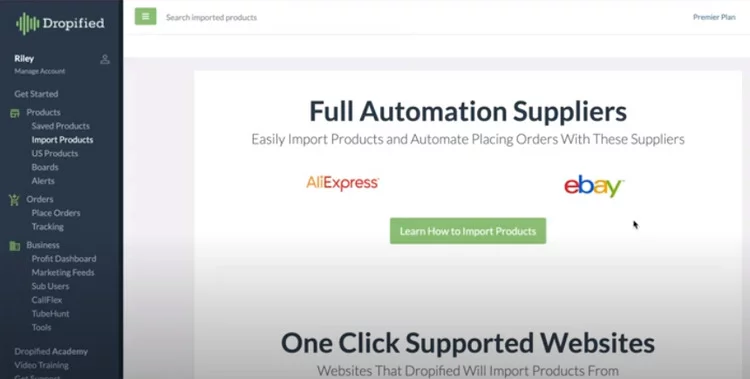 Scroll down this page for a list of other one-click supported supplier websites. Select the supplier you want to import from to be taken to their website and search for a product you want to import.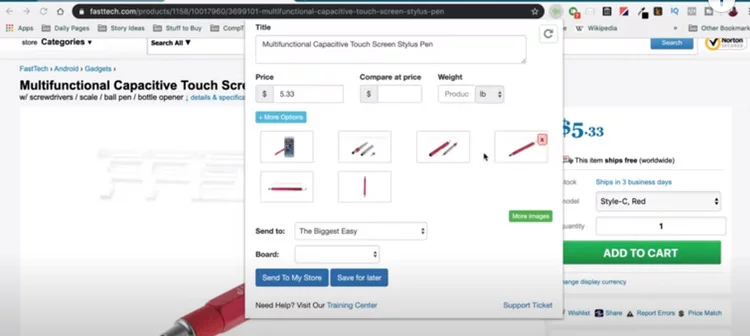 Once you've found one you like, click on the Dropified extension at the top of your browser, and you'll find all the product information has been automatically completed in the extension. Make any changes you like, then choose "send to my store" or "save for later."
Dropified vs Oberlo: Product Customization
When dropshipping, you'll probably notice that not all of the titles and descriptions are quite what you'd like them to be. Often, suppliers will use mass keywords to gain more traffic or write in poor English that simply doesn't look great on a professional website.
Thankfully, Oberlo and Dropified both provide the option to edit and customize your listings before posting, so you can keep your site looking neat, tidy, and professional.
Remember to check out some tips for writing better product pages before editing!
Oberlo customization options

With Oberlo, you can customize and edit pretty much every aspect of a product directly from the import list. Some of the things you can customize from this screen include:
The product title.
The description.
The images.
Product price and weights.
Types and tags.
Add the product to a specific collection.
You can also bulk update multiple product price points manually or automatically by entering a value or multiplier from this screen.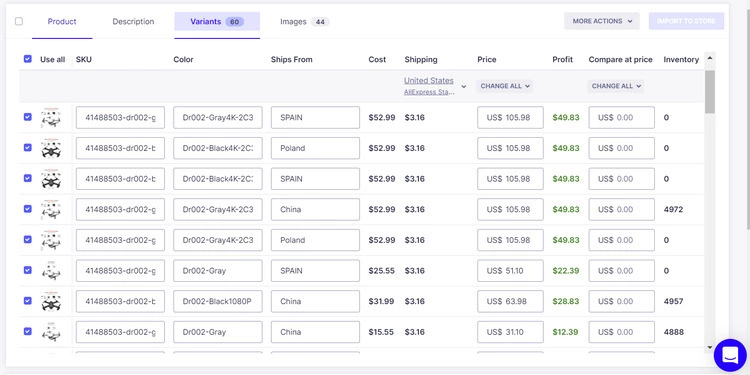 Dropified customization options
Dropified also provides the ability to customize products before posting. You can do this in the Chrome extension or your Dropified account. Some of the aspects that can be edited using Dropified include:
The product title.
The description.
The product images.
The product price and weight.
Type and tags.
Vendor name.
Add or delete variants.
You can also attach a "compare at price" button, plus there's an advanced image editing tool to make your pictures look even more Instagram-worthy.
Dropified vs Oberlo: Import Product Reviews
If you don't have much social proof yet, you might want to take product reviews from the supplier to give your customers an idea of what they can expect from "your" products.
To make this easier, both Dropified and Oberlo offer the ability to import product reviews directly from AliExpress.
How to import reviews with Dropified
The ability to import reviews with Dropified is currently only available when using a Shopify or WooCommerce store (regardless of which plan you're paying for). You can only import reviews from AliExpress.
To use this feature, you'll need to install the AliExpress Reviews Importer from the Addon store. You can also install the free Product Reviews App from Shopify or the WebToffee Reviews Plugin to import reviews to WooCommerce.
How to import reviews with Oberlo
Like Dropified, Oberlo also provides the ability to bring product reviews from AliExpress onto your Shopify store. To do this, all you'll need to do is click the "import reviews" button, select your criteria, then wait around one minute to enable Oberlo to transfer your chosen reviews from AliExpress to Shopify. No additional downloads required!

Dropified vs Oberlo: Order Fulfillment
Dropified and Oberlo are both designed to make importing products from your chosen supplier to your online store quick and easy, but they also make completing customer orders virtually effortless.
Oberlo Orders
Oberlo's auto-place order feature makes it virtually effortless to deal with your customer's requests.
When a customer places an order, the data is sent directly to Oberlo, where it will show as "unfulfilled." Simply click the "order product" button, and Oberlo will automatically complete the product and shipping information for you.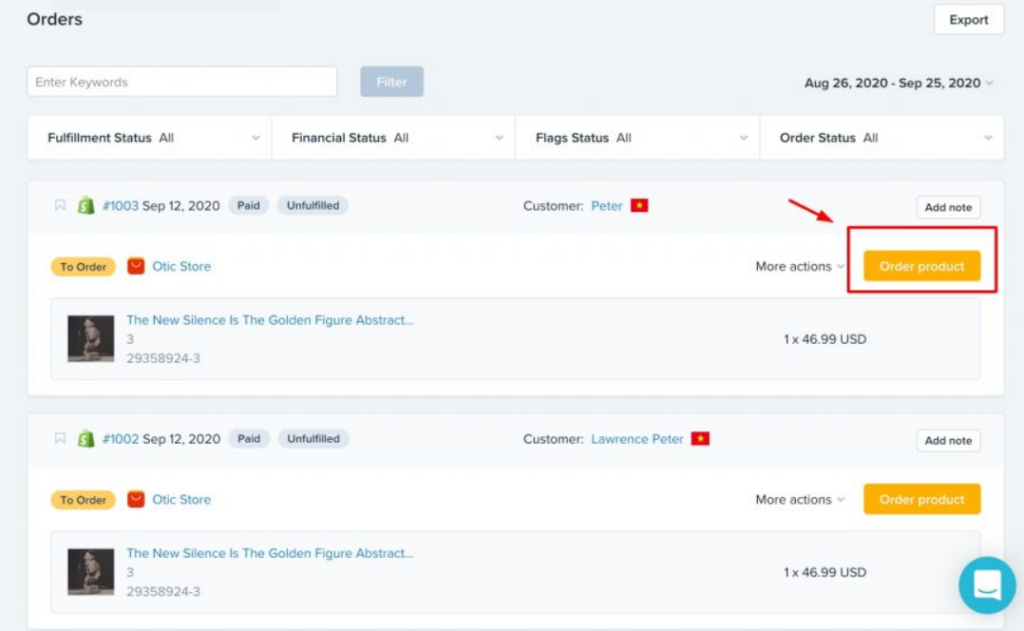 In any Oberlo price plan (including the free option), you can enjoy unlimited auto-place orders per month in seconds. The "sync this page" and "sync all orders" buttons on the AliExpress checkout page also automatically updated Oberlo and Shopify to mark the order as "fulfilled."
In the Oberlo premier plan, the system can also handle bundled products and bulk orders, plus you'll receive real-time order tracking on every item.
Dropified Orders
Dropified also aids with the order fulfillment process for dropshippers, taking the customer order from your website and passing the information directly to the supplier.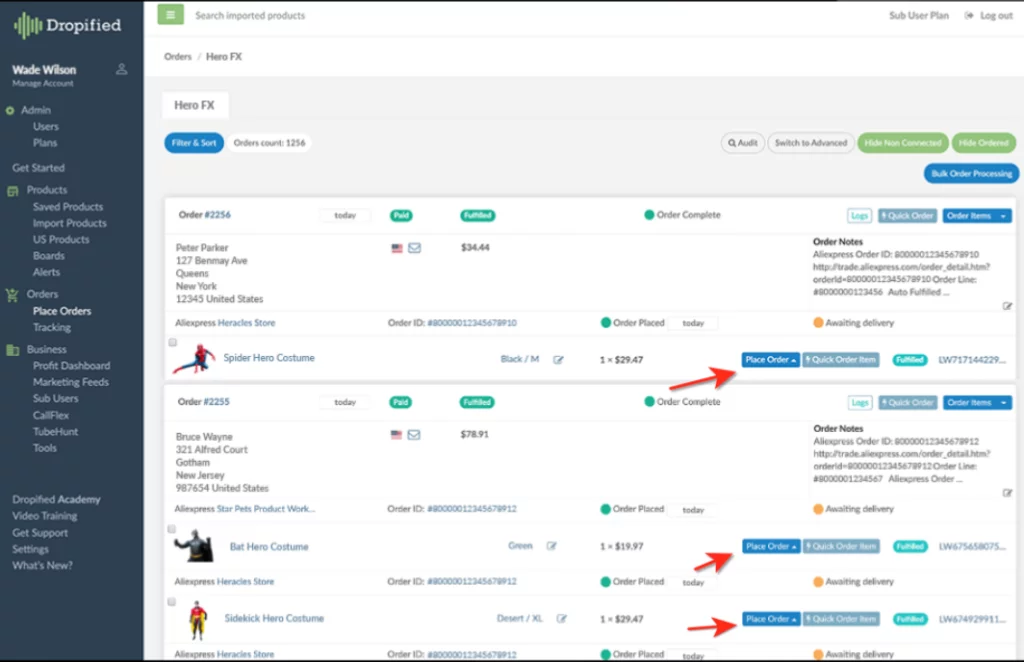 One of the main differences between Oberlo and Dropified is that, although Oberlo allows you to create product bundles, it cannot auto-place bundled orders.
Dropified, however, can auto-place bundled products, meaning you don't have to manage multiple vendors or platforms while completing an order.
Dropified also allows customers to enjoy unlimited auto-placed orders per month, so you don't need to worry about running out of this feature regardless of which plan or app you're using.
This automatic order completion is only available when the supplier is AliExpress or eBay, however. So, if you're importing from another one-click supported supplier site, then you will need to follow the manual order fulfillment process.
Dropified vs Oberlo: Resources
Besides providing plenty of tools and features to help you streamline your business, both Dropified and Oberlo are also here to help you grow and advance as a dropshipper, while staying in-line with your mission and values.
The wealth of resources available on both platforms are excellent, not just for helping you learn the systems and software of each app but also to share tricks of the trade, helping you become a better dropshipper and business owner.
Oberlo
Oberlo really prides itself on being an excellent resource for dropshippers of all sizes. Their Help Center is packed full of useful advice and answers from the support team, while the blog contains countless articles from real-life dropshippers and successful business owners to help you thrive.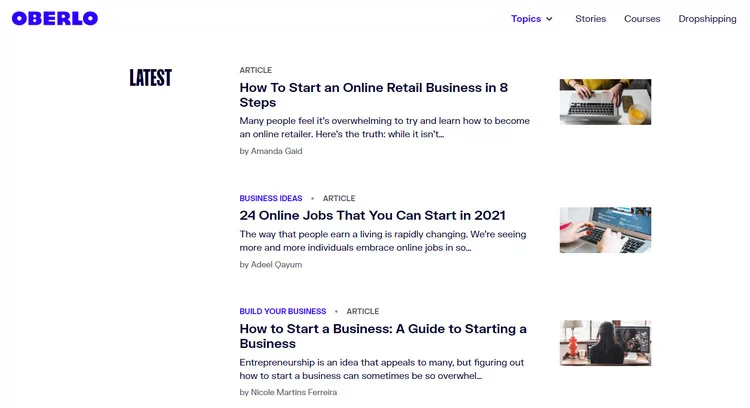 Oberlo also has a wide range of video resources and a selection of impressive free business tools for you to try out.
Your Oberlo subscription will include up to two digital courses with Level Up on the cheapest dropshipping plan and unlimited courses plus one-on-one coaching with the paid plans.
Dropified
The Dropified Academy is where you'll find the majority of the learning resources offered by Dropified. Their YouTube channel is also a convenient resource, teaching you "How to MASTER Dropified" and some top-tips on eCommerce management, order processing, and more.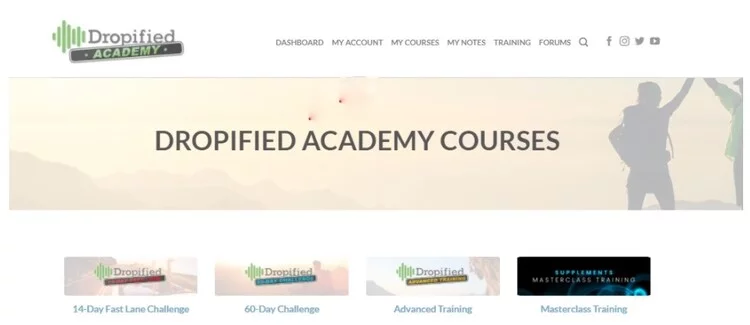 Oberlo vs Dropified: Which is best?
Now we've looked at some of the fundamental features of Oberlo vs Dropified, it's time to think about which is better for your dropshipping business.
Comparisons
While both platforms offer numerous similar features, they do outperform each other in particular areas. For example, Oberlo has a better selection of learning resources and tools to help you take your business to the next level. In contrast, Dropified takes the win for fulfilling orders thanks to the ability to auto-place bulk orders with AliExpress and eBay, saving loads of time and effort.

Dropified is also compatible with a far more comprehensive range of platforms and suppliers, while Oberlo only works with Shopify stores and AliExpress, which may be restrictive for some users.
On the other hand, Oberlo's free starter plan is a clear winner for affordability. Not only can you use Oberlo indefinitely without ever paying a cent, but their free trial period for the premium plan is also far superior to Dropified in terms of value for money as it lasts for 30-days… In contrast, Dropified requires payment after just two weeks.
Overall, we think both platforms are undoubtedly worthwhile, but perhaps the question shouldn't be which is better, but instead, what does my business need?
Dropshipping business needs
For example, a small starter business probably doesn't need to worry about huge orders from multiple suppliers. Therefore the ability to auto-place bundled orders that set Dropified ahead wouldn't matter as much as affordability, which Oberlo is far superior for thanks to their forever-free subscription option.
Comparatively, larger businesses would hugely benefit from the wide range of extra features offered by Dropified. Some particularly beneficial features that we haven't looked at in this review include marketing aids such as CallFlex and TubeHunt, which both make general business management more streamlined.

Conclusion
Best for beginners: Oberlo
Best for a larger dropshipping business: Dropified
In conclusion, we believe that with its wealth of resources, incredibly user-friendly and easy-to-understand interface, intuitive Chrome extension, and selection of affordable (or free) price plans, Oberlo is the best choice for small businesses and beginner dropshippers.
Dropified, then, comes out on top for more scaled dropshippers thanks to its focus on overall business management and all the extra tools and add-ons available. The ability to receive a discount for paying annually is also an excellent perk for larger businesses.